Dweezil Zappa Deciphers the Secrets Behind His Friend Eddie Van Halen's Sound and Style
From early inspirations to gear and phrasing choices, Zappa offers the inside track on EVH's playing.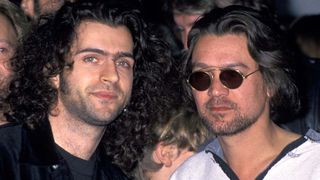 (Image credit: Ron Galella/Ron Galella Collection via Getty Images)
"I'd been playing guitar for only six months or so when one day we got a call at the house saying it was some guy named Eddie Van Halen and he wanted to talk to my dad," Dweezil Zappa recalls of the first time he met Ed, circa 1982.
"He came over 20 minutes later, and he brought this purple Kramer guitar, but no one was supposed to know what it was. There was a piece of black electrical tape over the logo, but it was a two-humbucker Strat-style guitar.
"What I remember is that, when he started playing it, I just looked at all the places on the neck where he was playing, and the way that he was playing – how he would attack the strings and how he was holding the the pick... All of that stuff. Because I'd never seen that before."
Soon after, Eddie entered the 12-year-old's life. He would have a profound impact on Dweezil, and the two remained friends from that day on. Ed came to Dweezil's first talent show, where he gave him a guitar with a better vibrato than the Strat he was using. He also coached Dweezil in the studio for the recording of his first single, "My Mother Is a Space Cadet," in 1982.
Dweezil, for his part, would go on to become a highly respected guitarist himself, not only mastering EVH's style but also eventually taking his father's music to audiences worldwide in his acclaimed group Zappa Plays Zappa.
In the days after Edward's passing, he kindly spoke with us about a number of topics, including how Ed's original Eric Clapton–influenced style quickly evolved into the signature sound that mesmerized everyone on Van Halen's first record, an evolution akin to Jimi Hendrix metamorphosing from Jimmy James and the Blue Flames to the guitarist heard on Are You Experienced. Dweezil offered his savvy insights into how it all happened.
What would you cite as the primary things that happened when the signature EVH sound was forged?
There was a combination of things. Some of it includes the equipment Edward got his hands on, which obviously shaped his sound and allowed him to play more in the way we know of. From the things that I've heard, when Van Halen were performing as Mammoth [in the early 1970s], and they were a trio, Edward had a little bit more of a traditional guitar sound.
It wasn't as pronounced as what it became, so you could hear some of that Clapton influence that he talked about. But that changed when he changed his equipment, and he had some other influences that really are still mysterious.
There's a guy named Terry Kilgore who was popular in the same area as Edward, and they were doing similar things at the same time. Terry had a Marshall and an Echoplex, and he was doing a lot of stuff with the vibrato bar. A lot of the phrasing in Ed's playing is somewhat similar to Terry's.
There's a particular song called "Liquid Lady" from Terry's band, Reddi Killowatt [listen below], and there are similarities in their playing, but in a way that's harder to pinpoint in Ed's playing.
What are some of the qualities in Van Halen's playing that most stand out to you from that point in his development?
Ed could play a song and sound like two guitar players because he was so adept at playing rhythm parts and then adding in musical interludes and phrases that fit between the vocals and other things.
It wasn't that he was trying to make stuff sound busy; he just filled it up with the right stuff at the right time. Edward had a very deft touch with arrangements, and that kind of stuff is what really was the predominant change between Mammoth and what became Van Halen's first album.
There was a short period, probably from 1974 to '76, where the real developmental change came. By around about '76 and '77 you can hear bootleg recordings where Ed is playing a lot of the stuff that would be on the first album, including versions of "Eruption."
In fact, there's one bootleg that claims to be from 1976 at [West Hollywood nightclub] Gazzarri's, and it sounds like there's only three people in the audience. Ed plays a blistering version of "Eruption" and you just hear a couple of people go "whoo" and clap a little bit. They didn't know what they were seeing at that time because there wasn't anything like it in guitar playing.
What do you know about how his gear evolved from Mammoth to what he started using with Van Halen?
I don't know exactly what he was using. People have said it was a Bassman, which has less gain than the Marshall, even though the circuits are similar. I think the change in the equipment really was that he found a way to hit the front end of the amp with the Echoplex, and sometimes he was using a bit of EQ.
You can see pictures of early boards where he had a graphic EQ. Edward also had some little preamp-type things that he tried.
He had the MXR Micro Amp on his board at one point, so I think he was always looking for ways to have the amp sound like more of the amp itself, and just drive it hard enough that he had enough preamp gain when he wanted it, but not in a super-fizzy way, and he could still clean his guitar up by rolling the volume down.
He was always pretty adept at adjusting his volume knob to create the different tones that he needed, which isn't the easiest thing to do when you're playing busy parts. But I think that the real thing about his sound is he was never an overdrive guy or a fuzz guy – he was a raw-sound-of-the-amp guy.
How did the MXR Phase 90 fit into the picture?
He used the Phase 90 as a way to boost and smooth out the highs. Marshalls can be very bright, so the Phase 90 was a good match because he could have smoother mids and highs.
With the amount of gain he was using at times, the Phase 90, coupled with the way that he played, almost had enough midrange to sound like he was using a wah pedal.
The envelope of the phase would have just enough high end when he was doing a certain kind of picking stuff that you would hear a note bloom in a way that was similar to a wah pedal. But I think you hear that more on the first album than on any of the others.
What can you tell us about how Ed developed his tapping technique?
I do know that Edward talked about discovering the tapping technique in relation to imagining the nut of the guitar moving. If you played a few notes and then pulled off to an open string, you could have a pattern or sequence of notes.
If you wanted to play that sequence or pattern in a different key, the open string would no longer be the right choice, hence he envisioned moving the nut around the neck and doing hammer-ons and pull-offs to re-create the same concept as the pull-off to the open string.
It's a complicated explanation, but it's a practical concept. I also know that, when he was composing, Ed often played chords with his left hand and then tapped around with his right hand to hear possible melody notes. I once sat with him while he was working on a descending chord sequence.
He was trying to create a melody for it, and he wanted to hear the motion of the chords and the melody at the same time. So he was essentially playing piano on the guitar. He wasn't doing it with the intent for the guitar part to be played that way in the song, merely as a way to hear the melody at the same time as the chords. I wish I remembered the chord sequence, because it never appeared in any Van Halen song.
What was your takeaway from studying EVH's style so exactingly?
When I started getting into Edward's style, I saw that he had a system of patterns that became visible the more I saw him play up close. There was sort of a go-to flow to a lot of the things that he did.
He definitely had his preferences when it came to lead stuff, and when he wanted to go outside of that, it was usually a pattern-oriented thing – some type of symmetrical shape that he could manipulate easily on the guitar. It wasn't based on a specific concept like, "I'm going to make this chord and I'm going to use this arpeggio and I'm going to do this voice leading."
He would base everything on a pentatonic bluesy feel and then add some oddball notes here and there that were handy, as part of his shapes. Sometimes he would add unison notes and other stuff, but he had some clever ways of going about it.
Even when you hear the Allan Holdsworth influence that came in – and you hear it a lot on 1984, and there's even a hint of it on Fair Warning – the kind of stuff he was doing was all about keeping things in a comfortable pattern. He also wasn't strict about having to pick every single note. He did a lot of hammer-on and pull-off type of stuff, and then added in picking.
Many of the players that became big guitar heroes after Ed were obsessed with picking every note, as if you're not really technically proficient if you don't. Ed never went with any of that stuff. He had some legato things, and he had combinations of the way that he would choose to pick notes, and to me that was always something very interesting in his playing.
All the latest guitar news, interviews, lessons, reviews, deals and more, direct to your inbox!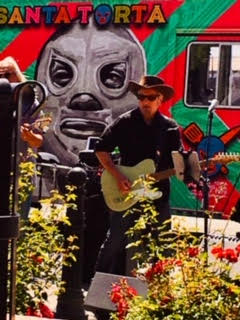 Art Thompson is Senior Editor of Guitar Player magazine. He has authored stories with numerous guitar greats including B.B. King, Prince and Scotty Moore and interviewed gear innovators such as Paul Reed Smith, Randall Smith and Gary Kramer. He also wrote the first book on vintage effects pedals, Stompbox. Art's busy performance schedule with three stylistically diverse groups provides ample opportunity to test-drive new guitars, amps and effects, many of which are featured in the pages of GP.