Guitar Heroes Pay Tribute to the Genius of Eddie Van Halen
Joe Satriani, Vinnie Moore, Richie Kotzen, and more on the man who changed guitar playing.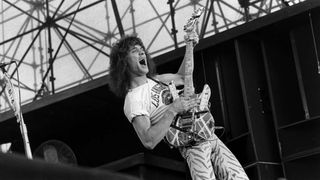 (Image credit: Brian Rasic/Getty Images)
We're all in the process of working through the first five stages of grief. They don't completely cover what we're trying to deal with here, however. So from this day forward, there is a sixth stage: Celebration. Apologies to all who wanted to provide an Eddie Van Halen remembrance that we couldn't include.
That would have made this issue 1,000,007 pages long, and that's tricky in this day and age. Just know that we are all in this together. Here are a few members of the EVH tribe who did chime in.
Steve Stevens
"There are very few examples of an artist or group's debut signaling a seismic shift in the world of music: Hendrix, Led Zeppelin, and Van Halen. Getting to know Ed, it was obvious he was almost blissfully unaware of his own brilliance. Simply put, he was truly a musical genius and one hell of a good guy. Safe travels, Edward."
Lyle Workman
"When I first heard Eddie Van Halen, I said to myself, There it is. He just did what Hendrix did. What Ed did became a language, and we all instantly recognized that this was the first guy who had ever spoken that language in history. Now we all speak it."
Vinnie Moore
"EVH without a doubt changed the course of my life. The lick at the fourth bar of the intro to 'I'm the One' always floored me. I used to pick the needle up and put it back down on the album over and over to try to figure that one out. It was more the phrasing and his attack than the actual notes that made it so badass. You have to do much more than just play the notes to get that one to sound right."
David Grissom
"I was 17, driving down Kirkwood Avenue in Bloomington, Indiana, in a white Mustang on a Friday night when I heard 'You Really Got Me' for the first time. It felt like it was exploding out of the speakers, and I had to pull over on a side street to take it all in. Eddie was a total badass. Life-changing."
Greg Howe
"Unquestionably the most influential guitarist since Hendrix. He is literally the reason I decided to make guitar playing my career."
Charlie Crowe (Miranda Lambert, Brooks & Dunn)
"I was an early 20s wannabe MTV rocker in the '80s, and I ended up in Nashville wearing a cowboy hat by the '90s. But it was all because of Eddie Van Halen. I believe I got the gig with Brooks & Dunn because I studied the way Eddie performed, riffed with the band, and took solos. The joy, the exuberance, the connection with the audience – that was everything for me."
Richie Kotzen
"Eddie Van Halen's voice on the guitar is as familiar and comforting to me as that of either of my parents. That is the only way to describe how deep of a mark his musical legacy has made upon me. Though I have many memories, one that sticks out is from some time in the early '90s.
"I had done an album in Los Angeles, and my guitar tech on the project was Zeke Clark, who had been with Eddie for years. Zeke invited me to a Van Halen show in Los Angeles and my 'seat' was inside this little guitar room where Zeke did all the tuning, maintenance, and effects switching.
"During the performance, Eddie would peer from the stage into the room, as if he were looking for a thumbs-up sign or a nod of encouragement. The most surreal moment was when he came into the room during the drum solo.
"He looked at me and asked, 'How is it sounding?' Really? How is it sounding? Like God decided to have a go at the guitar. That's how it's sounding. There never was and there will never be anyone like Master Edward Van Halen."
Justin Derrico (P!nk)
"I think we all got the recklessness and the 'I don't give a fuck' attitude from Eddie. He would go from point A to point B, and it was so cool and so colorful, but he would never care how he got there. What made it work is that he meant it. He was always genuine."
Matt Scannell (Vertical Horizon)
"'Unchained' still leaves me speechless, 39 years after I first heard it. How could anything be so heavy, so aggressive, and at the same time so much fun? Even now, it makes me laugh out loud and quickly lapse into stunned silence."
Jerry McPherson (Faith Hill)
"I'll never forget where I was when I first heard 'Runnin' with the Devil' and 'Eruption.' A friend made me a cassette of the first VH record. I was sitting in my car after work, put it in, and I just stared at the cassette player, not believing what I was hearing. As a Nashville session player, I learned so much about tone and pocket when it came to rhythm parts. Eddie was a once-in-a-lifetime phenom!"
Mark Bouras (98 Degrees, the Romantics)
"I showed up early at rehearsal one day and saw Van Halen's gear everywhere throughout the building. They were rehearsing for a Jimmy Kimmel performance. I was in the practice room playing and suddenly heard Eddie blasting 'Eruption' through the walls. My hands were literally shaking as I was trying to play at the same time as my guitar hero. It was my birthday that day, and it's one I'll never forget."
Jeff Babicz (Babicz Guitars)
"From that little guitar I built for you 35 years ago [the TransTrem Steinberger played on 'Summer Nights'], you created some of the most iconic music the world has ever heard. Thank you, Eddie. It's been the thrill of a lifetime. R.I.P."
David Levita (Tim McGraw, Alanis Morissette)
"The first thing I ever heard was their version of 'You Really Got Me,' and my friends and I got so high off that sound, we wore it out over and over on vinyl. I could never hear the Kinks' version again without thinking of Eddie. He was a gift from the gods."
Alex Skolnick
"Each release from the first wave of Van Halen albums revolutionized guitar, yet made great party music. I already miss the spirit Eddie brought to music, from going out on a limb with unimaginable solos and riffs – always landing on his feet – to his post-futuristic tone, impossible bends, disruptive noises that always worked beautifully, grooves that swung as hard as Count Basie, and, of course, tapping wizardry, all performed with a giant show-biz grin that felt completely in earnest."
All the latest guitar news, interviews, lessons, reviews, deals and more, direct to your inbox!