Drummer Cindy Blackman Santana on Surrounding Herself with the World's Best Guitarists for a Very Special Album
Vernon Reid, Kirk Hammett and John McLaughlin all guest on Blackman Santana's 'Give The Drummer Some.'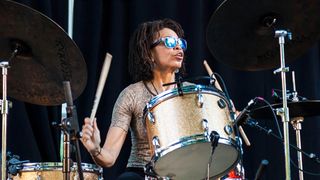 (Image credit: Jack Vartoogian/Getty Images)
Listeners might approach Cindy Blackman Santana's new album, Give the Drummer Some (Copperline Music Group), with the expectation that it's chock full of drum solos and percussion pieces. And they would be very, very wrong.
With the exception of one unaccompanied drum spot (a tour de force called "Mother Earth"), the expansive, 17-track disc is a veritable guitar fan's dream, with each song serving as a playground for heavyweights such as Vernon Reid, John McLaughlin and Kirk Hammett to stretch out and roam freely.
And for good measure, Cindy's husband, Carlos Santana, is more than aptly represented. The guitar icon lends his signature solos to eight dizzying cuts.
"The guitar is one of my favorite instruments, so the album reflects that," Blackman Santana says. "The music that I'm doing just lends itself to the guitar. I love the way guitar players think.
"I love playing with them and interacting with them. The album is called Give the Drummer Some, so yeah, I'm having a good time with what they give me. It's not always about drum solos."
Blackman Santana freely admits that she isn't much of a guitarist herself ("I can play barre chords, but I'm no soloist"), but she basks in collaborating with six-string masters. During her career, she's performed with a diverse array of virtuosos ranging from Larry Coryell to Buckethead.
From 1992 to 2007, she served as Lenny Kravitz's drummer before returning for a 2014–'15 tour, and for the past decade she's been a mainstay on the drummer's throne for the band Santana (she and Carlos married in 2010).
"Each time I get to play with a guitar player, it's like we go on a new journey together," she says. "Whether we're playing rock or blues or jazz, it's always inspiring and exciting."
Give the Drummer Some is a potpourri of styles. "Superbad" (which features a gritty, turbocharged solo by McLaughlin) is an ultra-funky groover, and "You Don't Wanna Break My Heart" (dotted with Carlos' affecting wah-drenched leads) is a poignant love ballad, while "Evolution Revolution" (a pairing of Reid and Hammett at their badass best) is hard-charging metal.
There's fun and frolicking party jams ("She's Got it Goin' On," "Everybody's Dancin'"), spellbinding art rock ("Social Justice") and a tribute to Miles Davis ("Miles Away").
One of the album's highlights is its first single, an extraordinary rock-funk re-inventing of John Lennon's classic "Imagine."
The stomping track not only serves as a stunning showcase for Blackman Santana's dulcet vocals, it also affords Carlos the opportunity to detonate an explosion of guitar psychedelia.
"Oh, my goodness, he smoked that song!" the drummer raves. "We did something pretty different with the song. We turned it into a real joyous celebration. Carlos fell in love with it the first time I played him the idea of where we were going with it."
You're the drummer for Santana, but here Carlos is playing guitar on your record. Any difference in how the two of you work together when you're the boss?
[laughs] "The boss" - that's funny. The differences are subtle, but overall there's no big difference in how we work together. The process is different because they're my songs, but in terms of the creativity, it's sort of the same. If there's something I'm looking for in a particular song, I might say, "Hey, how about trying this?"
But there's really not a lot of that with Carlos. That happens in his band, too. He might say, "Hey, Cindy, can you try this?" Sometimes he'll say, "I want some woof!" It's really a lot of sharing, a lot of trust, and that happens in both situations.
A lot of the time, I hear drummers say they follow the bassist, and vice versa. As a drummer, do you have a particular way of homing in on what a guitarist is doing?
It's a lot of give and take, because you have to listen to each other. A lot of guitar players tend to be leaders, and they want you to follow them. But sometimes you can drive them, too. You work out ways to push them. Sometimes you do it aggressively, and other times you do it non-aggressively.
It's a conversation. Each person takes turns at being the glue in the band. I played with Lenny Kravitz for such a long time, and that's a guitar-driven band. Lenny is playing guitar and so is Craig Ross, so there's a lot of guitar happening.
And Lenny writes songs from a guitar perspective - the tunes are born out of riffs and guitar grooves. So I had to really key into where he's placing those grooves. You can't just go in and play; you have to take a moment and listen to what the guitar is doing. Over time, it becomes natural to you.
Is that what took place when you used to play with Larry Coryell?
Absolutely. I learned when to drive it a little or when to let Larry do his thing and guide me. That was an experience that felt very natural. I played with Larry in the '90s, and then before he passed he called me to do something with him again.
We got together after not playing together for a while, and he said, "Cindy, you just play with guitar so well. Stuff that I have to tell other drummers to do, or get them to do, you just do naturally. It's just second nature for you." What a great compliment. It's a telepathy thing, and you develop it over time.
While you were prepping songs for this album, would you play Carlos certain things to get his feedback, or to entice him into playing on them?
Absolutely. I would play him stuff and ask, "What you think about this?" He would give me his opinion, so finally I'd say, "Well, how would you like to play on this?" And he'd chuckle and say, "Oh, yeah? Are you kidding? Of course I will!" I remember playing him a song that [bassist] Matt Garrison and I were working on, "Social Justice."
I said, "Carlos I'm really hearing you on this." And he said, "Well, what would I play on that?" Because we weren't playing just a straight backbeat; it was flipping around a lot. I told him that I wanted him to explore his sound and stretch it out over some of the dense things we were doing. He loved the concept, so he went for it.
What if Carlos had an idea that you didn't like? Would that get weird?
You know, if there was something that I wasn't hearing, I would just say, "Hey, how about you try this? Let's compare the two approaches." Carlos has great ears, obviously, so I trust his instincts. On the other hand, he wants to make the song better, so he's humble enough to say, "Let's go with your thing."
You've worked with Vernon extensively in the past. In fact, you played together in the band Spectrum Road. I'm wondering what kind of musical dialogue the two of you share.
Oh, my goodness, we have so much in common. We both adore Tony Williams Lifetime. We love George Benson, Carlos and Hendrix. We spend a lot of time talking about textures and grooves; we both love to explore sound.
Vernon's playing is so exciting and inspirational to me. He has such a vast knowledge of music, and he creates a soundstage when he plays. It all just comes from the person he is. He gives off a positive vibration, and you hear it in his playing.
Vernon and Carlos do some beautiful jazz-blues work together on "Black Pearl." How did that come about?
That was one of those magical tracks that happened pretty spontaneously. We were playing and the two of them started riffing off each other, but it was all based on the groove and the mood of the song. The way they vibed together was so cool.
There was no ego or one-upmanship; it was just mutual support and creativity, and you can hear that in their playing. When Carlos is playing, you hear Vernon doing amazing stuff under him, and vice versa. There were all of these cool lines they would play to complement each other. It was great to listen to two masters doing their thing.
You and John McLaughlin have a really spirited back and forth on "We Came to Play." It sounds like the two of you are having the time of your lives.
We did that piece together, and it was a beautiful thing. The title says it all - "We came to play." He did have a good time, and he reached out to me a couple months later and said, "What else are you doing for your record?" He wanted to play more, and that's how I got him on "Superbad."
John and Carlos have a history together. Did you think about pairing them?
I would have loved to. I actually had a chance to play with them at Montreux [in 2011], when John sat in with Santana. Seeing the two of them work off each other - it's just watching two innovators.
Both of them started off on the violin, which might explain a little about their feel and tone. John is such a brilliant talent. He has this harmonic knowledge that runs deep. Yeah, the combination of the two… Maybe the next record. [laughs]
Did you give any of the guitarists direction as to what to play, or were you more like, "I've got a racehorse here. I'm just going to let him go"?
A little of both. Yeah, the racehorse thing - that's a good analogy. A lot of times, we would send them templates of the songs so they could just go for it and play what they felt.
I mean, these guys are so musical that I knew I could trust they would give me back something beautiful. There were maybe a couple of times where I might say, "Hey, can you drop off a little here," or, "I'd love a little more of that." But for the most part, you just let those cats go.
Your reworking of John Lennon's "Imagine" is quite striking. It's such a crunchy guitar rocker now.
It is. [Producer] Narada [Michael Walden] asked me if there was a song I wanted to cover, and I said my number-one choice was "Imagine," but I said I wanted it to be more rock-funk.
Knowing my history with Lenny Kravitz, Narada mentioned what Lenny did with "American Woman," which I thought was the perfect groove and feel. So we vibed on that and explored how to rock the song out. The lyrics and the melody are the same, but the treatment is totally different.
Kirk Hammett and Vernon are a great fit on "Evolution Revolution." At times, they're almost indistinguishable.
Yeah, that's wild. I didn't know they would complement each other so well. That song started out as an instrumental, but as I was listening to it I thought it should be a vocal song, so I wrote words for it. I had mentioned Kirk to Carlos, but for some reason I just thought there was no way he would do it.
I said, "He's the guitar player for Metallica. He won't play on my record." I didn't even know him. But Carlos said, "Well, why don't you ask him?" You know, simple as that. So I wrote a little note and sent it with the track to Kirk's assistant, and Kirk came back with a "yes." I was thrilled.
Vernon had played on it already, and he did a long, jaw-dropping solo. Kirk is so musical, so we created some space in the track for him to play more. He riffed on what Vernon did, and it came out great. You would think that the two of them sat down and worked out their parts. They sound so fiery together.
There are no concerts for the foreseeable future, but when you can play again, do you think you might bring some of the guest guitarists on your record out on tour?
I will be back playing with Santana, but as for my own tour, we'll see. Aurelien Budynek is the guitarist in my band, so he'll certainly be there. I love playing with Vernon, so hopefully he can do shows with me. I'm hoping that Carlos will do some of it as well. We'll see.
So, your people will just have to talk to his people.
[laughs] Exactly!
Cindy Blackman Santana's new album, Give the Drummer Some, is out now via Copperline.
All the latest guitar news, interviews, lessons, reviews, deals and more, direct to your inbox!
Joe is a freelance journalist who has, over the past few decades, interviewed hundreds of guitarists for Guitar World, Guitar Player, MusicRadar and Classic Rock. He is also a former editor of Guitar World, contributing writer for Guitar Aficionado and VP of A&R for Island Records. He's an enthusiastic guitarist, but he's nowhere near the likes of the people he interviews. Surprisingly, his skills are more suited to the drums. If you need a drummer for your Beatles tribute band, look him up.