Award-Winning Aussie Guitarist Fiona Boyes Reveals She Didn't Start Playing Until Her Mid to Late 20s
"I should have been old enough to know better," says the Wonder from Down Under.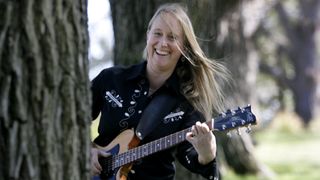 (Image credit: Fairfax Media via Getty Images)
Fiona Boyes' down-home style of blues guitar has made her a favorite on the festival circuit and with the blues hierarchy in Memphis. Though she hails from Australia, her guitar style is steeped in the U.S. southern tradition, leaning toward fingerpicking and slide, and has a natural spirit that captures the true essence of blues music.
Over her now 30-year career, she's won multiple awards and gathered as much attention in her home country as she has in the U.S. and abroad. Her latest album, Voodoo in the Shadows (Reference Recordings), was released in 2018. For more information, visit fionaboyes.com.
When did you start playing guitar?
Not until I was in my mid to late 20s. I started playing professionally at 27, and so in some ways it was an age when I should have been old enough to know better, and I was also quite aware that many of my male peers had 10 to 15 years' playing experience on me. There was so much to learn.
How did you learn?
Mostly by ear, just picking things up as I went along. I would never think of it as practicing; I would just pick up my guitar and play. I started playing solo acoustic. One day I went to play at this coffee shop and through an amazing stroke of luck, they were having a music competition, but I didn't know it. I played, and afterward they told me, "You've won the right to be in the finals."
I ended up going into the competition, and I won a handmade acoustic guitar. It was like a fairy tale from the beginning. And it was probably only the third time I'd played in public. I won the 2003 International Blues Challenge in Memphis, and it was such an amazing experience, and so rewarding too. I didn't know if people would "get" or understand where I was coming from. But, in the end, I knew I would just have to go to Memphis and be myself, and it was just fantastic to be so warmly received.
Do you have any female guitar heroes?
I listened to all the classic country-blues guys, but somewhere along the line I thought, 'Where are the women?' So I looked around and found a Memphis Minnie album, and I thought she looked so cool and so tough, and really sassy. That made me quite conscious of the lack of female role models for female guitarists. Memphis Minnie was such an innovative guitarist. A lot of the things she was doing and came up with were embraced by male players. I was inspired to write a song about her called "She Could Play That Thing."
I think girls are getting more power, and I see a lot more young women at shows, even older women. I see them come out, and they tell me that they would like to play too, and I try to be encouraging. I think women can tend to feel judged by both men and other women, and they can be a bit hard on themselves.
I'm hoping that female energy can reclaim some of this instrument, and that those elements can become important again, to balance things out. Sometimes you find that if you play lead in a tasteful way, people don't find it interesting. But if you get to the point where you just take one note and bend it for eight bars, it can subvert the whole paradigm.
Buy Fiona Boyes' Blues in My Heart 20th Anniversary edition here.
All the latest guitar news, interviews, lessons, reviews, deals and more, direct to your inbox!