He Billed Himself as the "Paganini of the Guitar" While John Williams Called Him the "Greatest Guitarist/Composer of Any Time": Here's How Agustín Barrios Became a Guitar Legend
The Paraguayan sensation was a recording pioneer and remains one of the 20th century's greatest guitar virtuosos and composers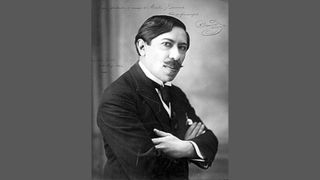 (Image credit: public domain)
Agustín Barrios was born in Paraguay in 1885 and began his formal guitar studies at 13. He improved quickly and went on to give virtuoso performances that made him a legend throughout South America.
His repertoire and writing were influenced by Fernando Sor, Beethoven, Francisco Tárrega and the folk and popular music of his day, and as a result his music covers a wide color palette. Roughly three decades after his death in 1944, a Barrios renaissance occurred, and his many recordings and transcriptions were rediscovered.
Andrés Segovia, Leo Brawer and John Williams revered Barrios, with Williams calling him "the greatest guitarist/composer of any time." Many of Barrios' 300 compositions are still performed, and he stands out as both a recording pioneer and one of the 20th century's great guitar virtuosos and composers.
I first heard Barrios performing his composition "Confesion" and was struck by the vulnerability that shone brightly through the piece. He played it as a linear journey that captured an endless yearning. On "Confesion," he employs an alternate tuning (low to high, D G D G B E) that facilitates his expansive harmonic sense.
Barrios often used alternate tunings, with natural and induced harmonics and other guitaristic techniques that showcased the instrument's strengths, and he sometimes used steel G, B and E strings for their availability, durability and sound.
The stunning Barrios composition "Madrigal Gavota" requires technical prowess, but his virtuosity is never placed in the forefront. Instead, he's always prioritizing beauty.
"Danza Paraguaya" again shows Barrios' power as a composer and virtuoso, joyfully giving the illusion of two or three guitarists.
The beautiful "Un Sueno en la Floresta" reveals his super-human tremolo, but his technical ability never undermines the sweetness of his composition. It's a study in loveliness. Everything he plays is extraordinary and easy to love.
Interestingly, Barrios created the alter ego of Chief Nitsuga (Agustin spelled backward) Mangoré. Billing himself as "the Paganini of the guitar from the jungles of Paraguay," he would perform wearing indigenous garb.
Barrios shouldn't have required any such promotion. His stunning virtuosity and musicality could stand on their own.
I've tried to add Barrios pieces, including "Confesion" and "El Sueño de la Muñequita" ("Dream of the Little Doll"), to my repertoire. Despite my comfort zone on a Telecaster, playing his music has given me immense enjoyment and deeper insight into the guitar.
If you're unfamiliar with Barrios, seek out these recordings. His music is heaven sent.
All the latest guitar news, interviews, lessons, reviews, deals and more, direct to your inbox!
Jim Campilongo has 14 critically acclaimed instrumental records available on vinyl, CD and digital download here.