"A Lesson in Deep Expression": Alex Skolnick Talks Allan Holdsworth and More
Testament's primo axeman digs out some essential listens with a list of his top five lesser-known guitar solos.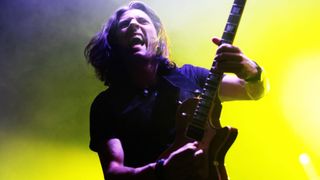 (Image credit: Dave Etheridge-Barnes/Getty Images)
We recently asked some of the guitar world's best-known players to name their favorite lesser-known guitar solos. Here are Testament guitarist Alex Skolnick's top five choices…
1) Michael Brecker | "Nothing Personal"
From Michael Brecker (1987)
GUITARIST: Pat Metheny
"Pat Metheny's solo is the perfect blend of improvisation and well-crafted composition. Every part feels connected, from beginning to end. It's built around extended minor blues changes, but it manages to take some wildly unpredictable turns without ever losing the structure or minor-blues flavor. It feels almost perfectly composed but with just enough tension to capture high-level improvisation in a way that is distinctly Pat."
2) Col. Bruce Hampton & the Aquarium Rescue Unit | "Time Is Free"
From Col. Bruce Hampton & the Aquarium Rescue Unit (1992)
GUITARIST: Jimmy Herring
"It often surprises me that more guitarists aren't aware of this album and, in particular, this solo by Jimmy Herring. Those who have the album often point to the 'Compared to What' cover, which has one of Jimmy's most burning leads, but to me, this one wins. It starts off as a searching jazz solo, beginning with a soft touch but ending with a screaming blues-rock tone and modern harmonic ideas. Truly underrated."
3) George Benson | "The Cooker"
From The George Benson Cookbook (1967)
GUITARIST: George Benson
"When I was growing up, George Benson was a superstar on the pop/R&B scene, known as much for his voice as for his guitar. So it blew my mind to discover the burning straight-ahead soul jazz he'd done in the 1960s. This song and solo are quintessential. One of my 'pandemic projects' was to transcribe and play along to 'The Cooker,' and I was touched by the attention it got, including props from a fellow early Benson fan, one Peter Frampton."
4) Joe Henderson | "Swing Spring"
From So Near, So Far (Musings for Miles) (1993)
GUITARIST: John Scofield
"As much as I enjoy John Scofield's solo albums, hearing him as a sideman alongside a giant like Joe Henderson brings out something special. Here he is burning over rhythm changes, a common form in jazz guitar, yet his licks are anything but common. Harmonic density and alterations are blended with blues flavor and hard-hitting rock bends at times, all with that signature 'Sco' nastiness."
5) Allan Holdsworth | "Metal Fatigue"
From Metal Fatigue (1985)
GUITARIST: Allan Holdsworth
"It's difficult to pick a favorite Holdsworth solo, but this one seems to capture a lot in fewer bars than most of his extended excursions, which are also wonderful. The opening is so singable, it could be a composition in itself. A consummate improviser, Holdsworth's live performances of this track rarely, if ever, resembled his recorded solo. But for many of us listeners, it's an essential part of the song and a lesson in deep expression."
All the latest guitar news, interviews, lessons, reviews, deals and more, direct to your inbox!
Guitar Player is the world's most comprehensive, trusted and insightful guitar publication for passionate guitarists and active musicians of all ages. Guitar Player magazine is published 13 times a year in print and digital formats. The magazine was established in 1967 and is the world's oldest guitar magazine.
When "Guitar Player Staff" is credited as the author, it's usually because more than one author on the team has created the story.