Way Huge Debuts All-New Atreides Fuzz Synth
The "Analog Weirding Module" comes equipped with seven sliders that seek to achieve a combination of fuzz and synth.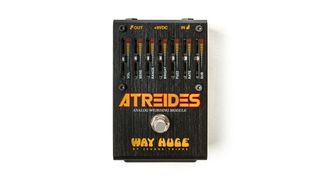 (Image credit: Way Huge)
Way Huge has unveiled the Atreides Analog Weirding Module – a unique fuzz-synth pedal that offers up a "kaleidoscope" of organic tones via seven slider controls.
Heavily inspired by the science fiction novel Dune, the Atreides vows to take its user on "a spectacular journey through the wonders of space and the mysteries of time".
Parameters for volume, sensitivity, range, brightness, fuzz, rate and sub are controlled by the sliders that sit on the top of the pedal, offering users the chance to dial in and manipulate organic synth-like fuzz tones.
Paying homage to a 1980s mini-synth keyboard, the Atreides produces a "monophonic effect with many layers" that explodes with gnarly fuzz sounds and growly sub-octaves when the footswitch is engaged.
Internally, the pedal features switches to both adjust the phaser feedback and set the sub-octave to one or two octaves down.
Watch JHS Pedals' demo of the new Way Huge pedal below.
The Way Huge Atreides Analog Weirding Module will be available for $199 when it is released later this year.
All the latest guitar news, interviews, lessons, reviews, deals and more, direct to your inbox!