"Truth Is, I Hate the Way I Play Guitar": Joe Bonamassa Speaks Candidly in Our Exclusive Interview
Read these incredible snippets from our latest issue's eye-opening cover feature.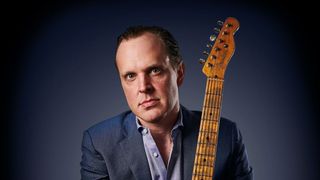 (Image credit: Future/Joby Sessions)
"Smokin'" Joe Bonamassa had an early start to his illustrious career as a blues guitar hero while sharing stages with the likes of B.B. King and Danny Gatton at age 12. But 30-plus years and 11 Billboard Blues chart-topping albums later, the most high-profile blues guitarist around has recently had a couple of realizations: "I'm not a guitar player; I'm not a singer or songwriter. I'm an entertainer," Bonamassa told GP in our exclusive interview.
"What I do onstage is an extension of my personality, which then morphs into a character that does not exist outside of the theater. I like not being recognized."
In this intimate and revealing conversation with GP "the man in the suit" discusses the gulf between self-image and the public eye. "When I put on the suit, I become "that guy." And therein lies part of the success and part of the problem," reveals Bonamassa before going on to confess, "Truth is, I hate the way I play guitar. I hate the way I sing. I know I can do it pretty well, but I wish I could do it so much differently."
Read more surprising revelations (such as his desire to play guitar in somebody else's band and why he never wants to shoot a TikTok video) in our latest issue – out now!
Due out on October 29th Joe Bonamassa's latest album – Time Clocks – can be purchased directly from his website.
All the latest guitar news, interviews, lessons, reviews, deals and more, direct to your inbox!
Joe is a freelance journalist who has, over the past few decades, interviewed hundreds of guitarists for Guitar World, Guitar Player, MusicRadar and Classic Rock. He is also a former editor of Guitar World, contributing writer for Guitar Aficionado and VP of A&R for Island Records. He's an enthusiastic guitarist, but he's nowhere near the likes of the people he interviews. Surprisingly, his skills are more suited to the drums. If you need a drummer for your Beatles tribute band, look him up.