"Truth Is, I Hate the Way I Play Guitar": Joe Bonamassa Speaks Candidly in Our Exclusive Interview
By Rod Brakes , Joe Bosso
Read these incredible snippets from our latest issue's eye-opening cover feature.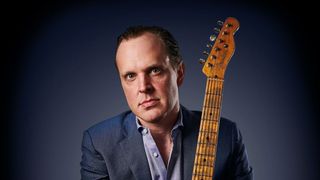 (Image credit: Future/Joby Sessions)
"Smokin'" Joe Bonamassa had an early start to his illustrious career as a blues guitar hero while sharing stages with the likes of B.B. King and Danny Gatton at age 12. But 30-plus years and 11 Billboard Blues chart-topping albums later, the most high-profile blues guitarist around has recently had a couple of realizations: "I'm not a guitar player; I'm not a singer or songwriter. I'm an entertainer," Bonamassa told GP in our exclusive interview.
"What I do onstage is an extension of my personality, which then morphs into a character that does not exist outside of the theater. I like not being recognized."
In this intimate and revealing conversation with GP "the man in the suit" discusses the gulf between self-image and the public eye. "When I put on the suit, I become "that guy." And therein lies part of the success and part of the problem," reveals Bonamassa before going on to confess, "Truth is, I hate the way I play guitar. I hate the way I sing. I know I can do it pretty well, but I wish I could do it so much differently."
Read more surprising revelations (such as his desire to play guitar in somebody else's band and why he never wants to shoot a TikTok video) in our latest issue – out now!
Due out on October 29th Joe Bonamassa's latest album – Time Clocks – can be purchased directly from his website.
Rod Brakes is a music writer with an expertise in all things guitar-related. Having spent many years at the coalface as a guitar dealer and tech, Rod's more recent work as a journalist covering artists, industry pros, and gear includes writing hundreds of articles and features for the likes of Guitarist magazine, MusicRadar, and Guitar World, as well as contributions for specialist books and blogs. He is also a lifelong musician.
Get the latest news, reviews and product advice straight to your inbox.
Thank you for signing up to The Pick. You will receive a verification email shortly.
There was a problem. Please refresh the page and try again.