Get the most raved-about and lusted-after pedals of 2023: right now the UAFX pedal range is up to $80 off
There are some big savings to be had on Universal Audio FX reverbs, delays, compressors and amp sim pedals – but the deals are almost over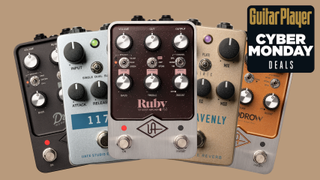 (Image credit: Future)
Sweetwater's Black Friday sale ends today, with almost all of Universal Audio's UAFX pedal range discounted by $80 or $50.
As relative newcomers on the effects block, the UAFX range has made a pretty big impression on players so far, pitching itself right in the top tier when it comes to high-quality effects. And, usually, top-tier quality means high prices, but these discounts bring pretty much the entire line down to a more accessible price point. there are discounts at Musician's Friend and on Universal Audio's store on Amazon, but all the deals set to wrap up soon – Sweetwater's Black Friday sale ends November 26 – if you've been eyeing up these UAFX pedals then now is the perfect time to take advantage.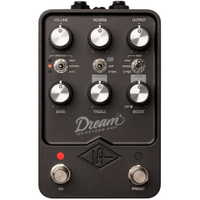 UAFX pedals: Save up to $80 on the full range
There are amazing savings on offer on the entire range of UAFX guitar pedals – 12 in total – with savings between $50 and $80 available right through until November 16.
Guitar Player reviewed Universal Audio's Dream '65, Woodrow '55 and Ruby '63 Top Boost amp-emulator pedals earlier this year and we gave them all our Editor's Pick Award. "The tones provided by these pedals makes one appreciate the ears and engineering of the UAFX developers," we wrote. "They are stompboxes, sure, but they are painstakingly rendered amps in their own right, each capable of standing in for the real thing while providing sonic options galore…"
We also loved their latest releases: the Evermore Studio Reverb, Heavenly Plate Reverb, Orion Tape Echo and the 1176 Studio Compressor, raving that "the phenomenal range of effects and sonic tweakage on offer from these small but mighty stompboxes will take your breath away".
I'm a major sucker for a reverb, so for me the UAFX Del-Verb is a highlight of the range, especially the plate reverb and the carefully implemented modulation controls which I found usable across the whole control sweep. It was the delay which really impressed though, providing three distinct variations which each brought something different to the table. With sale price on the UAFX Del-Verb of $299, down from $349, it's a lot of high-class reverb and delay available for not a lot of cash.
Finally, the 2023 line-up of lower-cost pedals, each packing a single effect rather than combinations of many, have a nice $50 reduction. Our pick is the UAFX Orion tape echo, reduced down to $169, which is arguably one of the most full-featured tape echo pedals around, and has a fantastic control on it called 'wonk' for providing that classic wow and flutter tape age sound.
Sweetwater's Black Friday sale runs until November 26, so if you've been eyeing up these UAFX pedals then now is the perfect time to take advantage.
Keep tabs on all the best Cyber Monday guitar deals on our dedicated page.
All the latest guitar news, interviews, lessons, reviews, deals and more, direct to your inbox!
Chris Corfield is a journalist with over 12 years of experience writing for some of the music world's biggest brands including Orange Amplification, MusicRadar, Guitar World Total Guitar and Dawsons Music. Chris loves getting nerdy about everything from guitar gear and synths, to microphones and music production hardware.