Steve Lukather Talks His New Solo Album, Reforming Toto and Going Viral at Age 63
"I'm not trying to be the biggest, best at anything anymore," Luke says, "I just want to have a good time and have a few laughs."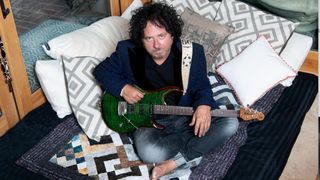 (Image credit: Alex Solca Photography)
It was only a little more than a year ago that Steve Lukather announced that Toto, or, at least, the then-current version of Toto, was calling it quits. And yet, ever since then, the session ace and solo artist – worldwide pandemic lockdown be damned – has been on a ridiculously hot creative and professional streak.
"My life has turned around for the better during this year off, as unfortunate as it is for so many reasons," he tells Guitar Player. "It was a self-realization for me – stay home, sleep in my own bed, be with my family and be present."
Luke laughs. "It turned out to be weirder than I thought, but it has opened my eyes a lot. And I'm glad to have made the most of it."
And make the most of it Luke has. For starters, there's his new, rather excellent solo album, I Found the Sun Again, which finds him laying down slick, sinewy and this time out, somewhat shreddy, solos over five rock-pop-jazz originals and three covers – Traffic's "The Low Spark of High Heeled Boys," Joe Walsh's "Welcome to the Club" and Robin Trower's monster blues-rock guitar workout "Bridge of Sighs."
He also shot a video for the record's first single, the Beatlesque "Run to Me," which – despite being a socially-distanced, at-home affair – still managed to include a visual cameo from guest drummer Ringo Starr.
What's more, Luke pitched in on Denizen Tenant, the new album from Toto vocalist Joseph Williams (Williams in turn contributed to I Found the Sun Again), and the two have also announced a new version of Toto, which will make its debut on November 21 with a one-night-only global livestream before gearing up for the 2021 Dogz of Oz world tour. You can get tickets here.
But that's not all: This past summer Lukather collaborated with Ernie Ball Music Man on the Luke III, the newest iteration of his popular signature model (wanna hear it in action? Cue up I Found the Sun Again), and became, at the ripe age of 63, a viral video star after he posted a clip that showed him taking revenge on a neighbor's noisy leaf blower by blasting him into oblivion with some high-wattage licks.
"I'm more famous for that than anything I've done in the last 43 years," Luke says with a laugh. "Go figure."
One of the first things that struck me about I Found the Sun Again is how immediate and live-sounding the record is.
Well, I did the album in eight days, soup to nuts. We would do a song a day – no rehearsal, no click. We'd run the song once to make sure everything was cool, and then take two was usually it.
I come from an era that was accused of being overproduced, so I wanted to see if I could do it. So this record is the best of what I've got at 63 years old. And we made it quickly, made it live. It's like it was in 1972, but with 2020 fidelity. That's really what I was looking for. And I think we got it.
There's some great lead playing on the record, and a lot of it – maybe more than we've heard from you in a while. How did you approach the solos?
I cut all the solos live. It makes you play different when you play that way. And I wasn't trying to impress anybody. I was like, "Let me just play what comes out as opposed to what's going to amaze my guitar player friends." Because these days there's, you know, a seven-year-old kid in Japan that plays so fast you can't even see his hands move. I can't do that.
What do you think of people that can do that?
I mean, it's a sport. It's great if you can do it. But you know what's really hard to do? Play eighth notes in time with a click track. It sounds so stupid, right? Watch. A lot of these guys never sat down and learned that stuff. Because they learned all the tricks first.
I'm just glad I'm old and I don't have to compete in that world. It'd be scary. I'd be considered a shitty guitar player by today's standards. But it's astounding what people are doing with the instrument. Look at Andy McKee, Jon Gomm and those guys. And Steve Vai and Joe Satriani and all the heir apparents. It's insane!
Speaking of guitars, what was your main setup on I Found the Sun Again?
I used my new Luke III, the green guy, through a Bogner 4x12 with just a couple little gadgets on the pedalboard. Nothing really slick – I tried to keep it as pure as possible. If you hear a little delay on something that's because that was the way it was recorded.
What do you like about the Luke III?
The versatility of tone, man. You start messing with the tone controls and the pickup switches and you get some very interesting sounds. And on this record I was really looking for, like, a sax-y kind of tone.
Everybody seems to be going for the same tone these days and so I was just trying to do something a little different to stand out – because all those other guys are better than me! So I thought I'd better do something interesting because it's hard to have a voice in all of this. So I just try to do my best.
You tackle a few cover songs on the record, but the one that really stands out to me is "Bridge of Sighs." What led you to that one?
I did it because, one, Robin [Trower] doesn't get enough love. And two, it's a really great song to play. And not a lot of people have done it as far as I know. So it was just something fun to play on, really. I mean, this whole record is a vanity record in the sense that, you know, I'm not out there trying to write a hit single with Cardi B.
I don't think you need to.
I was 19 when I made the first Toto record. So it's amazing to me, the passage of time. And I still go back to those classic records that I liked when I was young, and they still give me goosebumps. But they say that the music of your childhood becomes the music of your life.
So you know, there'll be somebody at their 80th birthday party going, "Fuck you I won't do what you tell me!" This is a reality, man. The Beatles are like our Frank Sinatra now, you know what I mean? You go to Vegas and it's nothing but bands from my era. We are the Frank and Sammy of our generation! The funniest fucking shit I've ever seen in my life.
Well, you're keeping your legacy going with this new version of Toto. Whereas just last year you made it sound as if the band was done.
Well, I didn't lie. What I said was that incarnation of Toto was done. I never said I wasn't going play to play Toto music with anybody else again.
What led to the end of the previous incarnation of Toto?
It was bad business, bad... You know, our original managers didn't deal with the name of the band properly. I was blamed for shit I didn't do. There were people fighting backstage. People wouldn't talk to certain people and sometimes it would almost come to blows. And I'd get in the middle of it.
Other people hated me, and some people hated the road so much that everything was miserable. There was a lot of offstage shit going on that didn't get brought onstage because everyone's a pro. Strap on the guitars, act like nothing's wrong. But it was really hard.
But I don't wish anybody ill. It's just, I'm at the age now where, how many great summers do I have left? I'm not trying to be the biggest, best at anything anymore. I just want to have a good time and have a few laughs. If I can make a few dollars doing it, great.
The upcoming Toto livestream will be our first glimpse of the new lineup headed by you and Joseph Williams. What can you tell us about the performance?
Well, what we're doing is kind of a slick thing. A livestream is usually, you know, "Set up some cameras and play." Most people do it from their living rooms. We're doing it a little differently. But I put together a new band so I had to spend some weeks in the studio rehearsing them to get them ready.
It's like, "Oh, yeah, I can't wait to play 'Hold the Line' again!" [laughs] We have to do some of those songs because I want to show people how this new band can sound playing them.
So that's going to be part of our repertoire, and then the other part will be new solo material, old solo material, some other cool stuff. We have a lot of records to cull from and the ability to not do the same setlist we've been doing for the last eight, ten years. We can stretch it out a little bit.
When it comes to performing, you hit it out of the park this summer with your private backyard show for your leaf-blowing neighbor.
Leave it to that to make me famous! This guy was fucking with me for a long time. He cut down 40 years of brush that was on my side of the property while I was out on the road. Sawed down limbs that are my side of an oak tree and did it without telling me. Which you need a permit for. And there was some other shit that he started with my kid, who was six at the time.
So then this guy starts up with leaf blowers, three of them, at 7:00 AM. That's a lot of noise – 120dBs! And I live in the Hollywood Hills, where the houses are close together. Old hippy town. So 7 AM, man? You don't do that. And I went crazy. I put my amp out on the trampoline and just cranked it.
I'm out there barefoot, on wet grass, and I'm playing this guitar like shit, you know? Just trying to make noise to piss him off. [laughs] And then it went viral. Now I'm more known for that than anything. I went Number five on Reddit. Funniest shit I've seen in my life.
All the latest guitar news, interviews, lessons, reviews, deals and more, direct to your inbox!
Rich is the co-author of the best-selling Nöthin' But a Good Time: The Uncensored History of the '80s Hard Rock Explosion. He is also a recording and performing musician, and a former editor of Guitar World magazine and executive editor of Guitar Aficionado magazine. He has authored several additional books, among them Kurt Cobain: Montage of Heck, the companion to the documentary of the same name.