Kurt Cobain's Legendary "MTV Unplugged" Martin D-18E is Going Up for Auction
Lost in Frances Bean Cobain's divorce settlement, the ultra-rare 1959 model is valued at over a million dollars.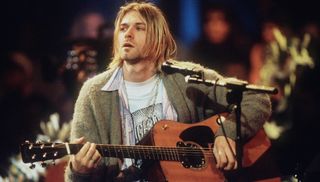 (Image credit: Frank Micelotta/Getty Images)
The legendary 1959 Martin D-18E used by Kurt Cobain for Nirvana's 1993 MTV Unplugged performance is going up for auction.
Left by Cobain's daughter, Frances Bean Cobain, to her ex-husband, Isaiah Silva, as part of the couple's divorce settlement, the ultra-rare guitar is being valued at over a million dollars.
The seventh of only 302 D-18Es built by Martin, the guitar is being auctioned off by Julien's as part of its Music Icons auction, which is set to take place in Beverly Hills, CA on June 19 and June 20. 
Featuring a Bartolini pickup added by Cobain, the D-18E will be sold with its original hardshell case, complete with a half-used pack of Martin guitar strings, three picks and Cobain's suede bag, which is decorated with a miniature silver spoon, fork and knife.
The Martin, rumored to be the last guitar Cobain ever played, can be viewed at the Hard Rock Cafe in London's Piccadilly Circus from May 15 - May 31 and then at Julien's Auctions Gallery in Beverly Hills from June 15 - June 19.
If the guitar indeed sells for a million, it would be the third most expensive acoustic guitar ever sold, behind only John Lennon's $2.4 million Gibson J-160E and David Gilmour's 1969 Wish You Were Here Martin D-35. 
For more info on the auction, and this guitar, stop by juliensauctions.com.
Get the latest news, reviews and product advice straight to your inbox.
Thank you for signing up to TO_UPDATE_FROM_FLEXI_UI. You will receive a verification email shortly.
There was a problem. Please refresh the page and try again.