Jennifer Batten Recalls When Eddie Van Halen Asked Her to Re-Teach Him the "Beat It" Solo
"It's not something he had played with Van Halen – it was a one-off in the studio and then he went on his way," Batten said. "But I'd say he picked it up again mighty quickly!"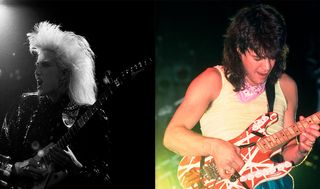 (Image credit: Raymond Boyd/Getty Images (Batten), Paul Natkin/Getty Images (Van Halen))
Former Michael Jackson guitarist Jennifer Batten is one of the scores of famous six-stringers that have come forward to pay tribute to Eddie Van Halen since his death in October.
As Jackson's touring guitarist, Batten was uniquely aware of Eddie's singular compositional brilliance, given that one of her nightly tasks was performing his unforgettable "Beat It" solo.
Though that solo – which helped push Thriller to audiences Jackson had never reached before, shattering sales records in the process – undoubtedly remains one of Eddie's most beloved and well-known, it wasn't one he often had to revisit in subsequent years.
This led to an amusing situation where one day in the late '80s, having met her by chance, Eddie asked Batten to give him a refresher on his own solo. Batten told Guitar World about the encounter in a recent interview.
"During the Bad tour [in 1987-1989] there was a point where we had a break for a couple of weeks and I was going to play a gig with a band," Batten says.
"It was one of those nasty L.A. days where the traffic is awful and it's hotter than hell. I showed up late, totally stressed out. And the manager of the band greeted my car and said, 'Eddie Van Halen's next door… and he wants you to prove that you can play the Beat It solo.' That was just overload from how my day had gone. And my immediate reaction was no.
"Eventually Eddie's tech came over and asked if I would come and meet him. And I said, 'I would love to.' And as soon as I walked in the room, he put his guitar on me and wanted me to play the solo. So, of course, I did.
"As soon as I finished, he grabbed the guitar and asked me to remind him how the solo went. Because it's not something he had played with Van Halen – it was a one-off in the studio and then he went on his way. But I'd say he picked it up again mighty quickly!"
All the latest guitar news, interviews, lessons, reviews, deals and more, direct to your inbox!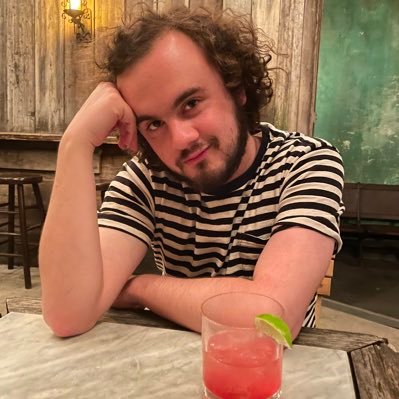 Associate Editor, GuitarWorld.com and GuitarPlayer.com
Jackson is an Associate Editor at GuitarWorld.com and GuitarPlayer.com. He's been writing and editing stories about new gear, technique and guitar-driven music both old and new since 2014, and has also written extensively on the same topics for Guitar Player. Elsewhere, his album reviews and essays have appeared in Louder and Unrecorded. Though open to music of all kinds, his greatest love has always been indie, and everything that falls under its massive umbrella. To that end, you can find him on Twitter crowing about whatever great new guitar band you need to drop everything to hear right now.