"It's Lighter on Guitars, but They Have More Impact": Inhaler's Elijah Hewson and Josh Jenkinson Make a Singular Sound on New Album, 'Cuts & Bruises'
The chart-topping Irish stars reveal how they made their guitar lines shine more brightly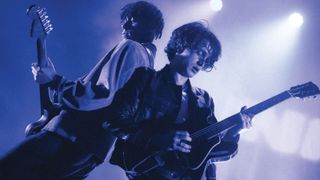 (Image credit: LEWIS EVANS)
Elijah Hewson, the 23-year-old singer and guitarist of the fast-rising Irish alternative band Inhaler, is happy to rattle off the names of his favorite bands and artists – the Stone Roses, Joy Division, Kings of Leon, the Smashing Pumpkins, David Bowie and the Rolling Stones.
Funnily enough, he doesn't mention U2, which is only strange considering the fact that his father, Paul Hewson, is known to the world as Bono.
It's as if he goes out of his way not to talk about his famous dad and the band he leads. It isn't until I remark how some of the guitar parts on Inhaler's just-released sophomore album, Cuts & Bruises (Geffen), bear an early Edge-like quality – specifically ringing, anthemic two- and three-note riffs – that the subject comes up at all.
"Any similarity is kind of a happy accident," Hewson says. "We try not to be influenced by The Edge. Obviously, he's such an important player, so that influence seeps in. Sometimes we're like, 'Oh, does that sound like The Edge?' We have to be careful about that."
He laughs, then adds, "We just make sure to have those dotted delays off. That's our rule. As long as there's no dotted delays, we're grand."
Clearly, Hewson wants his band to be accepted on its own merits, and he appears to be winning.
Inhaler's 2021 album debut, It Won't Always Be Like This, was a brash and swaggering gem that topped the charts in both the U.K. and Ireland. Cuts & Bruises – led by the swinging Northern soul-tingled single, "Love Will Get You There," and filled with absorbing post-punk aces like "Just to Keep You Satisfied" and "These Are the Days" – is a more ambitious and refined effort that packs massive punches in all the right places.
Both onstage and on record, Hewson grabs a fair amount of the songs' guitar solos, but he shares that function with Josh Jenkinson, also 23.
"I'm called the lead guitarist, but I think it's only because I stand to the right of Eli," Jenkinson says. "A lot of the time, he'll play something once, but he won't be able to repeat it. Or he'll come up with an idea for a riff, but I'll take it somewhere further. We're a good two-guitar team in that we share the same brain."
Jenkinson, who began playing the guitar after hearing the Doors on one of his video games, joined Inhaler (which also includes bassist Robert Keating and drummer Ryan McMahon) three years into their existence. At the time, the band was playing covers while trying to forge a path for their own sound.
"I met Eli at a party and we bonded over bands we loved, particularly the Stone Roses," Jenkinson recalls. "There was no real audition for me to join up. I just got together with the guys, and I never left."
Much of the sound of Cuts & Bruises is framed around an '80s guitar aesthetic – biting, arpeggiated guitar sequences colliding with ambient textures – and both Hewson and Jenkinson are avowed effects enthusiasts.
"I love my pedals, but I can't remember the settings," Hewson admits. "Josh is the real wizard with them."
While recording the album, the two guitarists were guided by a principle of trying to get more out of less.
"On our first album, we were so excited to be making a record in a studio, so we went very heavy with the guitars," Jenkinson explains. "This time, we wanted to make the parts stand out and have their own sonic space. I think all the guitar lines shine more brightly now." He laughs. "So it's lighter on guitars, but they have more impact, if that makes any sense."
Hewson's go-to guitars are a Fender 1959 relic Stratocaster reissue and a Gibson ES-330, while Jenkinson relies on a Fender Jaguar he's had since 2019. Before acquiring that guitar, he and an earlier Squier Jaguar were inseparable, despite its broken bridge.
"He had a Nintendo DS game under the bridge to keep it up," Hewson recalls. "We kept telling him to get it fixed, but he was like, 'No, no, I don't want to mess with it. I love the way it sounds.' He still hasn't gotten it fixed, which I find kind of amazing."
Jenkinson simply shrugs. "Why should I mess with something that sounds so unique?" he asks. "I'll never fix that guitar. It's beautiful."
Pre-order Inhaler's new album, Cuts & Bruises here.
All the latest guitar news, interviews, lessons, reviews, deals and more, direct to your inbox!
Joe is a freelance journalist who has, over the past few decades, interviewed hundreds of guitarists for Guitar World, Guitar Player, MusicRadar and Classic Rock. He is also a former editor of Guitar World, contributing writer for Guitar Aficionado and VP of A&R for Island Records. He's an enthusiastic guitarist, but he's nowhere near the likes of the people he interviews. Surprisingly, his skills are more suited to the drums. If you need a drummer for your Beatles tribute band, look him up.