Select Fender Player Strats have up to $210 off at Guitar Center until November 15 – these are the models we love
Always wanted a Strat? Now's the time to take advantage of a Guitar Center deal that will save you hundreds of dollars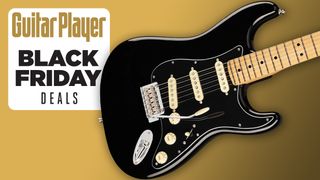 (Image credit: Fender)
Fender Player Stratocasters have always been incredible value, so to be able to snag one with up to $210 off is a real event. From now until November 15, Guitar Center is selling off select Fender Player Stratocasters from just $599.99. That's an awful lot of guitar for your money!
The Player series is, of course, Fender's entry-level, made-in-Mexico Strat, but they're a real step up from a similarly priced Squier and not much of a step down from the much more expensive US-built Performer series.
The overall spec is out and out classic Strat – an authentically shaped, hand-finished alder body, a 5-way selector switch, Alnico pickups, a two-point bridge with bent steel saddles, and a modern C-shape neck with either a maple or pau ferro fingerboard. Some models also boast an HSS configuration, which can be coil split. And the tone? Pure Strat, of course, with that characteristic bell-like tone.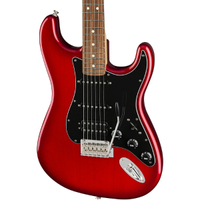 Fender Player Series: Up to $210 off at Guitar Center
Guitar Center is discounting select Fender Player Strats by up to $210, bringing some models down to just $599.99. Discounts and specs differ slightly from model to model but all share classic Strat features, such as an alder body, five-way selector switch, alnico pickups, and a fast, satin neck. Go for the time-honoured SSS configuration or choose a humbucker-loaded HSS model instead for a bit more oomph and depth. These Strats are perfect for those on a budget, novices, seasonal gifts, or gigging musicians in need of a quality spare. Don't delay, this deal ends on November 15.
So, who should purchase one of these bargains? Clearly, they're epic value for the budget-conscious player and an excellent buy for a novice. They are also an absolute steal for the gigging musician who either needs a backup guitar or who doesn't fancy risking a $6,000 Fender Custom Shop instrument on stage night after night. You could buy ten of these for the same price.
There's only one question that really matters – which one should I buy? The Fender Player Stratocaster series is quite diverse, so it's a tricky one to answer. However, here are three guitars that should definitely be on your shortlist.
The classic alder-bodied Fender Player Stratocaster is the archetypal Strat. It doesn't have quite as many features as its stablemates, but that's part of its appeal. It's a no-nonsense, great-value Strat that won't disappoint the purists, or most other players for that matter. It's also the least expensive at just $599.99 with a $200 discount in this current promotion, but looks twice the price with its super smart black body and matching pickguard.
The pickup configuration is the traditional SSS with a five-way selector switch for those iconic 'in-between' tones, the pups are Alnico 5 and the neck and fingerboard are maple. It sounds like a Strat should, balanced, bell-like with a ton of sparkle. If you're looking for a solid-performing, great-value Strat, this could be your best buying decision in a long time.
The Fender Player Strat with roasted maple fingerboard and Fat '50s pickups is, as the name suggests, a guitar with some very tasteful and extremely tempting extras. Fender has kitted out this Player model with gorgeous Custom Shop Fat '50s pickups that take it to the next level sonically. These pups are made with custom magnets that are wound with enamel-coated wire to give a warm, full tone with a touch more midrange. Dig in with a little gain and they break up in the most organic fashion. Back off a little, and the tone starts to clean up with a sparkle. Classic Fender.
The roasted neck and fingerboard are a treat for the hand as well as the eyes. This guitar is currently $749.99 (with $200 off) but feels like it should be so much more than that. You get to choose from three colors – Fiesta Red, Surf Green, or Black – but they all look fantastic.
If you're looking for a little more smoothness and a lot more oomph the Fender Player Stratocaster HSS should tickle your fancy. The Alnico II humbucker in the bridge position adds warmth and real power, the perfect antidote for those players who find a single coil here sounds way too brittle and characterless.
Move the selector to position two and authentic Strat tones will be restored. Fender has wisely included an auto-split feature that splits the humbucker into a single coil when it's paired with the middle single coil - music to the ears of Strat fans who appreciate a little 'quack' in their tone.
The Pau Ferro fingerboard is a treat to look at and should add further warmth to this Strat, albeit subtle. The neck is comfortable, fast, and treated with a satin finish on the rear to stop sweaty hands under hot stage lights from getting bogged down. Guitar Center has this model in an opulent Candy Red Burst, which looks absolutely stunning. A bargain at just $649 with a tasty $180 discount.
Keep it locked to our Black Friday guitar deals page for even more savings through this month.
All the latest guitar news, interviews, lessons, reviews, deals and more, direct to your inbox!