Advertisement Feature
Gibson's Top Ten Moments of 2021 – So Far
By Richard Bienstock published
New guitars, gear, amp collaborations, original programming and much, much more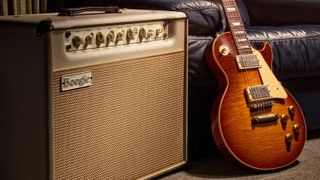 (Image credit: Gibson)
It's a new year, and not surprisingly, Gibson has bestowed on us plenty of new gear, from impressive 60th Anniversary SGs to wild Kramer metal machines.
But the legendary brand has been keeping busy with much more than just new guitars – although, let's be honest, the guitars have been pretty outstanding. There's also the acquisition of Mesa/Boogie amps, the wide range of incredible and often star-studded programming offered up on Gibson TV, and the brand new, and rather revolutionary, Gibson App.
But that's not all: Gibson has spearheaded extensive charity work through its Gibson Gives Foundation, as well as supported the next generation of guitar stars via its G3 mentoring program. For a closer look into all this and more, read on.
The new Gibson App is the "only guitar app you'll need"
If you're anything like us, your phone is probably jam-packed with guitar apps. Well, clean 'em up, hit delete and download the Gibson App, the "only guitar app you'll need."
Whether you're a beginner looking to learn to play or an expert needing new inspiration, most guitarists must "connect their own dots" across a wide array of tools, learning platforms and connections to find their favorite songs and artists. The Gibson App, however, does it all, with an innovative learning method, an awesome selection of songs to jam along with and much more to bring learning to another level.
Developed in partnership with Stockholm-based music tech company Zoundio, the Gibson App provides "two-way, interactive, and immersive guitar-learning" with guided step-by-step lessons for both electric and acoustic guitar players, in multiple genres and styles. The App uses Audio Augmented Reality (AR), which interacts with players and creates an additional real-time guitar layer.
And that's just the beginning. The Gibson App also adds in the award-winning Gibson TV channel, the live Virtual Guitar Tech service (opens in new tab), which pairs players with pro Gibson techs for interactive, real-time guitar assistance, a versatile guitar tuner and a direct connection to Gibson.com (opens in new tab). What's more, new features are added to the App every month.
Start a free trial now on iOS at the App Store (opens in new tab) and Android on Google Play (opens in new tab).
The SG celebrates 60 years
This year marks the 60th anniversary of the legendary SG, and Gibson is celebrating the original model's first-ever year in production – when the radical double-cutaway was dubbed a Les Paul before being renamed the SG – with the new 60th Anniversary 1961 Les Paul SG Standard in Cherry Red and Les Paul SG Custom in Polaris White. (opens in new tab)
The new models adhere strictly to the original blueprint, staying true to its 1961-inspired roots, complete with a Sideways Vibrola, a bound Authentic '61 Thin Profile mahogany neck, a solid mahogany body, Kluson and Grover tuners, an ABR-1 Tune-O-Matic bridge, Custombucker pickups (two on the Standard, three on the Custom), CTS vintage-taper pots, Black Beauty capacitors and more.
Epiphone's Inspired By Gibson Collection
Epiphone's recently-unveiled Inspired by Gibson Collection offers fans classic Gibson acoustic and electric guitars at an accessible price.
Designed from the original Gibson blueprints, the range offers Original and Acoustic Collections, including new and classic electric and acoustics (opens in new tab) like the Les Paul, SG, Flying V, Explorer, Firebird and the ES-335, ES-339, as well as the J-45, Hummingbird, and J-200. Features include the more Gibson-like Kalamazoo headstock, as well as upgraded electronics and finishes.
For more information on all the "inspired" Inspired by Gibson designs, head to Epiphone (opens in new tab).
Kramer unveils Artist Collection collaborations
Kramer's Made to Rock Hard collection is bringing some much-needed '80-style fretboard pyro to 2021, with a cornucopia of shreddable electrics in a variety of fresh and classic designs and retina-searing finishes.
New for 2021, Kramer has debuted the Artist Collection featuring collaborations with Snake Sabo (the Baretta), Charlie Parra (the Vanguard) and Tracii Guns (the Gunstar Voyager), with more collaborations expected to come throughout the year.
Until then, also check out the back-to-basics Original Collection, designed to capture the look and feel of the "original shredder guitar," which includes the classic Baretta Special and Focus VT -211S, as well as the Jersey Star, Pacer, SM-1, NightSwan, The 84, the Baretta and more.
Kramer's Modern Collection, meanwhile, boasts the Assault 220, Assault Plus, Nite-V, Nite-V Plus and the D-1 Bass, and brings present-day features to classic designs, including neck-to-body joints, contemporary hardware and tremolo options, cutting-edge pickups and electronic options and more.
Head to Kramer Guitars (opens in new tab) for all your Made to Rock Hard needs.
KRK helps you rock it with the Rokit 5 G4 studio monitor
If you're in the market for a hot new studio monitor, check out KRK System's Rokit 5 G4. The 5" powered near-field studio monitor boasts a DSP-driven graphic EQ with 25 settings to help condition your acoustic environment, while offering new levels of versatility in a monitor.
There's also Kevlar matching drivers, 55 watts of power, a frequency response of 43Hz - 40KHz and balanced TRS/XLR combo jacks. A new scientifically-designed speaker enclosure and front-firing port, meanwhile, offer exceptional low-end extension and accuracy, punch and flexible room-positioning, and the custom Class D power amplifier drives the speakers evenly and more efficiently at reduced operating temperatures and with improved audio integrity.
For more information on the Rockit 5 G4, head to KRK Music (opens in new tab).
Gibson welcomes a new generation
The Gibson Generation Group (G3) is a global, two-year youth mentoring program currently represented with 20 highly talented, undiscovered, young musicians spanning in age from 11 to 20.
And in 2021, the first class, which features players hailing from India, Spain, China, Norway, France, the Netherlands, Japan, Australia, the U.K., and the US, will graduate.
What does that mean, exactly? For starters, G3 artists are offered one-on-one mentoring from Gibson's global Entertainment Relations Team. They also obtain access to the brand's online and social platforms, receive interview, performance and promotion opportunities and attention for their music and are showcased worldwide alongside legendary Gibson artists. It's a wealth of one-of-a-kind career opportunities only Gibson can offer.
For more information or to sign up for the Gibson Generation Group, head to G3 (opens in new tab).
Get tuned in with Gibson TV
Gibson made headlines last year with the launch of Gibson TV, an all-original, worldwide online network delivering engaging shows with storytelling from iconic artists for music lovers around the world.
Since then, the online network's lineup of shows has only grown in size and scope. There's The Process, (opens in new tab) which delves into the physical process of how a Gibson guitar is made as well as featuring the artisans who handcraft these beloved instruments; The Collection, (opens in new tab) which sees host Mark Agnesi take viewers on a deep dive into the extraordinary, personal guitar collections of music's biggest artists; The Songbook, (opens in new tab) an acoustic-driven series featuring stripped-down performances in beautiful spaces from world-renowned artists and up-and-coming musicians; and Riff Lords, (opens in new tab) a thoroughly epic and unique series gives viewers the opportunity to learn their favorite riffs direct from the artists who wrote them.
But that's not all: Icons (opens in new tab)sits down with some of the most legendary artists, producers and music business pioneers in history for long-form interviews; Behind the Board (opens in new tab) is an "in-the-studio" series that presents musicians and producers looking back on the recording process of their most ground-breaking and inspired albums; The Scene (opens in new tab) is a travel and lifestyle series that visits cities around the U.S. and abroad to find the coolest music destinations; and My First Gibson (opens in new tab) allows artists to tell the story of how and why they acquired their first Gibson guitar, at the same time exploring their musical history, influences and playing style.
Finally, Gibson's newest addition to the lineup is the "how-to" series Gibson's Guide to Guitar Setup and Maintenance (opens in new tab), which gives viewers insight on how to properly care for and maintain the playability of their guitar. The series is hosted by Gibson's Master Luthier, Jim DeCola, and provides in-depth explanations on topics ranging from changing strings, cleaning and conditioning your fingerboard and adjusting your neck to lowering and raising string action, adjusting pickup height, adjusting intonation and more.
You can check out Gibson TV's full lineup of exclusive, original shows at Gibson (opens in new tab) or the official YouTube channel (opens in new tab).
Gibson Acoustic goes big in Montana
Nashville may be the home of Gibson HQ, as well as the Gibson USA and Custom Shop factories, but the brand's famed acoustic guitars have long been constructed in the beautiful and natural environs of Bozeman, Montana.
Now, the facility where those instruments are built is undergoing a massive expansion that will effectively double the size of the Bozeman Gibson Acoustic factory.
In addition to expanding the manufacturing space, Gibson is also building a Bozeman Acoustic Custom Shop and a Gibson Acoustic Showroom for the public to experience Gibson Acoustics and celebrate the history and legendary quality of Gibson's handcrafted acoustics.
Gibson is in serious investment/expansion mode in 2021, and prioritizing its acoustic facility and the artisans who create its acoustic guitar collections. What's more, the expansion of the Gibson Acoustic facility has created new job opportunities and recruitment of top artistic talent on both the local and national level.
For more information, head to Gibson (opens in new tab).
Gibson boogies with Mesa
In a move that puts one of the industry's leading guitar brands under the same umbrella as one of its most celebrated guitar amp manufacturers, Gibson recently announced the acquisition of Mesa/Boogie.
Known as the original "boutique" amp company, Mesa/Boogie was founded 51 years ago by Randy Smith, who created many of the groundbreaking circuits and designs – including pioneering the concept of high-gain amps – that have defined the Mesa line over the decades.
Smith will join Gibson as Master Designer and Pioneer of Mesa/Boogie. In his new role, Smith will continue his passion for tube technology and his vision for building hand-crafted, high performance amplifiers, that continue to "redefine how we experience sound across Mesa/Boogie and Gibson."
Keep an eye – and ear – out for great Gibson and Mesa/Boogie creations to come, and for more information, head to Mesa/Boogie (opens in new tab).
Gibson Gives breaks records
In 2019 Gibson relaunched its charitable arm, Gibson Gives, and now also KRK Kares, both 501(c)(3) foundations that believe in the power of music, and that getting instruments into the hands of those with a desire to make music is a truly life-changing event.
Gibson Gives immediately committed to donating 1,000 guitars in 1,000 days to charities and in November 2020 sailed above and beyond the initial goalpost by donating 1,100 guitars in 500 days.
Gibson Gives also works extensively with other charities to support and raise funds including the Recording Academy (GRAMMYs) MusiCares, Guitars For Vets (helping U.S. military veterans with PTSD) and others. Additionally, GG is outfitting schools with music resources in the U.S and worldwide with Playing For Change, Save the Music, Notes for Notes and much more to come in 2021.
Gibson Gives believes investing in music education will yield better people, better leaders, and a better world, and 100 percent of all donations to and from the organization go towards giving the gift of music.
To learn more, head to Gibson Gives (opens in new tab).
Rich is the co-author of the best-selling Nöthin' But a Good Time: The Uncensored History of the '80s Hard Rock Explosion. He is also a recording and performing musician, and a former editor of Guitar World magazine and executive editor of Guitar Aficionado magazine. He has authored several additional books, among them Kurt Cobain: Montage of Heck, the companion to the documentary of the same name.
Get the latest news, reviews and product advice straight to your inbox.
Thank you for signing up to The Pick. You will receive a verification email shortly.
There was a problem. Please refresh the page and try again.