Gibson's Latest Batch of Certified Vintage Guitars Includes Some Total Classics (and One of the Weirdest Guitars Ever Made!)
A "mint" 1960 Les Paul Standard 'Burst dubbed Sunny by Kirk Hammett remains unsold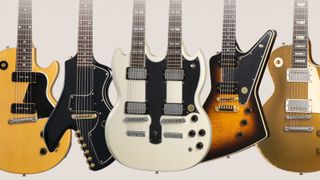 (Image credit: Gibson)
Gibson has unveiled the latest batch of guitars featuring in its Certified Vintage program. Authentically sourced and sold directly to customers, Gibson launched its new campaign earlier this year.
Gibson Certified Vintage instruments ship with a certificate of authenticity and an appraisal letter detailing the instrument's provenance. These carefully curated vintage guitars also receive a lifetime limited warranty.
"Collectors will have an absolute level of certainty when buying directly from Gibson Certified Vintage," said President and CEO of Gibson Brands, Cesar Gueikian.
Featured in Gibson's latest selection is a 1957 Goldtop, 1982 Explorer E2 CMT, 1957 Les Paul Special, 1986 EDS-1275, and a decidedly quirky 1981 Futura prototype.
Earlier this year, Gibson Certified Vintage unveiled a "mint" 1960 Les Paul Standard 'Burst called Sunny. This guitar is not to be confused with a namesake '59 'Burst acquired by Joe Bonamassa via Vintage 'n' Rare Guitars in Bath, U.K.
Owned and played extensively by Metallica guitarist Kirk Hammett, the 1960 Sunny 'Burst is currently still available.
1957 Gibson Les Paul Model/Goldtop
When the Les Paul Model was introduced in 1952, it featured a pair of cream-colored 'soap bar' P-90 pickups. Dubbed the Goldtop on account of its gold paintjob, the instrument was updated with a pair of PAF humbuckers in 1957. The following year, it was decked out in a new Cherry Sunburst finish and renamed the Les Paul Standard. Known as 'Bursts these are among the most collectible guitars in the world. The '57 Goldtop is essentially the same guitar, albeit with a different finish.
Gibson says this example is "in well-played condition" with heavy lacquer checking, forearm wear, and playwear showing this guitar was well-loved throughout the years. At one point in its history this Goldtop was modded with a pair of phase switches, though the holes have now been filled and the wiring returned to standard configuration.
Expertly refretted by the renowned Glaser Instruments in Nashville and with a new set of functioning tuner buttons, this 'bucker-loaded beauty is ready to enjoy plenty more years of playing service and ships with its original Lifton case.
1982 Explorer E2 CMT
The Explorer started out life as the V-headstock Futura, as depicted in the "ornamental design" patent applied for in June 1957. It was part of Gibson's "Modernistic" range that also included the Flying V and Moderne (though the latter didn't make it into production until 1982).
Like the Flying V, the Explorer was years ahead of its time and was discontinued in 1959. This uber-rare solidbody was originally produced in very small numbers with only 22 recorded shipped between 1958 and 1959. In the early '60s, Gibson fitted contemporary hardware and pickups to the remaining late '50s bodies and necks, but very few of these left the factory. It wasn't until 1975 when Gibson reintroduced the Explorer and the design finally took off.
This 1982 Explorer E2 CMT (Curly Maple Top) features a Tobacco Sunburst finish and a pair of Dirty Fingers humbuckers. It's a very different beast from the original examples that featured a natural Korina finish and PAF humbuckers, but flashy tops and hot 'buckers is what the '80s were all about.
This NOS (New Old Stock) example was stored in its original case in the Gibson Vault in Nashville, TN. Although its pickguard still retains the original protective plastic the ageing nitrocellulose finish has checked slightly (which some people love to see).
1957 Les Paul Special
The Gibson Les Paul Special was introduced as a mid-level alternative within the Les Paul range in 1955, completing the classic lineup of Junior, TV, Special, Model/Standard and Custom. It boasts the same dual P-90 pickup and electronics configuration as the Goldtop, though its "limed mahogany" slab body is more akin to a TV.
Back in the day, some Gibson guitars that fell short of the company's rigorous quality control were demoted as 'seconds' and subsequently stamped with a "2" (although most guitarists wouldn't notice any significant disadvantages). This Special is one such guitar that has been stamped as a second due to an oversized output jack plate.
Nevertheless, Gibson says it was used as a benchmark for their Custom Shop Historic reissue and Murphy Lab programs.
1986 EDS-1275
The EDS-1275 double-neck solidbody started out in 1957 as the Double 12. Sporting 12- and 6-string necks with Gibson's regular 24 3/4-inch scale length, the Double 12 featured a thinline construction comprising a maple back/sides and a carved/arched spruce top. In 1962, the design was changed to a solid mahogany, SG-style construction and rebranded the EDS-1275.
Only 110 Double 12 and EDS-1275s are recorded shipped between the late '50s and late '60s when this rare custom-order instrument was eventually discontinued. Following its use by high-profile guitarists such as Jimmy Page, Don Felder and Steve Howe it was reintroduced in the mid '70s.
Having spent the best part of four decades in storage, this Alpine White example from 1986 was discovered in its original case in the Gibson Vault in Nashville, TN. Much like the Explorer above, this EDS-1275 is in NOS condition and exhibits some ageing to the finish, despite retaining the original protective plastic on its pickguard.
1981 Futura Prototype
Not to be confused with its 1950s Explorer prototype namesake, this Futura also embodies a radically creative design and was made by Gibson's R&D team back in the early '80s when headless guitars were a thing (ironically, it looks like the head of a demented mechanical shark).
Gibson says the compact headless design was ultimately rejected and this prototype has remained in storage ever since.
Still, it's a completely unique example and one of significant historical importance being the only headless guitar Gibson produced.
Visit Gibson for more information.
All the latest guitar news, interviews, lessons, reviews, deals and more, direct to your inbox!
Rod Brakes is a music journalist with an expertise in guitars. Having spent many years at the coalface as a guitar dealer and tech, Rod's more recent work as a writer covering artists, industry pros and gear includes contributions for leading publications and websites such as Guitarist, Total Guitar, Guitar World, Guitar Player and MusicRadar in addition to specialist music books, blogs and social media. He is also a lifelong musician.