Watch a Recently Rediscovered Documentary on Gibson's Former Kalamazoo, Michigan Factory from 1967
The footage, which has never seen the light of day until now, was digitally remastered after Gibson employees found it in the company's archives in 2020.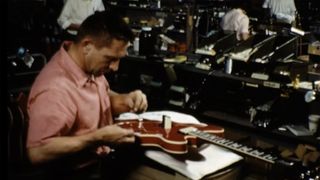 (Image credit: Gibson TV/YouTube)
Gibson has released a documentary from 1967, featuring never-before-seen footage and an in-depth tour of the company's former factory in Kalamazoo, Michigan.
The footage was unearthed by Gibson employees, who stumbled upon an unmarked reel of film while trawling through the company's archives in 2020. The footage was digitally remastered by Gibson TV producers, who subsequently found that the mystery reel contained a documentary titled An Instrument of the People.
First produced 55 years ago, An Instrument of the People takes a deep dive into the guitar-building operation of Gibson's former Kalamazoo factory, and takes viewers through almost every step of the process.
Gibson has released the 20-minute documentary in its entirety on its YouTube channel. You can check out An Instrument of the People below.
The film picks up right at the very start of the production line, and follows factory workers as they take an unfinished slab of wood through the carving, cutting, shaping and binding stages.
The final checks, including truss rod tweaks, intonation, action, fret finishes and more final adjustments are also shown.
As well as exploring the guitar-making process, An Instrument of the People also briefly discusses the brand's pickups and guitar amp sectors, and demonstrates how it made its acoustic and electric guitar strings in the late '60s.
Despite showcasing a number of SGs, ES models and acoustic guitars, there is one noticeable absentee in the film: the Les Paul. That's because, since the film was shot in 1967, it would be another 12 months before the single-cut was recalled to the Gibson catalog, after it was discontinued in favor of the SG in 1961.
In response to a handful of those who commented on the documentary, Gibson proposed that "not much has changed" in the way of how they build guitars – a remarkable feat, given the fact the practices shown in the film are over half-a-century old. Still, as the old adage goes, don't fix what isn't broken.
All the latest guitar news, interviews, lessons, reviews, deals and more, direct to your inbox!