Eventide Announces New PowerMINI, PowerMINI EXP, PowerMAX rev 2 Power Supplies
By Jackson Maxwell published
The new universal power supply units and expander are the company's latest collabs with Danish manufacturer Cioks.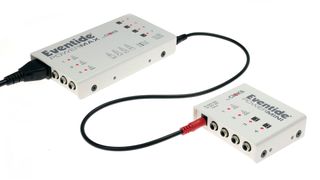 (Image credit: Eventide Audio)
Eventide has unveiled its new PowerMINI, PowerMINI EXP and PowerMAX rev 2 pedalboard power supplies.
PowerMINI, true to its name, is a compact isolated power supply for smaller pedalboards. It provides two outputs rated at 9VDC/660 mA, plus two outputs switchable to 9, 12, 15 or 18VDC at up to 660mA, and weighs in at .5 pounds, while measuring one inch high.
It can be used on its own or as an expander for the PowerMAX via a 24VDC aux input. The PowerMINI also includes seven flex cables and an inline external AC power adaptor. It is usable worldwide.
The PowerMINI EXP is the expander kit for the PowerMAX rev 2. It's identical to the PowerMINI in every respect other than the low-profile inline external AC power adapter, which it lacks. It does, however, include a 24VDC Link cable for direct connection to the PowerMAX rev 2.
The PowerMINI EXP can be used stand-alone, as an expander kit for the PowerMAX rev 2 via the 24VDC aux link, or for low-current analog pedals using the supplied cables on the original PowerMAX.
It can also be powered from any power adaptor rated from 9-24VDC, and its expansion kit includes seven flex cables for feeding pedals, plus the 24VDC Link cable to directly connect to the PowerMAX rev 2.
Weighing in at one pound and measuring one inch high, the PowerMAX rev 2 adds a dedicated, isolated 24VDC auxiliary output to the original PowerMAX.
Each outlet has an individual LED status indicator, and a three-color LED true power meter gives a visual representation of how much power is being used in total.
It packs 42W of power, and can power up to seven high-current pedals via three outputs of 9VDC/660mA and four outputs switchable to 9, 12, 15 or 18VDC at up to 660mA. A 24VDC AUX output to feed a PowerMINI expander and a USB output to power a smartphone or tablet also come standard.
The Eventide PowerMINI, PowerMINI EXP and PowerMAX rev 2 are each available now for $129, $109 and $209, respectively.
For more info on the power supplies, visit eventideaudio.com (opens in new tab).
Jackson is an Associate Editor at GuitarWorld.com and GuitarPlayer.com. He's been writing and editing stories about new gear, technique and guitar-driven music both old and new since 2014, and has also written extensively on the same topics for Guitar Player. Elsewhere, his album reviews and essays have appeared in Louder and Unrecorded. Though open to music of all kinds, his greatest love has always been indie, and everything that falls under its massive umbrella. To that end, you can find him on Twitter crowing about whatever great new guitar band you need to drop everything to hear right now.
Get the latest news, reviews and product advice straight to your inbox.
Thank you for signing up to The Pick. You will receive a verification email shortly.
There was a problem. Please refresh the page and try again.