Catalinbread Pays Homage to Ritchie Blackmore with Dual-Pedal Box Set
The Deep Purple baroque 'n' roller is honoured with recreations of his famous Aiwa TP-1011 preamp and Hornby-Skewes Treble Booster units.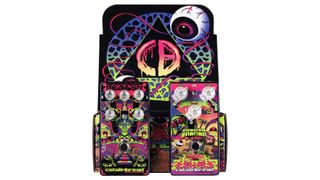 (Image credit: Catalinbread)
Catalinbread have just launched a pair of Ritchie Blackmore-inspired stompboxes in a special edition box set. The Dreamcoat, which mimics the sounds of Blackmore's Aiwa TP-1011 reel-to-reel preamp, and the Hornby-Skewes Treble Booster-style Skewer pedal feature matching artwork and are initially being offered together at a discounted price, after which they will be available to buy separately.
Designed to work together as tools that will help inspire you as much as they did the great man himself, Catalinbread are keen to emphasise the Dreamcoat and Skewer are intended to help guitarists create their own "sonic footprint" rather than simply mimic Blackmore's classic tones.
No doubt both stompboxes will be more pedalboard-friendly (not mention easier on the bank balance) than the original vintage Aiwa TP-1011 reel-to-reel and Hornby-Skewes Treble Booster. Catalinbread have promised the sounds of those classic rock originals have been faithfully recreated, but with extended controls these pedals also offer the ability to explore new sonic territory.
So, what's under the hood of this box (set) of tricks?
Dreamcoat
The Dreamcoat is an accurate recreation of the preamp circuit in Blackmore's Aiwa TP-1011 reel-to-reel deck, recalling the crystal-clear clean tones, unmistakable overdriven leads and everything in between from his classic recordings. Additionally, a frequency booster circuit that mimics the effect of the inductor-based custom tone mod in Ritchie's Strat gives that little extra something when needed.
Skewer
In the same vein as their popular Naga Viper Dallas Rangemaster-style booster, the Skewer is Catalinbread's take on the vintage Hornby-Skewes Treble Booster famously used by Ritchie Blackmore. This biting silicon transistor booster has been recreated here, albeit with a little more tweakability than the original, including a Skew knob which allows adjustment of the frequency response; an extended Boost control; and a gain-wringing Extra dial.
Visit Catalinbread for more information.
All the latest guitar news, interviews, lessons, reviews, deals and more, direct to your inbox!
Guitar Player is the world's most comprehensive, trusted and insightful guitar publication for passionate guitarists and active musicians of all ages. Guitar Player magazine is published 13 times a year in print and digital formats. The magazine was established in 1967 and is the world's oldest guitar magazine.
When "Guitar Player Staff" is credited as the author, it's usually because more than one author on the team has created the story.