A "Stove Top" Gibson Les Paul Has Appeared on Reverb
Chalk this under "mods gone badly wrong."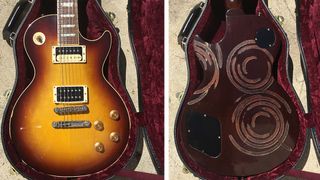 (Image credit: Reverb.com)
Modifying your guitar can definitely be a tricky prospect. If you don't know what you're doing, you risk doing something like... this. 
First coming to our attention as a Reverb listing, this 1996 Gibson Custom Shop Les Paul Standard features a rather interesting design on the back of its body.
According to the listing, the "original owner tried to design the guitar with a stove top spiral on the back. This melted the nitrocellulose lacquer and some paint, but did not burn the wood."
Aside from the attempt at modern art in the back, the guitar comes loaded with '57 Classic pickups, Grover tuners and '50s wiring.
Other fixings on the guitar - which the current owner says is, aside from the swirls, in good condition - include a wraparound tailpiece and an original Gibson Custom Shop case.
The guitar is available now, at the reduced price - given similar models of its age and condition - of $2,300.
To see the full listing, point your browser on over to reverb.com.
Get the latest news, reviews and product advice straight to your inbox.
Thank you for signing up to GuitarPlayer. You will receive a verification email shortly.
There was a problem. Please refresh the page and try again.