"Never Give up on Your Dream": Steve Howe's Top Five Tips for Guitarists
These are the habits that have made Steve Howe a stylistic and technical virtuoso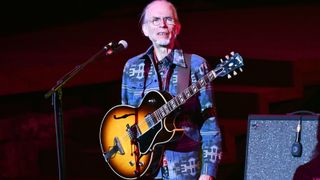 (Image credit: Scott Dudelson/Getty Images)
"My advice just comes from my experience," Yes guitar legend Steve Howe says of his guitar-playing tips. "I'm completely self-taught on the guitar, which means nobody sat me down and said, 'This is the right way to play; that's the wrong way.' But there was a kind of beauty and freedom in the way I learned, because I never felt restricted in any way. Playing the guitar felt like a journey to me, and it was one that I was keenly interested in."
He admits to experiencing moments of self-doubt. "It happened from time to time when I was younger," he says. "Somebody would say something to me like, 'That doesn't sound very good,' and my whole world caved in. Over the years, I realized that I shouldn't overreact to little things, because most of the time that's what they are. People are always going to criticize, so it's really a matter of how you respond to what they have to say.
"A guitarist can always come up with reasons why they're not further along," he continues. "But to me, the way around that – and it's the most important thing, really – is to never give up on your dream." He laughs. "It sounds like a cliché. But there has to be a dream."
On that inspiring note, Howe runs down his top tips for guitarists…
1. Don't Practice. Play!
"It's fine if you want to do scales for a quick warm-up. I play scales myself occasionally. But I'd say that 95 percent of my contact with the guitar is spent improvising. I might noodle around or work on a tune I'm writing. Sometimes I'll just strum for a while, especially if I haven't played for four or five days, which is rare for me. Maybe I'll play an Everly Brothers song. What I'm getting at is, you're supposed to play the guitar. It's supposed to be fun; it's not supposed to feel like drudgery. I think back to my earlier years, and this was the same approach I had even then. One of the greatest joys I had was improvising on the guitar and just letting my mind roam.
"Speaking of warming up, this holds true for your guitar, too. To make a guitar speak, you have to play it for a bit to encourage it to project and sound good. They did a scientific study about leaving the guitar unplayed for periods of time. What they discovered was that the dynamic range was much less until somebody had played it for 10 minutes or 15 minutes. That makes sense to me."
2. Get Fingerboard Knowledge
"The fingerboard of a guitar is fascinating. There are so many different positions in which you can play the same note. Even after all these years, sometimes I'll play an inversion and think, Wow, I hadn't thought about that one. The fingerboard is where your music comes from. Obviously, you have to use your picking hand, too, but the fretting hand on the fingerboard – that's where all the possibilities are.
"There are various ways to gain fingerboard knowledge. I guess you can always pick up manuals as a starting point. It's like cab drivers learning their way around London: They need a map – or at least they used to. However you choose to familiarize yourself with the fingerboard and all it offers, you want to end up feeling unchallenged – like, no matter what you want to play, you'll know where your fingers should land. And as I said, there are so many possibilities. You might play something one day, and the next day you'll go, 'There's got to be a better fingering for this.' That happens all the time."
3. Find Your Ideal Playing Posture
"Growing up, I never thought about my posture or how playing the guitar could hurt my back. I'd play wherever I was – sitting on a bed, stretched out my sofa... anywhere and anyplace. And, of course, there were so many years standing onstage and playing. Over time, that can present certain problems. When I see early pictures of me onstage, I can't believe how Bill Wyman-ish my playing position was. I wore the guitar up so high. At the end of a tour, I used to go to see a chiropractor. I finally got fixed up with treatments, but I also discovered that I had to re-adjust and rethink my playing positions. Now I don't wear the guitar up so high; it's just sort of resting there.
"For certain things, I prefer to sit now, specifically when I play solo guitar. I discovered that the guitar needs to be in a position that I can always call my own. Like when I play 'Clap,' for example: I'll play acoustic, and I'll use a foot stool on my right foot. It's weird – lots of people use a stool for their left foot. But I discovered that the stool under my right foot works best. I can get around the different ways I have to play.
"You need to look into ways that you can play without doing yourself any harm. You might need to make certain adjustments between the way you play electric or acoustic, because the two instruments are so different – their weight and how they fit against your body."
4. Trust Your Guiding Ear
"For the first 10 years, learning an instrument is a physical exercise. You're learning how to make notes and how to move your fingers. That's all important, but after that, then what? The answer is, you need to follow your guiding ear. That's what's going to lead you toward your musical direction. You need to attune yourself to how you hear sounds and what they're telling you.
"I think I first became aware of this when I listened to Kenny Burrell. He seemed to have a special sense about sound, but it wasn't all about technique. I think it was about the way he heard its sounds – his guiding ear. He always sounded the same, and he always sounded great. He used a [Gibson] Super 400, on the front pickup. And that's a great guitar and a great pickup, but the thing was, I think he always saw his sound through to the end. He followed it where it wanted to go.
"In other words, you play the part – it exists, but that isn't the end. Stick around for the mix, so you can go, 'I want the guitar on the left. Can you add a bit of reverb? Oh, no, for God's sake, turn it down.' You want to be part of the way your guitar goes out to the world. It's got to be the way you hear it. That's what I try to do: the playing it, the physical part. The rest is all up to your guiding ear and how you really want to sound."
5. Research All Guitarists and Styles
"When I was young, I didn't leave any stone unturned. I wasn't just a guitar fan; I was a guitar researcher. I read all the mags and bought the records. I listened to radio shows. I just had to know about everything that was going on.
"I guess it's because I always had an adventurous spirit. I heard Chet Atkins and he made me think that I could play any kind of guitar. I saw Wes Montgomery when I was 16. I tried to mimic everybody I heard: Jimmy Bryant, Speedy West. There were so many guitarists in the jazz field, like Charlie Christian, Tal Farlow, Lenny Burrell... This list could go on for a while. And then John McLaughlin came along with so many other guitarists that I could really dig a lot. There was so much to learn from. And hey, it's okay to steal licks, too.
"Instead of absorbing one style only, listen to other genres and distill them into what you do. It's amazing how people limit themselves. Earlier today, I was listening to [Maurice] Ravel. I've always peppered my listening time with classical music. You can go on so many musical journeys if you give yourself the chance."
All the latest guitar news, interviews, lessons, reviews, deals and more, direct to your inbox!
Joe is a freelance journalist who has, over the past few decades, interviewed hundreds of guitarists for Guitar World, Guitar Player, MusicRadar and Classic Rock. He is also a former editor of Guitar World, contributing writer for Guitar Aficionado and VP of A&R for Island Records. He's an enthusiastic guitarist, but he's nowhere near the likes of the people he interviews. Surprisingly, his skills are more suited to the drums. If you need a drummer for your Beatles tribute band, look him up.