Sculpting Virtual Guitar Solos: Three Techniques to Enhance Recorded Tracks
Purists may object, but recording guitar onto hard-disk is limited only by your imagination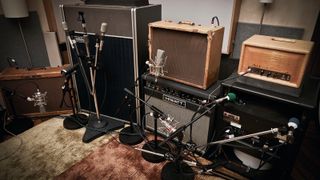 (Image credit: Future)
Hard-disk recording makes it possible to do just about anything.
Purists may object, but just as movies have embraced computer graphics (they're not really blowing up the Death Star in Star Wars), guitarists can embrace unprecedented methods to enhance solos.
Let's look at some techniques for sculpting virtual solos.
Timing
Of course, you don't always want perfect timing. Rushing adds tension, while lagging sounds more laid-back.
But some situations do benefit from perfect timing.
Fig. 1 shows the start of a solo that incorporates tempo-synced delay. If the initial notes are "off" even slightly, their echoes will conflict rhythmically with subsequent notes.
The blue lines in the upper track show how the notes in the green track have been aligned to 1/16th notes.
The matching notes in the yellow track rushed the beat (which sounded fine, until I added the delay).
The white line indicates how the first note aligns to the beat. Also, the pick noise at the original note's beginning has been cut. This gives a cleaner sound, because the "dirt" doesn't echo.
The red lines show how three notes that ran together in the bottom track were separated, with spaces added to make the notes more articulated (the third note was also shifted a bit later). This allows the three-note run to be heard distinctly.
Pitch Correction
Melodyne, Auto-Tune and other pitch-correction software can fix out-of-tune notes.
Again, you don't want to correct everything. For example, notes that resolve slightly flat add a sense of anticipation.
But if there's a "spoiler" note where you pressed down too hard on a string, or bent it unintentionally, pitch correction can save punching or re-doing a part.
Pitch correction can also transpose notes. If a note would sound better up or down a few semitones, no problem. You can also copy a guitar line and then use pitch transposition to create a super-tight harmony.
Faux Feedback
This technique gives a high feedback whistle effect at the end of notes.
Fig. 2 illustrates this in PreSonus Studio One. I took the note that needed to be sustained (colored yellow for clarity) and copied it as a clip to another track.
The setting clip's Speedup parameter below 1.00, to 0.50, extended the note to increase the sustain time.
The Transpose parameter transposed the audio up 19 semitones (an octave plus a fifth, a common feedback frequency).
Fading in minimized the attack so the "feedback" would fade in naturally toward the end of the original note, while a fadeout kept the feedback from overstaying its welcome.
None of this is too difficult to perform, so enjoy your sonic sculpting. Sometimes "the only limit is your imagination" isn't just a marketing phrase.
Visit craiganderton.org for tips and techniques, and youtube.com/thecraiganderton for music and instructional videos.
All the latest guitar news, interviews, lessons, reviews, deals and more, direct to your inbox!