Mine the Musical Gold of "Free Bird" and Other Songs From Lynyrd Skynyrd's '(Pronounced 'Lĕh-'nérd 'Skin-'nérd)' in This Celebratory Lesson
As Lynyrd Skynyrd's debut album turns 50, we dive into its guitar stylings, as performed by Gary Rossington, Allen Collins and Ed King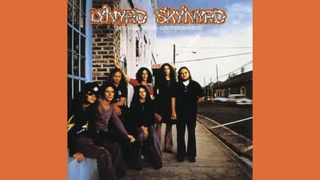 (Image credit: MCA)
Lynyrd Skynyrd's road to superstardom began in 1964, inside a small cabin at the end of a field in Jacksonville, Florida. They called it Hell House, which gives you a general idea of the accommodations – or lack thereof – afforded by the intense Florida heat. Nevertheless, in its confines, they spent years writing and rehearsing the songs that would be featured on their classic 1973 debut album, (Pronounced 'Lĕh-'nérd 'Skin-'nérd), and establish them as an iconic southern rock band.
This year marks the 50th anniversary of the album's release, and in this lesson, we'll celebrate its enduring popularity and appeal by mining the musical gold found within each of its tracks, including the classic that would be a highlight of the band's concerts for decades to come: "Free Bird."
Throughout its nearly 42 minutes, Pronounced is spearheaded by the electrifying guitar work of Gary Rossington and Allen Collins. In fact, the band had a third guitarist: Ed King, formerly of Strawberry Alarm Clock, who had joined to replace bassist Leon Wilkeson shortly before recording began. (Wilkeson rejoined after the album was completed, and King moved to full-time guitar duties.) Even so, King contributes guitar to two songs – "Tuesday's Gone" and "Mississippi Kid" – on which producer Al Kooper handles bass duties.
While the band's performances all sound as if they teem with an excitement born from spontaneity, all the guitar parts were actually crafted with great thought and care, with nothing put to tape that didn't pass muster with the band. What resulted was a record that sounds as if a bunch of longtime friends were just jamming – albeit with ready-made classic guitar parts. And as we'll soon discover, much of the band's sound springs from the savvy interplay between its guitarists. Let's have a closer look at the album's eight tracks.
Pronounced kicks off with "I Ain't the One," and its intro is classic Skynyrd – a funky, bluesy guitar riff provided by Rossington on his Gibson Les Paul, complemented by Collins wielding his Gibson Firebird to provide some trademark lead work.
What's remarkable about Collins' playing is that he's able to eschew the common pattern- and lick-based approach to blues-rock playing in favor of a more melodic take, allowing him to create soulful lines.
Ex. 1 is inspired by both guitarists' playing on this song, which is in the key of A major. They create their uniquely southern sound mainly by drawing from the A minor pentatonic scale (A, C, D, E, G), most commonly heard in blues and rock, while deftly borrowing the major 3rd, C #, from the major pentatonic scale (A, B, C #, E, F #), which lends a brighter country flavor.
In addition to their talents for writing catchy rock riffs and songs, Skynyrd could compose ballads like nobody's business, each stirring in its own way. Our introduction to this facet of their songwriting comes with Pronounced's second track, "Tuesday's Gone," which features Rossington's thoughtful lead work.
The guitarist uses repetitive bends that evoke the sound of a slide guitar (he plays some real slide guitar later in the album).
Ex. 2 is influenced by his lyrical playing here. Note that King quietly makes his first appearance on guitar on this track, adding subtle fills during Billy Powell's piano solo.
Collins' rhythm guitar part in the chorus of "Gimme Three Steps," one of the album's singles, is a lesson in how to transform basic elements of rock guitar into fresh-sounding hooks.
Here he does so by employing some simple, yet ear-catching rhythms. His part loosely mimics the rhythm of vocalist Ronnie Van Zant's melody, with each supporting the other.
Ex. 3 is inspired by this very effective guitar part.
In the song's guitar solo, Collins continues a variation of the same rhythm part, with Rossington adding some nasty lead lines featuring the interval of a perfect 4th (two and one-half steps). The hollow-sounding nature of this interval lends itself to creating harmonized melodic lines in which each note speaks fully, even when played with a distorted tone, as there is little interference among the prominent harmonics involved.
Rossington's repetition of the three dyads at 2:20 can be seen to slyly evoke the "three steps towards the door" for which Van Zant is pleading, so as to avoid a nasty bar fight.
Ex. 4 brings this catchy phrase to mind.
Next up is another ballad, "Simple Man," which introduced a hallmark of the Skynyrd sound, whereby Rossington and Collins interject searing riffs and powerful lead lines into what begins as a seemingly subdued affair.
Ex. 5 is inspired by the low-end riff that thunders in at the 1:04 mark and foreshadows more storm clouds ahead. On the recording, all the guitars are tuned down one half step (low to high: Eb, Ab, Db, Gb, Bb, Eb), which adds to the track's brooding quality, but Ex. 5 is played in standard tuning.
If we were listening to the record on vinyl, this is where we'd flip it over to side two. "Things Goin' On" reminds us once again that Skynyrd's twin-guitar assault is unlike the usual fare.
In two-guitar bands, when both guitarists play simultaneously, their parts are usually doubled or arranged in different musical registers, or pitch ranges – one playing low and the other high – in order to clearly distinguish the two parts.
Throughout "Things Goin' On," however, Rossington and Collins defy convention by playing different parts in the same register. They deftly pull this off by creating two completely independent lines that, while close together in pitch, never step on each other. This produces an ear-catching effect, as upon first listen it can be difficult to tell who's playing what.
Ex. 6 is inspired by the song's intro. Note again how using interesting rhythms can bring bluesy riffs new life.
The next track, "Mississippi Kid," demonstrates how Skynyrd were capable of delivering the unexpected. The bluegrass-based song takes a stylistic departure from Pronounced's previous songs but fits right in.
King makes his second and final guitar appearance here, contributing a nifty acoustic slide guitar solo. But it's Collins, accompanied by Kooper on mandolin, who lays the song's foundation, juxtaposing some fine flatpicking with sliding chordal strums.
Ex. 7 is influenced by his playing throughout.
How does one take a simple G7 chord and make it rock with bluesy funkiness? Rossington and Collins answer this question in "Poison Whiskey" by deconstructing the chord into two separate parts.
In the intro, Rossington subtly implies G7 with a rock-solid low single-note riff. Basing the line primarily on the G minor pentatonic scale (G, Bb, C, D, F), the guitarist again borrows the major 3rd (B) from its parallel major pentatonic counterpart (G, A, B, D, E).
Collins, in turn, takes the top half of the chords, alternating between two dyads implying G7 and C5/G.
Notice how he omits the root of G7 and simply plays the 3rd (B) and b7th (F). These two notes, the interval of a tritone (three whole steps), clearly define the sound of a dominant 7th chord, even in the absence of its root.
Why leave it out here? Well, Rossington's got it covered! Plus, by omitting it, Collins prevents the two parts from covering similar ground.
Ex. 8 is reminiscent of the duo's playing here. Next time you're faced with a dominant 7th chord, try taking a similar tack by leaving out its root, even if you're the sole guitarist.
When Ronnie Van Zandt asks, "What song is it you wanna hear?" on Skynyrd's 1976 live album, One More From the Road, the crowd responds with a resounding cry of "'Free Bird'!" To their delight, the band obliges by offering up a searing 14-minute rendition of the song. Clocking in at well over nine minutes on Pronounced, "Free Bird" firmly established Skynyrd's place in southern rock royalty from the get-go.
In the 1970s and beyond, being able to play Collins' epic outro solo became a rite of passage for generations of aspiring rock guitarists. Before examining it, however, let's take a closer look at the song's gentler intro.
The song, Pronounced's final track, begins as a ballad, in which Van Zant tells the story of a man who feels compelled to leave a loving relationship to search for himself in far-off places. Powell's plaintive organ is first to enter. When the band follows suit, we find Collins playing clean, arpeggiated chords on his Gibson Firebird, while Rossington plays the song's signature slide guitar melody using a glass slide and his Gibson SG.
Ex. 9 is inspired by Rossington's instrumental expression of intense longing and regret.
The song and album end with Collins' five-minute outro guitar solo, played over a repeating three-chord progression at a brisk tempo.
The solo offers a veritable clinic in using repeated motifs to build melodic tension and create a series of escalating musical climaxes.
Based almost entirely on the G minor pentatonic scale (with a bit of G major pentatonic thrown in), the solo never fully resolves. Instead, it fades out with the guitarist continuing to spit fire, as we're left to imagine what was left on the cutting room floor.
Ex. 10 is reminiscent of Collins' rhythmic approach to creating this southern blues-rock lead guitar tour de force.
It begins with a lick based on notes of mostly longer value – half notes, quarter notes and eighths. The intensity is then ratcheted up by the introduction of 16th notes, finally reaching its peak in a whirlwind of 16th-note triplets. Focusing more on the rhythms you're playing than on the actual notes is a potent way to create memorable and dramatic solos.
The rhythms you choose will almost always imply certain notes, while the opposite is often not the case.
"Free Bird" expresses a different sort of vulnerability than Pronounced's previous ballads, again showing Lynyrd Skynyrd's remarkable range even at this early stage of their career. Its sorrow also now seems prescient, as tragedy would interrupt the band's runaway success in the form of a 1977 plane crash, which took the lives of Van Zant as well as members of the touring band.
Rossington and Collins were severely injured, but recovered, although Collins was left paralyzed by a car accident in 1986.
Despite all of this, Skynyrd ultimately relaunched in 1987, sadly without Collins, but with Johnny Van Zant now taking over vocal duties for his late brother Ronnie.
Rossington was onboard up until his death on March 5, 2023, at the age of 71.
Lynyrd Skynyrd were deservedly inducted into the Rock & Roll Hall of Fame in 2006, and the group's long-running appeal cemented them as one of the most enduring bands of the past half-century. And without a doubt, (Pronounced 'Lĕh-'nérd 'Skin-'nérd) had a lot to do with that.
All the latest guitar news, interviews, lessons, reviews, deals and more, direct to your inbox!
Jeff Jacobson is a guitarist, songwriter and veteran music transcriber, with hundreds of published credits. For information on virtual guitar and songwriting lessons or custom transcriptions, reach out to Jeff on Twitter @jjmusicmentor or visit jeffjacobson.net.