How to Record a Great Live Album
Marty Friedman shares his top ten tips.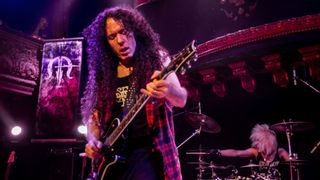 (Image credit: Miikka Skaffari/FilmMagic)
Friedman is best recognized for the musical side of his persona – specifically, for his inspiring legacy as a guitarist. Fans of the instrument respect him for the many solo albums he has to his credit, for his years sharing stages and studios with Jason Becker (in Cacophony, in the late '80s) and Dave Mustaine (in Megadeth, throughout the '90s) and, most of all, for his virtuosic talents.
Friedman can play everything from merciless metal and blazing shred to lyrical classical. (For an example from the latter genre, check out "Japan Heritage Official Theme Song," which he wrote for and performed with the Tokyo Philharmonic Orchestra.)
Friedman fans are a rabid bunch, a point easily proved by the insatiable crowd chanting "Marty! Marty! Marty!" on his concert album, One Bad M.F. Live!! The record vividly delivers the sound and energy of a great performance by Friedman and his band in Mexico City. We asked Friedman how he pulled off the feat. He replied that, while no musician can predict exactly which nights onstage will be magical ones, you can increase your chances of tracking a great live album if you…
1. Have Great Arrangements
If you've done even a little touring, you've probably experienced the way songs improve nightly – the band gets tighter, the grooves get deeper, the solos get more explosive and the arrangements evolve. But if you want powerful song arrangements on your live album, it helps if they were already powerful on your studio album.
"My Wall of Sound album took only nine days to record," Friedman says of his 2017 album release. "However, it took me a year and a half to arrange the songs beforehand. But I feel that it's worth putting that time and effort into it. By the time you've tried a song in every key and at every tempo, you're playing it pretty well."
2. Have Your Sound Together
Your live rig is like a song arrangement, in that it will sound and work better if you didn't just throw it together the night before the gig. Friedman's live setup has evolved over a span of not months but years.
"It's really easy to answer questions about which gear I use now, because it's pretty much all Marty Friedman signature stuff," Friedman says, laughing. "I'm flattered beyond words to have gear in my name, and sonically I couldn't be happier."
Aside from D'Addario strings (.010–.046), a Maxon Auto Filter, and Boss Delay and Chorus pedals, Friedman's touring rig consists of two Marty Friedman signature Jackson solidbodies boasting passive EMG MF Marty Friedman pickups, and a 100-watt Engl Marty Friedman Inferno head.
3. Have a Great Tech
If you want seamless effect changes, channel switching and perfectly in-tune guitars on your record, you'll be quite happy if you can find someone to fill that role even half as well as Alan Sosa does for Friedman.
"If I'm responsible for running my pedalboard, there's going to be an accident," Friedman says. "Not only does Alan know when to turn on and off pedals in each song, he even knows what sound I need when I'm ad-libbing. He's a great guitarist himself, so he's got that extra intuition."
4. Have the Right Players
If you want your live album to be amazing, make sure your backing group is, too. When it came to staffing Friedman's band, one of the trickiest chairs to fill was second electric guitar. "I have a long history of playing with great guitar players," Friedman explains, "and that tradition continues with Jordan Ziff. He is a fantastic young guitarist, and one thing I love about him is he can relate to my playing – and my playing is not very easy to relate to. There's no road map for what I do, yet he understands what I'm doing without me ever having to explain it, which is great, because I don't have the energy to explain ethereal concepts to band members."
5. Have a Terrific Show to Record
There are many reasons Friedman chose Mexico City as the city in which to record One Bad M.F. Live!! – including its great remote recording facilities and wonderful fans. "The main reason we recorded there, though, is that it was the last show of the tour," Friedman reveals. "That's the night when emotions run extra high in a band, and everyone's perfectly primed from weeks of playing. I mean, we're primed every night, but by tour's end we're a full-on, lean, mean killing machine."
6. Have a Wonderful Sound Engineer
"I don't normally do much of a soundcheck," Friedman says, "but for One Bad M.F. Live!! we did a massive one. A big part of it was doing test recordings and then going in the remote studio with Chris Rakestraw, who is one of my favorite engineers, to make sure the recorded sound of each player was great."
7. Have a Great Room Mix
Even though the mix in the venue has little effect on the final mix of a live album, it's important to get the room to sound right, as it may spark a more inspired performance. "For me, that means getting things loud," Friedman says. "I feed off the adrenaline and power of loudness. I have the front-of-house person mix my guitar like it's a lead vocal filling the room."
8. Have Strong Intros
"I like songs to start with intro riffs that make people want to pick up a guitar and play," Friedman says. "Take "Smoke on the Water" – the guitar riff is at the beginning. That approach works great at live shows."
9. Have Some Big Guitar Moments
Three minutes into "Inferno" on One Bad M.F. Live!! Friedman launches into an exciting repeating lick. Soon thereafter, Ziff parallels him an octave lower. "I think of licks like this one as 'licks for the fans,' because this is the sort of lick that makes people go 'Yeah!'" Friedman explains.
"If we were to stick to straight 16th notes over the 4/4 time, it'd be full on "Free Bird" – which is cool. But to make this section more hypnotic, Jordan and I begin to morph the lick rhythmically as the bass changes underneath, which creates a nice build."
10. Have Fun
"It may sound like a cliché, but this band is like a family," Friedman says. "We honestly do love each other and what we do, and that comes through live. And having played the songs so much, we've refined the set to a point where everyone in the band shines.
My bassist, Kiyoshi, is incredible. She blows people's minds every night. And my drummer, Chargeeeeee, is incredible to watch, too. He's like a combination of Animal, from The Muppet Show, and Tommy Lee on steroids, playing all of my perverted drum parts. And Jordan can blend with me and do cool stuff on his own.
Everyone has big moments in this band, and that takes pressure off of me. My philosophy is, Why not have a great basketball team instead of just having a great center?"
Buy Marty Friedman's One Bad M.F. Live!! here.
All the latest guitar news, interviews, lessons, reviews, deals and more, direct to your inbox!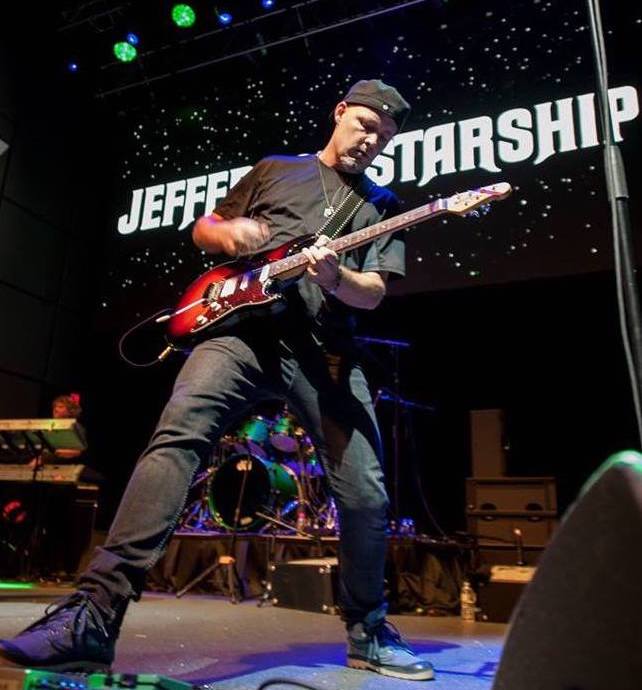 Los Angeles Editor, Guitar Player
Whether he's interviewing great guitarists for Guitar Player magazine or on his respected podcast, No Guitar Is Safe – "The guitar show where guitar heroes plug in" – Jude Gold has been a passionate guitar journalist since 2001, when he became a full-time Guitar Player staff editor. In 2012, Jude became lead guitarist for iconic rock band Jefferson Starship, yet still has, in his role as Los Angeles Editor, continued to contribute regularly to all things Guitar Player.
Watch Jude play guitar here.