Hard to Find but Worth the Hunt, Yamaha's Prized 'Flying Banana' SG-3c Is One of the Best Holy Grail Oddball Guitars on the Vintage Market
Rising considerably in price, this great playing, great sounding axe is quality all the way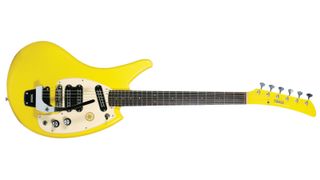 (Image credit: May Yam)
It was the 1960s, and guitar makers were duking it out to make a great guitar that had an original look, hoping that the new jukebox hero would play their creation and put them on the map. Yamaha certainly seemed to have the goods. While most guitars that came out of Japan in the 1960s were of mediocre quality, Yamaha's were anything but.
As for the SG-3c shown here, it is exceptional, even by Yamaha's' standards. The company began making musical instruments in the late 1800s and started producing guitars in the early 1940s under the Nippon Gakki Co. umbrella, which is where their custom shop is headquartered to this day.
Sadly, this model wasn't played by anyone of note, and Yamaha eliminated it from the company's product line just three years later.
In the early 2000s, Yamaha took another stab at a few guitars from their SG series, including the SGV, known as the Flying Samurai. While those remakes look and play great and have updated features, the pickups on the original 1960s models scream by comparison. For that reason, as well as its rarity, the SG-3c has come to be known as one of the holy grails of weirdly shaped guitars.
Weirdo Factor
The name SG-3c sounds like some sort of Borg designation. Much better is the nickname fans bestowed on it: the Flying Banana (although it was offered in a few colors other than yellow).
But aside from its shape, there is nothing weird about this guitar. It's quality all the way!
Playability & Sound
This guitar plays just beautifully. The bolt-on maple neck is slender and smooth, and the rosewood fingerboard holds 23 frets, counting the zero fret. The action is low and fast, and although I usually can't bend on thin, low-profile frets, I find the SG-3c surprisingly easy for playing not only chords but also lead lines.
While the neck pickup is obviously a single-coil, the bridge pickup consists of two single-coils wired as a humbucker, but perhaps because of their relative proximity to each other, the sound has a very cool phasiness.
The pickups are governed by two knobs for global tone and volume There are no bad sounds on this guitar, but there are two super-cool sounds in particular that it excels at: clean rhythm tones in all three positions, and distortion on the bridge pickup.
The tones, both clean and dirty, are loud and snarky. While they are somewhat familiar sounding, connoisseurs will appreciate their subtle differences from other guitars.
The open-back tuners are smooth, the roller-style bridge is fully intonatable, and the tremolo works as well as the best Bigsby I've ever played. The truss rod is accessed through an opening at the heel of the neck. The only tiny knock against this guitar is that, as with a Vox Phantom or Teardrop, or a Gibson Flying V, you can't play it sitting down.
Value
This guitar sold new for about $150 in 1968. The current street price, especially for one in yellow, is closer to $2,000 and up.
Why It Rules
Its almost-comical look is sure to get attention. It's also light and fun to play, and sounds terrific. You could easily do an entire gig on this versatile axe – and you should!
Thanks to Matt Blackett for writing The History of Yamaha Guitars (Hal Leonard), where I learned the meaning of kando, a Japanese word that signifies an inspired state of mind, heart, and spirit.
Got a whack job? Feel free to get in touch with me at rtcarleton@gmail.com. Who knows? Maybe I'll write about it!
All the latest guitar news, interviews, lessons, reviews, deals and more, direct to your inbox!