When is a Rickenbacker Not a Rickenbacker?
When it's an Uber-Rare Ryder ES-16.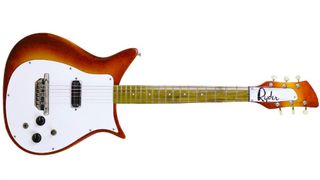 (Image credit: May Yam)
This tiny-looking Ryder ES-16 is a student electric guitar made by Rickenbacker for the Ryder Music School. While the "student" status suggests a spartan feature set, don't be fooled. This is a very cool guitar.
While the guitar is clearly a Rickenbacker, the company's name isn't anywhere on it. However, this guitar was made by the very same craftsmen who built the larger and more deluxe Rickenbackers we've come to love.
Playability & Sound
Having only 18 frets, the ES-16 might not be of much use as a lead guitar, but it plays as well as any Rickenbacker. The skinny maple neck-through-body guitar has a lovely fast action, thanks to its low-profile frets and a highly varnished 1/4-inch-thick rosewood fretboard. In short, it has the very same quality you would expect to find in a Rickenbacker.
"Fine," you may be saying, "but with just one toaster pickup, how versatile can it be?" Very! Gary Wineroth of Guitar Showcase in San Jose, California explained that its three-way tone selector is cleverly wired so that one position taps the pickup alone, another incorporates the tone control, and a third passes the signal through a filter capacitor, resulting in three distinct sounds.
The pickup-only bridge setting is bright in the way that only a Ricky gets bright, while the mid position sounds chimey but fuller. The neck selection, which goes through the capacitor, is bassier and fine for playing jazz or strumming.
While the sealed Kluson tuners keep the guitar in tune, the intonation is a little squirrelly. However, you could easily trade out the set bridge for one that can be intonated, without hurting the guitar's stock value. And although the ES-16 may look tiny, it's the same scale as the "John Lennon" Rickenbacker 325, allowing large stretches that might otherwise be impossible on a traditional-sized guitar. No wonder Lennon liked it!
If you've ever fantasized about what it would be like to have Allan Holdsworth-sized hands then these guitars might give you some idea. Of course, the ES-16 has just 18 frets vis-à-vis the 21 found on the 325. But, hey, it was much better than whatever Teisco and their ilk had to offer in the budget price range.
Ryder ES-16s are rare. In fact, this guitar is the only example we've seen, and it's on display at Guitar Showcase in San Jose, California. Unfortunately, the price tag is marked NFS.
It's an artifact, mostly. But if you are a rhythm player – especially one who likes smaller scale instruments – you might just love it. It's superlight, easy to play and sounds terrific.
Thanks to Gary Wineroth and Jack Van Breen at Guitar Showcase for the loan of this sweetie and for the technical info.
The Kelly Brothers' highly anticipated new book – Rickenbacker Guitars 1931-1999: Out of the Frying Pan Into the Fireglo – is available to pre-order here. With unrivalled access to the Rickenbacker's historical archives and featuring photography of over 300 original instruments, this definitive text will do for our understanding of Rickenbacker's remarkable contribution to music what the authors of The Golden Age did for Fender.
All the latest guitar news, interviews, lessons, reviews, deals and more, direct to your inbox!