What's the Most Collectible Acoustic Guitar? The Pre-War Martin D-45 Could Be It
Vintage guitar veteran David Davidson of Well Strung Guitars shows us the "Holy Grail" of Flat-Tops.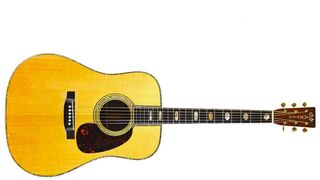 (Image credit: Paige Davidson/Well Strung Guitars)
The D-45s first appeared in 1933 as 12-fret models (the first was made for Gene Autry) and then they went to the 14-fret design a little later. They are the pinnacle of Martin, but it was really just a very well-appointed D-28; they were similarly constructed using Brazilian rosewood for the back and sides, Adirondack spruce for the top, and they had an ebony fingerboard and bridge.
When you talk about 'pre-war' guitars, people's definitions can sometimes overlap. A lot of people think of that term as pre-World War II. But that means different things to different countries. And if you're talking about the USA, we didn't enter the war until right after the attack on Pearl Harbor on December 7, 1941 (whereas the UK declared war on Nazi Germany at the start in 1939).
So, when I look at this D-45 from 1941, it's pre-war as far as the US is concerned, although some may stretch to calling it a 'wartime build'. At least that's how [Martin author and inlay artist] Mike Longworth explained it to me.
By 1942, there were no more 45-series guitars being made because of the war effort, and they didn't come out again until 1968. That's when Martin rebooted the D-45. What's interesting about those Style 45 guitars from 1968-1970 is the fact they're still really great guitars, even though that's no longer the golden era.
A lot of people really like the Sitka spruce top they were using then. They were using Brazilian rosewood until 1970 when Martin had the fire. That's when they lost a lot of their wood stock. It pretty much marked the end of Brazilian rosewood, aside from some later special Custom Shop builds.
When it comes to the debate between Brazilian and Indian rosewood, and tonewood, I think every guitar has its own merits. And the same could be said for electric guitars. I mean, you can have two '59 Les Pauls that sound completely different, even when the pickup outputs are close to the same.
I think most of the sound of pre-war Martins has to do with the way they're constructed: the width of the bridge plate and the bracing, for example, rather than the fact it's made with Brazilian rosewood. Brazilian rosewood is beautiful to look at – that's the big difference. There are great Brazilian rosewood guitars I've played and not-so-great Brazilian rosewood guitars I've played. Same with Indian.
A big part of what makes the pre-war D-45s so desirable is the fact there were so few made of course, but it's also to do with the seasoning and the ageing of the wood. If a guitar is played on a regular basis for many years, it'll tend to sound better than otherwise.
Many years ago, I was given a tip: take your acoustic guitar and put it next to your subwoofer stereo and let the vibrations go through the guitar. And I found it really made a difference! When I was selling new D-45s, I found the one we demoed in the store that was played on a regular basis sounded much better than the one that just came out of the box. Guitars need to be opened up through being played. That's when the harmonics come through and the guitar starts to ring well.
This D-45 had not been played much until about 15 years ago when it went to somebody who actually used it. Before that, it sounded rather shallow for a D-45, but now it has this huge sound like a baby grand piano.
If you play a chord, there's no saturation; you can hear each note in the chord brilliantly. To me, that's always the sign of a great top on a guitar. Rosewood has a fuller, bassier tone than mahogany. The [mahogany] D-18, for example, is a naturally brighter guitar, and when you play it fingerstyle, it's powerful, but a rosewood guitar like a D-28 or D-45 is deeper sounding. And I think the rosewood back and sides has a lot to do with that.
Like I said, the D-45 is really just a gussied-up D-28, but in the pre-war period you're talking about a herringbone D-28, which is also one of the most desirable flattops in the world. The D-45 is more or less the same: it's all accoutrement. I don't think there's any difference in tone. In fact, I have several pre-war Martins and the only one that stands up against the D-45 is a D-28 with a shaded top. That's got that baby grand piano thing going on too.
But D-45s are the pinnacle of Martin flat-tops, they're incredible instruments to play.
Vintage guitar expert David Davidson owns Well Strung Guitars in Farmingdale, New York
All the latest guitar news, interviews, lessons, reviews, deals and more, direct to your inbox!
Rod Brakes is a music journalist with an expertise in guitars. Having spent many years at the coalface as a guitar dealer and tech, Rod's more recent work as a writer covering artists, industry pros and gear includes contributions for leading publications and websites such as Guitarist, Total Guitar, Guitar World, Guitar Player and MusicRadar in addition to specialist music books, blogs and social media. He is also a lifelong musician.