Tom Lieber on Building Guitars Less Ordinary and the Enduring Appeal of His Most Famous Creation, the Garcia
Having helped create Jerry Garcia's most-played guitar, Lieber comes full circle with his deluxe originals.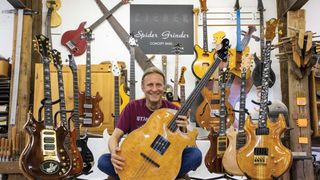 (Image credit: Lieber Guitars)
Tom Lieber has been building fine, handcrafted guitars since 1974, when he began an apprenticeship with Northern California luthier Doug Irwin, who had made several instruments for Jerry Garcia.
Those creations included Wolf, the first custom guitar Irwin built for the Grateful Dead guitarist. In 1974, Lieber helped create the most iconic of Garcia's guitars, Tiger, a no-holds-barred build that became Garcia's most-played guitar, as well as a custom bass for Pete Sears of Jefferson Starship.
Lieber parted ways with Irwin in 1977 and went on to develop the highly innovative Spider Grinder bass, which jazz bassist/composer Stanley Clarke adopted in 1979. Clarke then requested an all-graphite bass, a project that awarded Lieber four patents and led him to form the Spellbinder Corporation with Clarke in 1980.
50 copies of the bass were made, while the molds were destroyed to preserve the instruments' value. The duo reformed Spellbinder in the 2000s and developed a series of instruments, including the SBII bass, Mando Piccolo bass and SB guitar.
Another innovation was the Lieber Speedneck, which required a patented graphite-composite molding process to produce. Blondie's Chris Stein owned several Speedneck guitars when he commissioned Lieber in 1994 to build a custom model based on the artwork of Stein's friend, the Swiss artist H.R. Giger.
The Gigerstein looked like something out of Alien, and while it was being constructed, Lieber came up with yet another ornamental guitar called the Butternut, a forward-thinking design created to call out the plight of endangered butternut trees.
In 2002, Lieber revisited the original Garcia guitar design and has since come full circle to offer the Garcia Limited Edition Tiger, Garcia Family Grateful Dead Tiger, Coco Tiger, Coco Wolf and the Tiger Cub.
We spoke with him about his instruments and innovations, and the Garcia guitars he creates in the spirit of the originals.
The guitars you've built or collaborated on have all pushed the boundaries of design and technology. What motivates you to design things other than, say, a better Strat or, for that matter, a better Wolf or Tiger?
I never look back, and I always want to evolve things if I have the opportunity. I also don't like doing the same thing all the time. That's why I went on to do the Spider Grinder bass, Spellbinder bass and Speedneck guitars.
The pinnacle of my collaboration experience was the Gigerstein, and that's the way it goes with anything that's a real piece of art. That guitar only became what it was because there were many hands involved with it, not just mine.
The big mistake we builders make is we've got great ideas and we all have a better mousetrap, but the reality is that nobody wants a better mousetrap. Through my 40-year relationship with Stanley Clarke and his constant requests, I've come to understand that nobody wants anything other than what they already have.
Jerry Garcia played mostly standard Fender and Gibson guitars until he met Doug Irwin in the early '70s. What do you think attracted him to Irwin's designs?
Doug Irwin understood what Jerry wanted. But there was a financial reason why it wound up being that way. The instruments Doug built were basically Alembics, but Jerry didn't like the parametric EQ in the Alembics.
Doug couldn't afford to put Alembic electronics in the guitars that he built on his own, so he had to buy passive stuff from Fender and Gibson. And that's what attracted Jerry.
All of a sudden it was like, "Oh, this is a Stratocaster." So he had an opportunity to see what a better instrument it was because he had something to compare it with. He had a passive Strat system on a superior instrument, and that's what sold Jerry on Doug's stuff.
After building custom guitars and basses of your own design for years, what led you to make Garcia guitars again?
I never looked back on anything until 2002, when one of my clients saw that I was tied to the Tiger and asked me to build one. Then I started building more of them, because that's what people were requesting. I never wanted to do an exact knockoff, though. I had a moral position about it, because it was a design we did for Jerry. It was Jerry's work of art.
Where did the Wolf and Tiger inlay designs come from?
The wolf image actually came from a racing carburetor company. Jerry got a sticker and put it on his guitar, and Doug later decided to turn that into a piece of marquetry. The Tiger image came from an old Chinese print book that we found at the library.
How did you re-create the brass hardware that you use on these guitars?
Early on, when we were going to do the 50th anniversary Grateful Dead guitars with the Garcia family, I asked my friend Larry Davis, who owns WD Music Products, if he could make the Kluson bridges and tailpieces out of bell brass.
So now these parts are available to builders who want them. I also had him make the original-type brass strap buttons, which were still on Pete Sears' Dragon bass when it was recovered. [Stolen in June 1978, the bass was located in 2013.]
On the original guitars we made for Jerry and for Pete Sears, we used to make everything, except the bridges, tuners and potentiometers. It was all carved out by hand. I still hand-make the nuts out of bar brass. Doug came up with the scalloped design when he was working for Alembic.
You also still incorporate the OBEL onboard effects-loop system on your version of the Tiger. Is that mainly because it's such a Garcia-centric feature?
The OBEL system was developed because Jerry was running 100-foot cords onstage, and when he'd hit his effects there would be a drop in gain. So he and John Cutler developed this thing, which always amused me because Jerry didn't like active electronics.
There's a unity-gain buffer for the OBEL system, and it runs on batteries. I'd say 90 percent of the people don't use the OBEL, and that's why there's switch to turn it on and off.
How would you characterize the audience for Garcia guitars?
If I was going to talk politics, it's an individual that either lives at the far left or the far right. With all the divisions today, it's funny that we all love Jerry. [laughs] It's just funny how people who don't agree on anything all fall into line on certain things, and mostly it's music.
I get lots of people in their 50s and 60s, but I do have plenty of younger folks, too. A lot of them are musicians that decided to raise families and do something else to make a living, but they never lost the mojo, and they want to fulfill a little piece of the dream.
They don't want a Jerry knockoff, though, and they don't want a replica. They like the sound and the shape of the guitar, but they want to make it their own with different types of woods, neck profiles, pickups and inlays.
How long does it take to build a Tiger?
It's a $24,000 instrument and takes about a year to build. The Coco Wolf or Coco Tiger is a four- to six-month build. I'm working on a guitar that will be in the $5,600 range, but it will still be a handmade instrument.
Basically, it will be a Tiger with a bolt-on neck that's set up with Strat hardware, and it won't have the OBEL system and all that. It will be much more familiar to the majority of players than the stuff Jerry played.
Where do things stand with your Legacy series guitars?
People want the Garcia stuff these days, and there's very little going on in terms of custom builds beyond those designs. I would like to build a lot of Butternuts, but nobody is asking for them.
With the Garcia guitars, it's funny for me that I'm building these designs that Doug and I were doing in late '74 and early '75. They are ancient at this point, and it has taken this long for them to become popular.
All the latest guitar news, interviews, lessons, reviews, deals and more, direct to your inbox!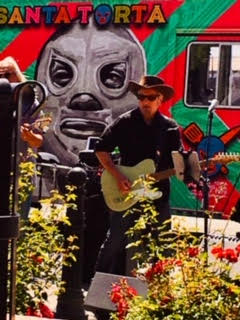 Art Thompson is Senior Editor of Guitar Player magazine. He has authored stories with numerous guitar greats including B.B. King, Prince and Scotty Moore and interviewed gear innovators such as Paul Reed Smith, Randall Smith and Gary Kramer. He also wrote the first book on vintage effects pedals, Stompbox. Art's busy performance schedule with three stylistically diverse groups provides ample opportunity to test-drive new guitars, amps and effects, many of which are featured in the pages of GP.