The Epiphone Alex Lifeson Les Paul Axcess Standard Delivers a Whole Lotta Bang for the Buck
Super tonal versatility and wonderful playability for under a grand.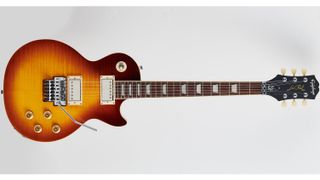 (Image credit: Future)
The introduction of the Epiphone Alex Lifeson Les Paul Axcess Standard is big news for Rush fans because it makes their hero's signature model much more accessible than its premium Gibson predecessor, introduced a decade ago.
In the spirit of Epiphone and Gibson's modern hand-in-glove coordination and the mother company's longstanding relationship with one of rock's premier players, this Epiphone represents a career's worth of considerations and innovations.
Primary among them is the instrument's tonal versatility. In addition to the coil-splitting capabilities of both magnetic pickups, it features a piezo bridge pickup that can either be accessed by means of a dedicated second output jack or summed with the magnetic pickups into the primary output.
As Lifeson explains to Guitar Player, this unique pickup configuration developed from his desire for an elegant solution to using an acoustic guitar onstage. "Switching from electric to acoustic was always cumbersome, and an acoustic on a stand became a beacon for uncontrollable feedback, particularly in acoustic parts repeated throughout the song," he says.
"I really needed to have a more stable platform. Incorporating the piezo pickup on an electric guitar did that, as well as allow me to blend in the piezo, adding another dimension to the live guitar character."
Visually, this guitar is a badass. The flame maple veneer on its carved Viceroy Brown-finished maple top conjures the vibe of a vintage Gibson Les Paul, albeit not quite as fancy. Appointments include four golden top-hat control knobs, trapezoid fretboard inlays, keystone tuners, cream binding all around, a set-neck glued into a solid mahogany body, and Lifeson's signature etched in the truss-rod cover.
Beyond the pickup configuration, Lifeson-specific features include a Floyd Rose locking vibrato system and a neck profile built to his personal specs – "moderate, not too thick and not too thin."
Sling it over your shoulder and, yeah, it's heavy, but not particularly so for a Les Paul. A slight scarf cutaway on the top back makes it feel cozy against one's belly, while a sculpted cutaway at the base of the neck allows for more comfortable playing in the upper registers.
The neck is full without being too plump, and the fretboard feels nice and smooth all the way up and down. The factory setup was spot-on as well, and while the action seemed almost too easy at first, there was no buzz or splat to be found.
Shred away in the short rows and every note on each string is actually usable. Power chords and barre chords in the middle range come readily, and cowboy chords in open position have fantastic jangle.
The Floyd Rose-style double-locking vibrato keeps everything in tune while facilitating the deep dives and sky-high lifts of Lifeson's playing that can only be achieved with such a serious system. All that extra metal brings some brightness, sure, but that's part of the signature sound too.
Speaking of which, the tonal diversity on tap is astounding. The Axcess Standard has Epiphone's Ceramic Pro humbucker in the neck position and a ProBucker 3 near the bridge, and both can be split into single-coil mode with a lift of the corresponding push/pull volume knob.
In humbucker mode, the neck pickup is girthy and the lead pickup is edgy. In combination, they complement each other to create a copacetic middle ground.
The coil splitting proved to be versatile. When playing in the lower register with the neck pickup, and using a bit of gain from a Blackstone Mosfet Overdrive into a 1966 Fender Super Pro, we found the sound a bit fizzy, but splitting the coil cleared it up.
Doing the same with the lead pickup took the tone into funky treble territory. When combined, the two pickups coil-tapped all the way to slinky town. These units don't sound as crystal clear and powerful as the Gibson Burstbuckers included on Epiphone's Limited Edition 1959 Les Paul Standard, but they do deliver a fine PAF vibe and sound that's similar to the Burstbuckers with the volume knobs dialed back a bit.
The most unique feature is the piezo acoustic sound that comes courtesy of the Graph Tech Ghost Tremolo Bridge. The Ghost is engaged or disengaged by pulling or pushing what would have been the second tone knob. Here it acts as a blend control for bringing in or out the desired amount of acoustic sound.
Isolating the signal via the second output jack and feeding it to an Orange Acoustic Pedal through an L.R.Baggs Synapse Personal P.A., we found it delivered a decent acoustic rock tone that sounded believable when "Closer to the Heart" was played.
It possesses the full low end and top articulation that piezos do best. Blend that with the magnetics' fantastic middle range, and it's the best of both worlds. And the controls are easier to manage than one might suspect.
The trickiest aspect of mastering the Epiphone Alex Lifeson Axcess is working the vibrato bar while having the piezo pickup engaged. There's a reason these features aren't often offered together. Those piezos are located right in the individual bridge saddles, so they pick up every rattle of a shaking vibrato arm.
The bridge piezos convey the rattle much more than the magnetic pickups in the body do, so the workaround is to be judicious with the whammy when the acoustic sound is prominent, and then dial that back when you want to go wild.
The Epiphone Alex Lifeson Axcess delivers a whole lotta bang for the buck, with tons of features packed into the Les Paul platform. We can't think of another guitar that delivers such a diverse tonal range, easy playability, comfort, impressive looks and quality craftsmanship for under a grand.
Specifications
NUT: Floyd Rose R4 locking nut, 1 11/16" wide
NECK: Set mahogany, Axcess contour heel, 24.72" scale, Lifeson profile
FRETBOARD: Bound Indian laurel, 12" radius, large dot inlays, trapezoid inlays
FRETS: 22 medium-jumbo
TUNERS: Epiphone Deluxe with keystone buttons
BODY: Solid mahogany back with comfortcarve belly scarf plus carved maple top with AAA flame maple veneer
BRIDGE: Graph Tech Ghost Tremolo
PICKUPS: Epiphone Ceramic Pro (neck), Epiphone ProBucker 3 (bridge) Graph Tech Ghost Piezo (bridge saddles)
FACTORY: STRINGS Epiphone .010–.046
CONTROLS: Three-way switch, neck and bridge volume knobs each with push/pull coil split; piezo volume knob with push/pull on/off; master tone
WEIGHT: 9 lbs
BUILT: China
Head over to Epiphone for more info.
All the latest guitar news, interviews, lessons, reviews, deals and more, direct to your inbox!
Jimmy Leslie has been Frets editor since 2016. See many Guitar Player- and Frets-related videos on his YouTube channel, and learn about his acoustic/electric rock group at spirithustler.com.