The Essential Rules of Gain Stacking
Three pointers to help you get the most from your gain pedals.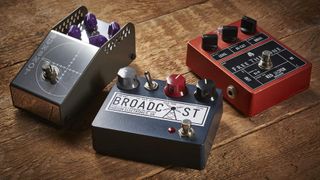 (Image credit: Future)
Knowing how effects relate to one another in a gain stack is vital, as it's different from how they usually work independently. The payoff is massive. Plus, it gives you an excuse to dust off your old, unused dirt pedals.
1. Think Volume
In a gain-stack scenario, your pedals' level controls produce different results. Turning up the volume in the first pedal won't actually increase it, but it will affect the second pedal's gain. The second pedal dictates the stack's volume. That considered, you may want to treat the second pedal as a boost and bring it in for certain parts, like solos.
Pro tip: Start from your loudest sound and work backwards because beyond a certain signal level, your amp is likely to just distort and compress rather than actually get louder.
2. Compliment Your Tone
Observe the golden rule of stacking: The second pedal in the stack dictates the tone. Thus, the settings on that second pedal will affect the way the first one sounds with it. Think of the stack as a system. Try moving each element in it until you find the best arrangement. Use your ears, not your eyes.
Look for pedals that add to the tone you already have. If your existing overdrive is dark, consider adding a boost to bring out the high end. If you like the overdriven tone you have, try adding a low-gain dirt box to the equation to provide subtle enhancement of the grit.
3. Consider Your Amp
You can also perform tone stacking using one pedal and your amp's drive. Many famous guitarists have done this (often with a Tube Screamer and a Fender or Marshall amp involved) to raise the tonal stakes for a solo. A tube amp on the edge of breakup is a great sound to add a drive to.
Get inspired and take a browse through this huge selection of gain pedals
All the latest guitar news, interviews, lessons, reviews, deals and more, direct to your inbox!
Guitar Player is the world's most comprehensive, trusted and insightful guitar publication for passionate guitarists and active musicians of all ages. Guitar Player magazine is published 13 times a year in print and digital formats. The magazine was established in 1967 and is the world's oldest guitar magazine.
When "Guitar Player Staff" is credited as the author, it's usually because more than one author on the team has created the story.