Meet the SG-Teor — a Boutique Single-Cut Reimagining of an All-Time Classic
Damian Probett irons out the kinks in the SG's design and adds bonus features, with stunning results.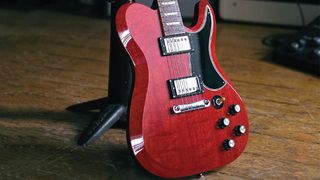 (Image credit: Probett Guitars)
Few are the guitarists who don't get a shiver of excitement upon encountering a vintage SG. But for many, the neck-dive-inducing imbalance and potentially unstable neck/body joint make it a no-go guitar.
Guitarist Matte Henderson had a love-hate relationship with the SG, and he decided to do something about it. He conveyed his desires to British guitar maker Damian Probett, and the results have hit the street in the form of the stunning new SG-Teor.
"I always loved SGs," Henderson tells GP. "Holdsworth, Iommi, Dickey and Duane, Clapton, Ollie Halsall... But I didn't love the balance issues and unsupported rubber neck inherent in the design.
"A single-cut SG seemed like a great way to bring some Les Paul Special to the table, while maintaining the depth, contours and full fretboard access that make the SG such an iconic instrument. The SG-Teor proved to me I was not wrong."
The model takes its name from the merging of SG-like features with Probett's existing Meteor model. However, the final product is the result of far more than just adding some body bevels to an otherwise semi-Tele-shaped, set-neck, 24.625-inch-scale guitar.
That said, "The things that required the most work were the neck joint and the bevels," Probett explains. "I spent more time on the body bevels than anything. I was determined that it should look like a cohesive design, so I took way too long with French curves, pencils and erasers. I'm really pleased with how it came out. All the bevels are hand carved — until I can figure out a way to do it on the pin router."
Probett, whose Rocket III won an Editors' Pick Award from GP in 2014, has a design and construction background that allows him to focus on the details.
His skills were established through a foundation in carpentry and joinery as well as through years making aircraft tools and building and tuning racing motorcycle engines. He took up guitar repair and, eventually, guitar building in the 2000s and rose relatively quickly to be among the world's most respected electric-guitar builders, even if his name is less well known in the U.S. than some others on that list.
Of other constructional details, Probett tells us, "I like the neck joint to be as stiff as possible, so I went with a full-width tenon that extends almost to the back of the neck pickup route.
"The thinner body reduces the joint area, so we decided to use a tongue on the body, which extends beneath the heel, much like a Flying V, to increase glue area and stiffness. The other little detail I'm pleased with is the faux 'router hump' in the lower cutaway, which stiffens that area, again to help strengthen the joint. It's a small detail, but these things matter to me."
The myriad other ingenious design points include a high-E tuner that is slightly recessed into the back of the headstock. This allows a longer and more stable transition in the wood carve from neck to head, thereby improving stability and resonance. There is also the recessed Electrosocket jack plate, the stepped, reversed headstock (a non-reverse headstock is also available) and the ingenious switching (more on this below).
Our test example, shown here, is made from old-growth Honduran mahogany (a $200 upcharge) with an Amazon rosewood neck, resulting in a light weight of around 7.4 pounds.
The body is a nominal 1.5 inches thick, although Probett tells us, "I adjust this slightly from guitar to guitar in the build process to get the resonance where I want it." The fingerboard has a 12-inch radius and sports vintage-spec binding and trapezoid inlays.
The neck is carved to what Probett calls a V profile (with depths of 0.925 inch at the first fret and one inch at the 12th), but it feels to me like a lovely '50s Gibson-inspired shape that tapers off sumptuously at the shoulders to the slightly rolled fingerboard edge.
It's simply one of the tastiest, most playable neck profiles I've laid a hand on in some time. In addition, a one-degree neck attachment angle — shallower than the three to four degrees of most G-style guitars — enables an easy, Tele-like playing feel that further enhances the SG-Teor's hybrid nature.
Tuners are Kluson-style with slotted SafeTi post stringing, and the compensated wraparound bridge is fabricated by Canadian guitar maker Scott Heatley, carved from a solid billet of aluminum and secured with locking posts.
Leading us to one of the SG-Teor's niftiest bits of unseen magic are a pair of humbucking pickups custom-made for Probett by Hayden Minnett of Bulldog Pickups in the U.K. Made to slightly low-wind-vintage PAF specs, they are also designed to split well and get maximum versatility via a sneaky six-way toggle switch disguised as a traditional three-way selector with a black rhythm/treble poker chip.
The forward three positions give the traditional humbucker selections, while those accessed by flicking the switch a notch toward the rear of the guitar give coil-splits of neck, both and middle. But wait, there's more! Pop up the push-pull on the lower tone control to swap the splits between the outer and inner coils for a slightly thicker single-coil tone.
Tested through a Friedman Small Block head and 2x12 cab, a tweed Deluxe-style 1x12 combo, and a Fractal Axe-FX III into studio monitors, the SG-Teor showed that its thoroughly-rendered design considerations play out to stunning effect when plugged in. While an SG-inspired, dual-humbucker warrior might inspire you to kick it straight into overdrive, the SG-Teor revealed an abundance of clean-toned elegance along the way.
Rarely have I heard such a full, piano-like, harmonically enlivened low-E string come out of an SG on the neck pickup. Undoubtedly, that's largely thanks to some combination of the tweaked formula and the extremely high quality of the wood, components and overall build. It signals tasty things to come, and indeed there are tonal treats aplenty inside this subtle beauty.
Sonically, the SG-Teor easily runs the gamut but delivers it all with a nuanced refinement that underpins the high-quality delivery of everything it does — from warm jazzy runs to jangly and twangy split-middle-position chordal and lead work, to cranked up aggression on the bridge pickup in full-humbucker mode.
It definitely exudes that "snappy" character that a good SG exhibits, which adds bite and brightness and cutting power amid the mahogany-and-humbucker thickness at the core of the note.
Stirred in with the rest of this guitar's glories, that factor deserves some credit for the way the SG-Teor retains sting and string articulation even with high-gain lead work when fully 'bucker'd up, and delivers a certain clarified sizzle with bigger chords fed into distortion.
Split tones, meanwhile, add exponentially deeper layers of versatility, achieving fun, faux-Tele-meets-Strat sounds when desired, but ultimately highlighting that the SG-Teor is something entirely other, and inspiringly original. Simply put, it's a stunner of a performer which severely belies its apparent outward simplicity.
PRICES: Starting at $4,899; $5,624 direct, as reviewed, with upgraded woods, fingerboard inlays and binding, and deluxe headstock
CONTACT: Probett Guitars
All the latest guitar news, interviews, lessons, reviews, deals and more, direct to your inbox!
Dave Hunter is a writer and consulting editor for Guitar Player magazine. His prolific output as author includes Fender 75 Years, The Guitar Amp Handbook, The British Amp Invasion, Ultimate Star Guitars, Guitar Effects Pedals, The Guitar Pickup Handbook, The Fender Telecaster and several other titles. Hunter is a former editor of The Guitar Magazine (UK), and a contributor to Vintage Guitar, Premier Guitar, The Connoisseur and other publications. A contributing essayist to the United States Library of Congress National Recording Preservation Board's Permanent Archive, he lives in Kittery, ME, with his wife and their two children and fronts the bands A Different Engine and The Stereo Field.