Looking for a Cool American-Made Vintage Guitar for Under a Grand? Keep Your Eyes Open for One of These
This 1968 Custom Kraft Beat Blaster looks, plays and sounds great.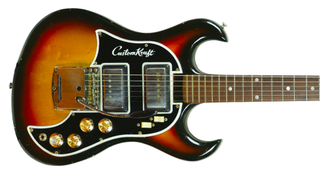 (Image credit: May Yam)
The name Valco comes up often when one is chasing down the DNA of an obscure amp or guitar, and with good reason. Valco was behind not only Supro's fabled guitars and tube amps but also the Airline, National and Oahu brands, to name a few.
You can add Custom Kraft to that lineup as well. Kay manufactured the brand in the U.S. from the 1930s through the '60s, during which time Custom Kraft served as the house marque for St. Louis Music, one of the largest distributors of musical instruments and accessories in North America.
In 1967, Kay merged with Valco, but the partnership dissolved in 1968, the year that the Beat Blaster shown here was built. The company's assets were auctioned off, with the result that the Beat Blaster was apparently built only in 1968 and 1969. Which is too bad. With its features and tone, it could have been a contender!
Weirdo Factor
Surprisingly, there's not much weird here, aside from the flashy oversized pickguard, large ornate headstock and gold control knobs amid the chrome hardware.
Playability & Sound
This is a serious electric guitar, with all the ingredients that go into a solid player's instrument. It has a playable bolt-on maple neck with 21 frets on a very flat rosewood fingerboard – in fact, this fretboard has absolutely no curvature at all. That said, it doesn't feel bad, and it plays true up and down its length. The surface-mounted tremolo system works well, but you won't be dive bombing with it.
Electronics consist of a rocker kill switch and dedicated volume and tone controls for each of the two pickups. Appearances might lead you to conclude the units are humbuckers, and if you plugged in the Beat Blaster, you'd be pleased by how loud they are without being microphonic or squealy. In fact, they are single-coils, and quite nice sounding at that. The neck pickup is full and rich, and goes into jazz territory with the tone rolled off. The bridge pickup is also quite full, but with more high end "chick" to the attack, making it great for clean funk rhythms.
Played with distortion, the guitar sounds a bit dark with either pickup on its own or combined, quite like Eric Clapton's early Cream sound. In an ideal world, it would have a phase switch to allow for some interesting Fender-style tones. Alas, no guitar can be all things to all people, but this one gets pretty close.
Value
Back in its day, the Beat Blaster was a loss leader – a product designed to draw customers into the department store or encourage the random impulse buy. As such, it sold for much less than other American-made guitars of the day, though it wasn't quite as inexpensive as the imported guitars that flooded the market at the time.
Today, Custom Kraft guitars aren't nearly as well known as other cheap guitars from the era, which might explain why this one only cost 400 bucks when it was purchased through a private deal last year.
Why it Rules
It's an American-made guitar from the 1960s that looks, plays and sounds great. And it can still be had for under a grand.
Thanks to Danny Carr for the heads-up on this one!
All the latest guitar news, interviews, lessons, reviews, deals and more, direct to your inbox!