If You're Chasing Grunge, Garage Or Punk Tones These Vintage Silvertones Are Irresistible
The Silvertone Twin 12 Model 1484 is an outrageously cool amp.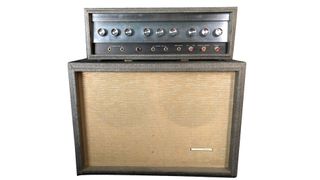 (Image credit: Future)
Amid the beginner amps and electric guitars, crazy-but-delightful amp-in-case sets, and other C-list gear that populated the Sears, Roebuck and Co. catalogs of the 1960s, the Silvertone Twin 12 Model 1484 truly looked like a big-boy's rig.
Set up for use, it was a serious-minded piggyback head-and-cab arrangement, boasting (rather optimistically) 60 watts of power from two big 6L6GC output tubes, and a feature set to rival Fender's Twin Reverb or (perhaps more comparably, given its output rating) the Pro Reverb combo or later Bandmaster Reverb.
Never mind that its construction was nowhere close to Fender standards – the Twin 12 was an amp every budding 1960s rock and roller could aspire to while noodling through a little one-knob starter combo.
As it happens, these amps have powered some extremely memorable tones in more capable hands. If you doubt that a contraption like this can sound even remotely rock-tastic, check out the fierce sonic assault that both Jack White and Mudhoney's Steve Turner have churned out through Silvertones over the years.
While Danelectro – which manufactured these amps for Sears at the time – probably imagined guitarists coaxing chimey pop and twangy surf tones from the Twin 12, the generally downgraded design and construction (and we mean that kindly) really works its magic when you crank the hell out of these things, at which point full-scale meltdown mayhem ensues.
For that matter, show it a good fuzz pedal and stand back.
Tone results aside, the Twin 12 is largely the result of compromised components and construction. After all, these things were built to a restricted price point. Nonetheless, it holds together quite marvelously.
The cabinets are made from cheap particleboard, while the speaker baffle is constructed from even thinner fiberboard. Inside the chassis, the circuit is wired together in what is not quite the sloppiest manner we've seen, while the parts are crammed together and laid out rather oddly in places.
That said, the transformers are pretty robust, the cabinet contains two highly desirable teal-framed Jensen C12Q speakers, and the amp head stows inside the bottom of the speaker cab for portage. How freakin' cool is that? In our book, that alone makes up for a lot. That the whole thing has its own raw, mean fat tone is just icing on the cake.
Electronically, the Twin 12 shares a few elements with Fender's popular blackface amps of the '60s. In addition to its two-channels-plus-tremolo-and-reverb feature set, the treble and bass controls in the tone stage are sandwiched between two gain stages from the 12AX7 preamp tube in each channel, and the output stage is run in class AB fixed-bias.
The preamp tubes are driven at pretty low voltages, however, which results in a somewhat "browner," crunchier sound. And despite Sears' optimistic 60-watt rating, the RMS output is probably closer to around 35 watts, which is not actually much less than some of the lower-powered dual-6L6 Fenders, such as the Pro Reverb, Tremolux and Bandmaster.
Also note that the reverb was woefully insufficient when compared to better examples from the likes of Fender or Ampeg, but it still makes for a nifty lo-fi effect. The tremolo is pretty good, too.
All nitpicking aside, these are just outrageously cool amps by any measure, and even more so if you're chasing grunge, garage or punk tones. And given the relatively low prices they command in comparison to other desirable, giggable vintage amps, they're pretty irresistible.
Essential Ingredients
Piggyback configuration, with head stowed in speaker cab for transport
Roughly 35 watts output from two 6L6GCs
Two channels
Tube-driven reverb and tremolo
Two Jensen C12Q speakers
Particleboard construction
All the latest guitar news, interviews, lessons, reviews, deals and more, direct to your inbox!
Dave Hunter is a writer and consulting editor for Guitar Player magazine. His prolific output as author includes Fender 75 Years, The Guitar Amp Handbook, The British Amp Invasion, Ultimate Star Guitars, Guitar Effects Pedals, The Guitar Pickup Handbook, The Fender Telecaster and several other titles. Hunter is a former editor of The Guitar Magazine (UK), and a contributor to Vintage Guitar, Premier Guitar, The Connoisseur and other publications. A contributing essayist to the United States Library of Congress National Recording Preservation Board's Permanent Archive, he lives in Kittery, ME, with his wife and their two children and fronts the bands A Different Engine and The Stereo Field.