Fender Custom Shop Limited-Edition Double-Bound Stratocaster Journeyman Relic Review
With its non-contoured body, age-checked finish and 1/2 Blender wiring, this Guitar Center collaboration is in a class of its own.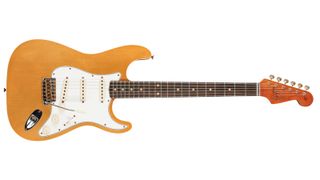 (Image credit: FMIC)
A well-cared-for electric guitar that shows the "patina of age, with finish checking, oxidation on the metal parts, and discoloration of the plastic."
That's how Fender describes a Journeyman Relic instrument in its extensive line of Custom Shop made-to-order guitars.
This is precisely the spirit in which Fender and Guitar Center have collaborated on the Limited-Edition Double-Bound Stratocaster Journeyman Relic, a guitar that has been carefully massaged to walk the line between custom and vintage.
Based on a 1960 Strat, the Journeyman is a showpiece, with an Aged Aztek Gold nitrocellulose-lacquer finish that's been convincingly weather-checked to exude the appearance of having been carried from clubs to freezing cold vans for years.
The effect is also available in the Aged hues of Candy Tangerine, Sherwood Green Metallic, Lake Placid Blue and Candy Apple Red.
Image 1 of 5
The customization begins with an alder body that is both non-contoured (i.e. flat-sided) and trimmed front-and-back in white binding. The gold/white theme looks very classy in a '50s sort of way, and the light aging of the plastic parts is apparent in the three-ply pickguard, knobs, pickup covers and switch tip.
The attaching screws all wear a corroded patina as well, which looks so right here, as opposed to some "antiqued" guitars we've seen from other makers that lose the overall effect by using brand-new screws to secure aged components. In fact, the closer you look at the Journeyman, the better it gets.
The chrome on the vintage-style vibrato bridge looks decades old, with its softly dulled sheen, as do the jack plate and strap buttons.
The bent-steel saddles, springs, and fulcrum and intonation screws are all rusted to replicate being grimed by sweat from countless hours of playing.
At the opposite end, the '50s-style tuners and dual string trees are similarly age-advanced and look ever so cool against the dark sheen of the roasted, quarter-sawn maple neck.
A chrome neck-joint plate bearing the Custom Shop stamp is actually the only item on this guitar that looks new.
The medium-profile '59 "C" neck is also finished in nitro lacquer and has a tactile, silky feel that is inviting to the hand. It's interesting how one can totally get the sense of playing a vintage guitar while knowing full well that it's an entirely modern creation.
On the top side, the rosewood fingerboard is adorned with clay position dots and carries 21 perfectly groomed medium-vintage frets with nicely rounded tips that roll smoothy into the edges of the fretboard.
The small bone nut has also been carefully fitted and smoothed so that no sharp corners can be felt.
We couldn't resist removing the pickguard to have a look inside, and it's satisfying that Fender went the extra mile by using waxed, cloth-covered wire for all the connections, along with old-school paper-in-oil caps.
The Stratocaster JCE single-coils are staggered-pole, low-wind units for balance, clarity and tonal authenticity. However, customization extends here too, as Fender uses what's called 1/2 Blender wiring, which turns the second tone control into a blend pot when the five-way selector is in positions one and two (i.e. bridge and middle, which some call positions four and five).
At any rate, with the selector in the bridge position, the blend knob lets you add the neck pickup in any proportion, while the bridge/middle setting allows you to blend-in the neck pickup to change the tone of that combination.
It's a cool system that lets you easily access lots of sounds on the fly, while the guitar still functions as normal for the neck, middle-plus-neck and middle positions.
The combination of a roasted neck (which drives out tone-killing moisture) and top-quality body wood and solid hardware – not to mention that the bridge is adjusted to lay flat against the top – gives the Journeyman excellent resonance and sustain.
We found ourselves playing it for long stretches without feeling the need to plug in, and our only issue was having to constantly re-tune the low strings when using the vibrato.
No amount of string stretching seemed to help, so perhaps adding another spring and re-adjusting the claw might be a solution.
Weighing a touch over eight pounds, the guitar is a comfortable hold on a three-set night, and we have to say there's something Tele-like about the way a flat-sided Strat positions your right hand that's kind of neat, if you happen to be a Tele player.
Driving Fender Deluxe Reverb and Victoria Double Deluxe 2x12 guitar amps, the Journeyman sounded excellent, delivering glassy and bell-like tones whether hammering on the neck pickup boosted with an overdrive pedal, getting funky rhythm sounds when playing super clean on the neck/middle and bridge/middle combinations, or summoning a soaring lead tone on the bridge setting when fired up with a Fulltone OCD driving into an Electro-Harmonix Nano Deluxe Memory Man.
You can further texturize tones with the blend knob by rolling in some neck pickup and softening the bridge pickup's bite, or by using it to create a big three-pickup tone on the second position, thereby completely changing its character.
It's great to have these options at your fingertips, and the Journeyman is all the more flexible because of its 1/2 Blender wiring.
All things considered, the limited-edition Custom Shop Limited-Edition Double-Bound Stratocaster Journeyman Relic merits a close look. It's well made and has a superb neck with excellent fretwork, and its tones embody everything that people dig about early '60s Strats.
Each example comes with a deluxe G&G hardshell case with embroidered Custom Shop logo, a black-leather portfolio containing a certificate of authenticity and detailed build info, and an accessories package that includes a stitched-leather strap, a nickel-plated trem cover, extra springs and more.
Our review sample looks awesome with its aged-gold finish, and we'd surmise that anyone who keeps an eye on new Custom Shop offerings will want to get their hands on one of these guitars.
Visit Guitar Center for more information.
All the latest guitar news, interviews, lessons, reviews, deals and more, direct to your inbox!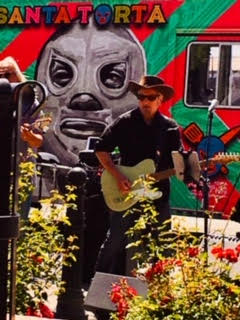 Art Thompson is Senior Editor of Guitar Player magazine. He has authored stories with numerous guitar greats including B.B. King, Prince and Scotty Moore and interviewed gear innovators such as Paul Reed Smith, Randall Smith and Gary Kramer. He also wrote the first book on vintage effects pedals, Stompbox. Art's busy performance schedule with three stylistically diverse groups provides ample opportunity to test-drive new guitars, amps and effects, many of which are featured in the pages of GP.