Smuggled out of Europe, a Communist Bloc Guitar Like This Delfi Kosmos Is a Rare Sight
A copy of Gibson's fabled Moderne, this oddball axe is a relic of rock and roll's war against Soviet repression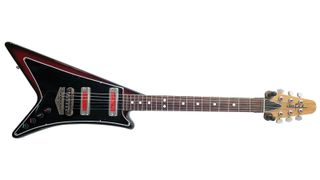 (Image credit: PHOTO COURTESY OF JOE BIGLEY)
The electric guitar featured here has the distinction of having been smuggled out of Belgium some 20 years ago by Joe Bigley, of Wilmington, North Carolina. A guitarist and frequent business traveler to Belgium, Joe was in Leuven when he happened by a guitar shop/museum filled with oddball axes from around the world and run by the self-proclaimed Lord Bizarre.
Joe was so taken by what he saw that he wrote a story about the shop and had it published in a U.S. guitar magazine. Lord Bizarre was so thrilled that he gifted Joe his choice of any guitar from his massive collection. Joe's choice? This Delfi Kosmos, a copy of a Gibson Moderne, made in the 1970s by Fabryka Lutniczych in communist Poland.
His decision was somewhat practical. "When I saw that the cable output had been converted from the typical DIN plug to have a ¼-inch jack, I selected it," Joe explains. Getting his prize home seemed problematic until he removed the three-bolt neck and carried the guitar through airport security in a black plastic bag.
With the airplane's overhead bin full, and the guitar too large to fit below the seat in front of him, Joe propped the package up next to his leg by his window seat. "I deceived the flight attendants by throwing my coat over my legs," he reveals.
A similar scenario unfolded when he changed planes at London Heathrow. "So, 'all the way the plastic bag was on my knee,'" he says, paraphrasing the Beatles' "Back in the U.S.S.R.," "which I guess was appropriate."
Once home, he took the instrument to guitar tech Will Kelly, who got it working as well as possible.
Image 1 of 2
Weirdo Factor
It may be rather uncommon to see an Eastern Bloc guitar today, but they were super-scarce 20 years ago. That aside, the guitar's resemblance to the mythical Gibson Moderne is sufficiently weird.
Playability & Sound
The Delfi Kosmos has an alder body and a maple neck with a severe D shape and a 50mm slab of rosewood fretboard that makes it very thick. "Mine is somewhat warped, probably from being leaned against a wall for decades," Joe says.
While it's possible to play open chords on it, barred chords are a real chore, and the neck buzzes past the ninth fret. The plastic-tipped tuners are cheap, and the tailpiece and bridge are pretty rough.
"It's best to close your eyes when you tighten the upper strings to protect them when a string breaks," Joe advises. Additionally, as there is no selector for the two single-coil pickups, they're both on all the time.
Fortunately, there are volume and tone controls for each. "The sound is okay," he says, "if you're doing early garage rock."
Value
The Kosmos' value is anybody's guess, as it was never sold in the U.S. and they rarely show up on the used market. One in the same rather rough condition as Joe's copy could make a good conversation piece for a price of $150 to $300.
Why It Rules
As it is, it's a cool wall hanger with an interesting story. But it's also an artifact from the early days of rock and roll, when playing it, or even owning a rock and roll record, was considered subversive and sometimes even punishable in the Soviet Union.
As a weapon in the war for rock and roll, the Delfi Kosmos is a reminder of how the war was fought – and which side won.
Thanks to Joe Bigley for sharing his story and photographs with us. For more information on Lord Bizarre's shop, visit lordbizarre.com
Got a whack job? Feel free to get in touch with me at rtcarleton@gmail.com. Who knows? Maybe I'll write about it.
All the latest guitar news, interviews, lessons, reviews, deals and more, direct to your inbox!