With Its Combination Fuzz-Phase Effect, Roland's Jet Phaser AP-7 Can Sound Like a Jet Taking Off
Sibling to the Boss CE-1 Chorus Ensemble, this 1970s vintage stompbox kicks out a raw, raucous, perpetual motion-type effect that virtually takes over your instrument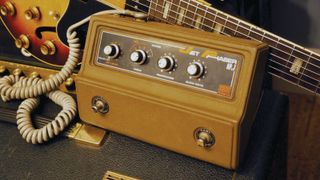 (Image credit: PEDAL COURTESY OF MIKE & MIKES GUITAR BAR, PHOTOS BY MIKE BALL)
The 1970s was a boom time for gear innovation and evolution, during which modulation pedals, in particular, advanced by leaps and bounds. Boss, who would become one of the era's long-running effects makers, bowed in 1976 with the CE-1 Chorus Ensemble, the most legendary and lushest-sounding chorus pedal.
But before Boss was Boss, parent company Roland delivered one of its earliest effects pedals with 1974's AP-5 Phaser, followed in '75 by the wild and wonderful Jet Phaser AP-7, featured here.
The phrase "greater than the sum of its parts" certainly describes the Jet Phaser. It combined a fuzz-like gain stage with a phaser – in that order – to create a sound attainable from nothing else, unless you include latter-day copies of the AP-7 circuit. Prior to its arrival, many guitarists placed their phase pedals before their fuzz, for a more subtle distortion effect.
With the Jet Phaser, Roland put the fuzz circuit ahead of the phaser to kick out a raw, raucous, perpetual motion-type effect that virtually takes over your instrument. At higher depth and intensity settings, the AP-7 almost sounds as if it's talking to you and pretty much starts "playing" before you even hit the strings.
The Jet Phaser's controls can be rather enigmatic without some form of translation, so it helps to define Roland's terminology. "Jet," in the Roland lexicon of the day, means fuzz – and indeed this thing can sound like a jet taking off.
Its control set comprises, from left to right, Jet Level (also the power-off switch), mode, resonance and slow rate, with foot switches for effect/normal (on/off) and fast/slow. Jet Level sets the gain, intensity and volume, kind of all at once, while the six-way mode switch provides four fuzz-phaser voicings and two phaser-only settings.
There is no fuzz-only option to be had here. The resonance control essentially sets the depth of the phase-shifting effect, as found on many more advanced phasers, and the slow rate determines the speed of the modulation when switched down via the fast/slow foot switch, as well as the fast rate relative to it.
As a cool bonus, the effect rate actually ramps up and down when you press the foot switch, just like a real Leslie cabinet with its rotary speaker.
The entire thing is housed in a large, rugged, die-cast metal enclosure that's a clear sibling to the case used by the Boss CE-1 Chorus Ensemble the following year. It's interesting that Roland didn't simply recycle the Jet Phaser mold for the CE-1 enclosure but instead devised an original box, which tells us they intended to produce distinctive-and rather custom-looking pedals.
The Jet Phaser's circuit displays a degree of transition-era tech, marrying a wealth of discrete components and large op-amps on its rugged PCB. The Jet side is arguably as much an early distortion unit as a fuzz, and it packed a lot of potential gain from a combination of semiconductors and op-amps.
The phaser itself was a complex eight-stage FET-driven circuit capable of a deep, chewy swirl. Consider that the most common smaller phasers hitting the market about this time used two- and four-stage circuits, and you'll understand why the AP-7 sounded so unique.
Roland itself was on a run through the mid to late '70s, heading an innovation revolution that went beyond effects pedals. The company's legendary chorus circuit would arrive in the Roland JC-120 Jazz Chorus amplifier of 1975, then in the standalone Boss CE-1 Chorus Ensemble the following year.
In 1977, the brightly colored Boss pedal series launched in its iconic compact housing. Among its offerings was the green two-knob PH-1 phaser. The Roland Jet Phaser AP-7 was discontinued the year after.
So many classic fuzz-phaser combinations (in whichever order) were being laid down in the mid to late '70s that it's difficult to point conclusively to rock-solid examples of the Jet Phaser in action. Ernie Isley's outrageously cool guitar solo on the Isley Brothers' "That Lady" has often been cited as one such example, but that song was recorded two years before the Jet Phaser came out. Isley himself later recalled in a 1981 GP interview that he tracked his part with an Electro-Harmonix Big Muff fuzz into a Maestro PS-1 phaser, possibly the only phaser available at that time.
More verifiable uses of the AP-7 include various tracks by guitarist Uli John Roth with the Scorpions and funk-bassist-supreme Larry Graham Jr., both in his later Sly & the Family Stone days, and afterward.
Today, guitarists who don't boast collector-deep pockets can avail themselves of one of the several decent reproductions of the original Jet Phaser produced by other makers.
The PastFX JFET Fuzz Phaser and Warm Audio Jet Phaser both go to some lengths to sort of replicate the look and basic enclosure shape of the original (while neither is by any means a straight-up clone), and the Make Sounds Loudly the Night Witch fuzz and ramping phaser somewhat adapts the form and function and houses it in a more modern enclosure, with separate on/off access to the fuzz.
Of course you can always simply jack your favorite aggressive fuzz pedal into your thickest, gnarliest phaser!
Essential Ingredients
Rugged die-cast metal housing
Controls for Jet (fuzz) level, mode, resonance and slow rate
Foot switches for effect on/off and speed fast/slow
High-gain fuzz/distortion circuit into eight-stage FET-driven phaser circuit
All the latest guitar news, interviews, lessons, reviews, deals and more, direct to your inbox!
Dave Hunter is a writer and consulting editor for Guitar Player magazine. His prolific output as author includes Fender 75 Years, The Guitar Amp Handbook, The British Amp Invasion, Ultimate Star Guitars, Guitar Effects Pedals, The Guitar Pickup Handbook, The Fender Telecaster and several other titles. Hunter is a former editor of The Guitar Magazine (UK), and a contributor to Vintage Guitar, Premier Guitar, The Connoisseur and other publications. A contributing essayist to the United States Library of Congress National Recording Preservation Board's Permanent Archive, he lives in Kittery, ME, with his wife and their two children and fronts the bands A Different Engine and The Stereo Field.