This Experimental 1951 Fender Telecaster Has a Story Like No Other Vintage Guitar
David Davidson of Well Strung Guitars tells the amazing tale of a prototype Bigsby Tele in an unusual sunburst finish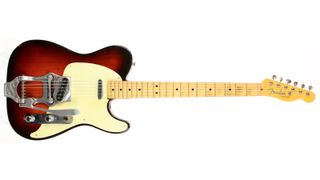 (Image credit: Paige Davidson/Well Strung Guitars)
"I have all the history on this guitar. It's an interesting story. Back in 1998, the original owner – a guy by the name of Verlin Whitford – sent me photos of it. On the back of a photo, he'd written '1951 Tele and original case' along with his name and phone number. So I called him right away and said, 'Hey, that's a cool Telecaster. Can you tell me about it?'
"As it turned out, Verlin and Leo Fender had a close mutual friend, and so he was able to visit the factory in person with the aim of collecting an Esquire he'd ordered. He lived right down the road in Fullerton. When he got there, he was told it wasn't ready to collect. However, because his buddy was friends with Leo, the two of them were offered a tour of the factory. They walked around and when he was in the amplifier area, Verlin spotted an Esquire painted in sunburst – not the sunburst Tele featured here, although I do also happen to own the Esquire, too!
"When he asked the factory guys about it, they told him they didn't normally make Esquires or Telecasters in sunburst [blonde was the standard finish] and that it was an experimental build. But Verlin offered to buy it anyway, even though it was something of a test mule. At that point, he asked if it would be possible for them to add a second pickup, making it a dual-pickup Esquire. So he bought it, took it home, played it and loved it.
"A couple of weeks later, Verlin goes back to Fender to collect the regular blonde Esquire that he'd ordered. While he's at the factory, he decides to have another look around and spots one of the techs working with a gizmo that he'd never seen on a Fender guitar before. It was a Bigsby vibrato. But this one was different because it was made for a Telecaster body, rather than an archtop.
"At the time, the guitar's neck and body were just raw wood – no paint. The tech told him it was a unit they just got in from Paul Bigsby and that they were trying to figure out how it all went together. So Verlin told one of the Fender guys, 'If you can paint that guitar in sunburst, I'll take it!' They didn't quite know if the Bigsby was going to work, but Verlin said, 'If it does work, I'd love to take it to Korea with me.' They agreed on a deal and several weeks later the guitar was done.
"This guitar is so ancient. The B16 Bigsby is different from any other B16 I've ever seen on a Telecaster. It's got a fixed arm with a really wide spoon handle – giant! It feels very different to play and you can't move it down. Engineering-wise, it seems kind of weird.
"The pickguard is bespoke in order to accommodate the Bigsby and the bridge plate is gone. There's a wooden shim in the neck pocket – because the height and angle need to change – but on every other Bigsby Telecaster I've ever seen the shim is aluminum. This one is made from ebony and is stamped 'Bigsby & Company'. It's the prototype of the B16 Telecaster.
"So Mr Whitford is going off to fight in Korea and wants to take this guitar with him. He engraves his military identification number, social security number and phone number into the Bigsby in case the guitar is lost, or it can get back to his family in the worst-case scenario.
"Interestingly, when I first spoke to Mr Whitford, we could not agree on a price. He wanted $6,500 in 1998 and I told him I couldn't give him $6,500 because that's what I'd sell it for. We did not have an agreement. But we did agree prices on the sunburst and blonde Esquires.
"Several weeks later, he brought this Bigsby sunburst Tele out to a guitar show in Pomona, California. He was showing it around trying to get an offer, but nobody bought it. However, about six months later, a gentleman in Pennsylvania answered a classified ad and he was then able to sell it for $10,000.
"Fast forward to about four or five years ago, I got a call from a guy completely out of the blue. He said, 'I have a very interesting guitar you might like to hear about.' He goes on to tell me it's a 1951 Telecaster in sunburst, so I said, 'And it has a Bigsby?' Which stopped him dead. He goes, 'Yes!' I said, 'Did you buy it from a guy named Verlin Whitford?' And he goes, 'Yes! I guess this might be your second chance to buy it?'
"Suffice to say, I was on my way home with it the next day."
Vintage guitar veteran David Davidson co-owns Well Strung Guitars in Farmingdale, New York
info@wellstrungguitars.com / 001 (516) 221-0563
All the latest guitar news, interviews, lessons, reviews, deals and more, direct to your inbox!
Rod Brakes is a music journalist with an expertise in guitars. Having spent many years at the coalface as a guitar dealer and tech, Rod's more recent work as a writer covering artists, industry pros and gear includes contributions for leading publications and websites such as Guitarist, Total Guitar, Guitar World, Guitar Player and MusicRadar in addition to specialist music books, blogs and social media. He is also a lifelong musician.