Suzy Shinn and Rivers Cuomo on the Guitars, Amps, and Pedals Behind 'Van Weezer'
Any whammy-bar guitar would do. But for 'Van Weezer,' producer Suzy Shinn explains why Rivers Cuomo's amp had to be a Mesa/Boogie Mark I.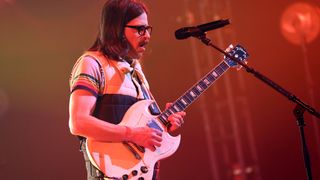 (Image credit: Kevin Winter/Getty Images for iHeartMedia)
Rivers Cuomo employed a handful of guitars for the recording of Van Weezer, but one in particular was essential to the process. "We needed a guitar with a whammy bar so I could do a bunch of dives and stuff," Cuomo says.
That guitar, says Van Weezer producer Suzy Shinn, was "a Tom Anderson Pro-Am that I rented from Lon Cohen," a gear rental shop in North Hollywood. "I told them, 'I don't care what whammy-bar guitar shows up, we just need one.' They would always send the Tom Anderson, and it looked ridiculous. Very, very metal. I think it was purple and black, but it sounded great."
Other primary guitars played by Cuomo during the sessions were a Gibson Les Paul Junior, a Gibson '61 SG Reissue and an Ibanez Explorer. "I would use the SG on the left, maybe the Anderson on the right and then the Junior up the middle to get that kind of crunchy sound," Shinn says.
She adds that there was also some use of a Gibson Les Paul DC Pro, a vintage '60s Gibson SG, an Epiphone SG and a 1965 Epiphone Cortez acoustic, as well as Cuomo's Warmoth "sticker" Strat. "We used that a little bit," she says of the Warmoth, "but it's usually on the road, so I couldn't really grab it."
As for guitar amps, Cuomo relied mostly on a Mesa/Boogie Mark I, a model that has a significant place in Weezer history. "Suzy's part of this camp of classic Weezer fetishist producers in L.A., which also includes [past Weezer producer] Jake Sinclair," Cuomo says. "And somehow they went and found an old Mesa/Boogie head that's very similar to the one I used on the Blue Album."
Adds Shinn, "Jake is a Weezer fanatic, and he's done a lot of research into their sound. And I'm on all the forums, because if you dig deep enough on there, you can find out everything about Weezer. We wound up getting an amp that I'm certain was the same type of head he was using back then."
That Mesa/Boogie Mark I, "serviced to be a bit brighter and more modern," Shinn says, is more or less the sound of Van Weezer. "If you pull out the volume knobs for gain and bright, that's basically the Weezer distortion," she notes.
"I used that head going into a Mesa/Boogie speaker cab, with a vintage Neumann U67 mic on it, literally for the entire album. There were only two exceptions — 'The End of the Game' and 'Blue Dream' – where there's also a Vox AC15."
Pedals were similarly streamlined. "We mostly used the distortion from the Mesa, but when we did use a pedal, the first go-to was an Ibanez Tube Screamer, the regular one and the Mini," Shinn says. "And if that didn't work for what we were looking for, I went to a Boss [MD-2] Mega Distortion.
"The Z.Vex Fat Fuzz Factory was a third option, but I don't know how often that got used. Then we also had a [Dunlop] Jerry Cantrell wah."
Other key pieces of gear included Korg CR-4 and Tascam 244 four-track recorders, which were employed to add "dimension and familiarity" to songs like "She Needs Me," "Beginning of the End" and "Precious Metal Girl." "I like the lo-fi sound of them – the warmth and the light warble," Shinn says.
Overall, the producer concludes, "We realized we don't have to be crazy with a million guitars or amps or pedals or microphones. Weezer's sound is so great because it's so straightforward."
As for what that sound is? "Recently I sat down and listened to the whole Van Weezer record," Shinn says. "And what it sounds like to me is that we had fun. Which, you know, is what it's supposed to be – playing guitar, being in a band. It's so fun."
All the latest guitar news, interviews, lessons, reviews, deals and more, direct to your inbox!
Rich is the co-author of the best-selling Nöthin' But a Good Time: The Uncensored History of the '80s Hard Rock Explosion. He is also a recording and performing musician, and a former editor of Guitar World magazine and executive editor of Guitar Aficionado magazine. He has authored several additional books, among them Kurt Cobain: Montage of Heck, the companion to the documentary of the same name.