Paul Gilbert's signature overdrive pedal is compact, powerful and a blast to play, and earns an Editor's Pick award.
Pros
+

Great overdrive tones

+

Flexible EQ
Cons
-

No provision for battery power
You can trust Guitar Player. Our expert reviewers spend hours testing and comparing guitar products so you can choose the best for you. Find out more about how we test.
How could anyone resist an overdrive/distortion pedal that promises a "bonus feature" of Paul Gilbert's talent, countless years of experience and boyish charm? The PG-14 is certainly a cutie, with its light-blue housing and Japanese-tennis-shoe graphic. And then comes the talent and experience stuff, beginning with a complement of six controls (four pink and two black) for precisely dialing-in OD tones. It's all pretty self explanatory, with the drive, volume and tone controls being familiar friends of pedals past and present.
However, you also have a push control that determines how hard the input of the circuit is, shall we say, "pushed," thus affecting the drive control as it's turned either right (more) or left (less). The tone control does its brightening/darkening thing as you'd expect, and without any pronounced hump in the frequencies, but the PG-14 twists it up with a mid knob that controls the gain of the midrange frequencies, and a mid freq control that selects the range of midrange frequencies (from 400Hz to 7.5kHz) that the mid knob adjusts.
Plugged into 1x12 tube combos — a Carr Rambler and a Fender Deluxe Reverb — and tested with a mix of humbucker and single-coil guitars, the PG-14 proved to be one of the nicest overdrives I've played when it comes to getting the midrange just where you want it for killer distortion tones. Just set the tone control where it sounds right for best top-to-bottom balance, and use the mid knob as needed to increase gain and add thickness, juiciness and sustain.
From there, the mid freq control lets you emphasize the middle frequencies across a wide range. If you want more bite, dial it clockwise to let the high-mids brighten the punch, adding slice where it's needed to make humbuckers jump out of the mix. Want more growl from single-coils? Turn it the other way and groove on how the low mids fill out and fatten up the tone. And again, subtle tweaks of the mid knob brings everything into focus. Beautiful!
On the OD side, the drive and push controls work in tandem to provide a righteous variety of OD tones that are amp-like in feel and respond well to touch and guitar settings. I'd say the voicing lands on the British side of the distortion pond, but more important is how shapeable the FET-based preamp circuit is in response to EQ and gain settings.
You should note that the push control has to be turned up a bit to pass any signal, and it's an effective tone shaper that provides smoother OD tones when kept on the low side, and more aggressive sounds, along with a sizable boost in gain, when turned up. Whether you want creamy blues tones, badass hard-rock and alt-country sounds that sparkle with glass-splintering intensity, or molten shred tones with great saturation, sustain and definition, it's all here with a twist of the knob.
Specifications
CONTACT jhspedals.com
PRICE $199 street
CONTROLS Volume, drive, push, tone, mid, mid freq
I/O Input and output jacks, power jack for 9-volt DC supply (not included)
BUILT USA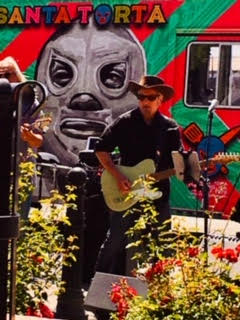 Art Thompson is Senior Editor of Guitar Player magazine. He has authored stories with numerous guitar greats including B.B. King, Prince and Scotty Moore and interviewed gear innovators such as Paul Reed Smith, Randall Smith and Gary Kramer. He also wrote the first book on vintage effects pedals, Stompbox. Art's busy performance schedule with three stylistically diverse groups provides ample opportunity to test-drive new guitars, amps and effects, many of which are featured in the pages of GP.