A good choice for acoustic pickers and songwriters who don't need amplification
Pros
+

Great look

+

Plays well

+

Delivers impressive volume for its size
Cons
-

This guitar begs for a pickup system
You can trust Guitar Player. Our expert reviewers spend hours testing and comparing guitar products so you can choose the best for you. Find out more about how we test.
Donner's latest entry in the acoustic guitar market is the Rising-G Pro, a compact instrument made almost entirely of carbon fiber.
Measuring 38 inches long and weighing a little over four pounds, it qualifies as a travel guitar, and is certainly is well suited to taking into extreme conditions thanks to a one-piece body that is said to remain stable and nondeforming at temperatures as low as minus 20 degrees centigrade (-4 ˚F) and as high as 80 degrees centigrade (176 ˚F) while being immune to humidity.
To achieve its goal of creating a guitar made of carbon that sounds like a wood instrument, Donner also developed an A-shaped bracing design which it says "helps make the vibration transfer between strings and body smoother," while ensuring that "each frequency band of sound is balanced and strong."
The construction also features an integrated neck that melds seamlessly into the cutaway body and does not have a heel like a traditional acoustic. The neck's medium C profile is comfortable and inviting for strumming and fingerstyle playing, and the HPL fingerboard carries 20 well-groomed and polished frets that are rounded and smoothed on the ends.
The nut is also properly notched and does not have any sharp edges. The guitar plays well – although I'd prefer the action a little lower and the acoustic strings a bit lighter – and the factory setup allowed the Rising-G Pro to sound musically in tune in all positions.
Donner uses what's called a "parametric sound hole" that gives the Rising-G Pro impressive volume and low-end kick. The sound is balanced top to bottom, but probably because of the port's location on the upper bout, you can really feel the bass when playing, which is a cool thing.
Donner says the parametric sound hole is also designed to direct sound to the listeners, and it definitely pushes air efficiently and projects well, considering the guitar's small body.
I do wish the Rising-G Pro a pickup system so it could have been tested in a live-performance situation. A basic electronics package wouldn't add much to the cost and would greatly enhance flexibility, so hopefully a pickup will be made available in a future offering, which Donner says is in the works, so stay tuned.
All said, however, the Rising-G Pro has a nice acoustic sound and sustains well, making it an enjoyable guitar to play when jamming or doing a low-volume gig on a small stage.
It's more fun to play than most dedicated travel guitars, and it looks sleek and modern with the woven-pattern top, curvy bridge and tapering of the fingerboard at the 17th fret.
The reasonably priced Rising-G Pro is a good choice for acoustic pickers and songwriters who don't need amplification. If you seek a guitar with a stylish appearance that sounds bigger than its small size suggests, the Rising-G Pro is certainly one worth checking out.
Specifications
NUT: Graphite, 1.69" wide
NECK: Carbon fiber
FRETBOARD: HPL (high-pressure laminate), 25" scale
FRETS: 20
TUNERS: Dark chrome die-cast
BODY: Carbon fiber, one piece
TOP: Carbon fiber
BRIDGE: Carbon fiber, with compensated saddle
ELECTRONICS: N/A
FACTORY STRINGS: Elixir medium-gauge phosphor bronze
WEIGHT: 4.42 lbs (tested)
EXTRAS: Includes padded gig-bag, tuner, capo, strap, and picks. Four color choices: Cloud White, Carbon Dark, Apricot Yellow and Sky Blue
BUILT: China
Visit Donner for more information.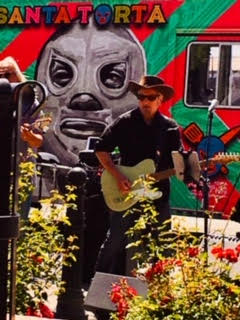 Art Thompson is Senior Editor of Guitar Player magazine. He has authored stories with numerous guitar greats including B.B. King, Prince and Scotty Moore and interviewed gear innovators such as Paul Reed Smith, Randall Smith and Gary Kramer. He also wrote the first book on vintage effects pedals, Stompbox. Art's busy performance schedule with three stylistically diverse groups provides ample opportunity to test-drive new guitars, amps and effects, many of which are featured in the pages of GP.