Wayne Krantz on Remote Collaborations and Finding a New Mode of Composing
With his full embrace of computer composition, Wayne Krantz's new music moves from his mind to the score.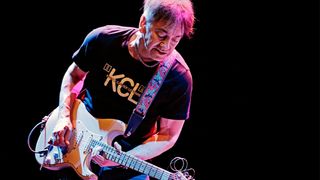 (Image credit: Peter Van Breukelen/Redferns/Getty Images)
Over a two-decade Thursday-night residency at New York City's legendary 55 Bar, Wayne Krantz developed one of the most distinctive voices on the electric guitar. His highly syncopated, chord-based approach employs a Strat-style guitar set to the clean, "out-of-phase" tone of the bridge and middle pickups together.
However, it's his brilliantly creative, funky and often dissonant improvisations for which he is known best. Whether performing with one of his trios at 55 Bar, or on tour as KCL, with drummer Keith Carlock and bassist Tim Lefebvre, Krantz puts on an improv performance as nimble as that of a tightrope walker.
But when it came to making his latest album, Write Out Your Head (Bandcamp), Krantz decided to switch gears and put out a record that was entirely composed. He had his reasons.
"Improvisor means being creative now, not making the same record over and over again," he says. "I wanted to see if I could write without the guitar. Also, my last record, [2014's] Good Piranha/Bad Piranha, was 98 percent improvised in the studio. Although I'm playing differently now, just doing another live document didn't seem timely."
Krantz has indeed changed up his playing style, adding whammy-bar work and fuzz to his usual ring-modulator excursions, but they're merely fresh additions to his already highly recognizable sound.
Oddly, guitar is almost an afterthought on Write Out Your Head, which features Gabriela Anders on vocals and percussion, Carlock on drums, Chris Potter on saxophone and bassists Lefebvre, Will Lee, Orlando Le Fleming and Pino Palladino.
"The album played out as primarily compositional, with a few solos here and there," Krantz explains. "If you have a saxophone player like Chris Potter, you have to let him solo. It just evolved that way and ended up being different for me." And as he explains, the album's recording process was unusual as well.
In writing this album, did you actually put pen to paper?
I was not like the composer with tuberculosis in the dead of winter, with a quill pen and a candle burning, no. I used the Sibelius program. With Sibelius there's instant feedback with sounds that offer a half-assed representation of the real instruments. My stuff has always been very guitar-y, but this release isn't.
That said, the music sounds very much like your guitar music. Do you think years of improvising has influenced the way you think about composition?
I'm glad this record sounds like me. I try to improvise in a compositional way. I have a certain melodic, harmonic, rhythmic imagination that plays out, whether I'm improvising or writing. It's nice to have an identity that transcends the guitar.
The main difference is, if I have a guitar in my hands, it does some of the talking in terms of what my hands already know. This got me away from that. For example, I wasn't subject to what an open-string voicing sounds like. The composing inspiration I get from the guitar wasn't present.
How did you record it?
Drums were recorded last. The musicians were all playing to just a click and my Fender Rhodes piano programming. I started adding bass, then saxophone and then guitar. It was a practical solution due to scheduling. Also, the music was complicated. To do it live would have required rehearsal, and everyone was way too busy for that. Besides, rehearsal wasn't in my budget.
Once the bass player laid down his part, was there now a click, Rhodes and bass for the next musician?
No, because I hadn't edited the bass part when I recorded the other guys, I had everybody play to the click and Rhodes.
No one heard anyone else?
No. If I ever do another record like this, I'll try to organize it differently. But it worked out.
I'm trying to get my head around the fact that it wasn't played live, because the players sound so locked in to each other.
That's because they're talented and because I know how to move things around in Pro Tools so they sync correctly. I always move tracks to get them to groove the way I want.
Was using four different bass players down to scheduling?
Somewhat, but I also tried to match the player to the track. It's a serious bass record.
It's a serious Keith Carlock record too.
Aside from a few solos from Chris, he's the main one improvising on the record. My wife, Gabriela Anders, also improvised some percussion and vocal stuff. Everything else, including the bass parts, was written out.
Recommended Listening: 'Write Out Your Head'
• "Xandea"
• "Magic 44"
• "Well-Spoken Astronaut"
What guitar did you use to record?
I just used a Suhr S-style guitar, a fuzz pedal and the Marshall 2553 head with the 2x12 cab that I use at 55 Bar. The Strat has Suhr's '60s vintage pickups and his noise-canceling system. It's an incredible guitar.
What fuzz was it?
A guy in Argentina made it for me. He just makes pedals for fun. He gave it to me at the perfect moment, because distortion pedals hadn't been rocking my world. I mostly use the head for overdrive. I prefer extreme effects, and fuzz is that.
There's something "uncanny valley" about the guitar sound on "Magic 44."
It's half guitar and half the guitar sequence from Sibelius. I used that because the computer sound was such a function of the composition, I thought it would be cool if it was in there.
You've been touring with one of your original trios [KCL]. Was it easy to slip back into the old chemistry?
It's good chemistry. It used to be paralyzing because if those guys couldn't do it, we couldn't play. One of the nice things about having recorded this group improvising for such a long time is that I don't have to teach people what to do from scratch anymore. Some of the guys I play with now have grown up listening to my music. As a leader, I'm very happy about that.
Does it feel good, though, to know that your sound has become part of the lexicon of jazz for a whole generation?
Honestly, to whatever degree that's true, it means nothing to me. My life doesn't change. That's really not the reward for me. It's the playing. That's where it's at.
What are you using live?
My Suhr and my pedals [they include Boss DD-3 delay and OC-2 octave pedals, Electro-Harmonix Frequency Analyzer and Freeze pedals, a Neunaber Audio Wet reverb, the germanium fuzz and a Meris Ottobit Jr.] My backline amp is a Marshall JCM 2000 DSL. They're fairly consistent and available.
What strings and picks are you using?
D'Addario NYXLs and a Fender medium. When I was trying to figure out what gauge strings and pick to use, I eventually deferred to Jimi Hendrix. Whatever he did, I did. It made things a lot easier. So it's .010–.038-gauge strings and Fender mediums.
Will you be going back to free improv on the next record?
I'm not thinking that far ahead right now. I'd like to make a solo record someday. I was actually going to do that this time, but I tried to play that way and I wasn't good enough at it to record. I'm going to keep at it, because I'd like to have the option to do gigs alone.
It's a very different animal than playing with a band.
It is if you don't want to be boring. I can make a boring record pretty easily. But my challenge is how do I make it groove the way I want?
All the latest guitar news, interviews, lessons, reviews, deals and more, direct to your inbox!