Watch Don McLean's Iconic "Vincent" Performance at the Immersive Van Gogh Exhibit and Read This Insightful Interview on the Making of the Song
Recorded in 30 takes with his Martin 00-21, this 1972 hit has delivered mixed blessings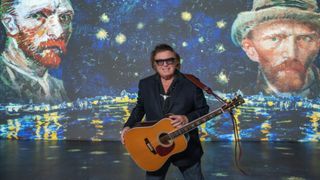 (Image credit: Vivien Killilea/Getty Images for Lighthouse Immersive and Impact Museums)
As the second single from American Pie, Don McLean's 1972 album, "Vincent" rode to the U.S. charts on a wave of popularity, thanks to that long-player's megahit title track.
Often recalled by its opening line, "Starry, starry night," itself a reference to Vincent van Gogh's celebrated June 1889 painting The Starry Night, "Vincent" is an evocative reverie on the artist's life and work.
Remarkably, neither it nor its companion hit existed when McLean began recording the album.
"I had everything except 'Vincent' and 'American Pie,'" he tells Guitar Player…
Talking Pictures
The starting point for "Vincent" was a book about Van Gogh written by his brother, Theo.
"He wanted to set the record straight that Vincent hadn't killed himself over a woman but because of mental health reasons," McLean says. "That started my wheels turning, and I knew I wanted to write a song about him.
"I spent a whole lot of time wondering how to do it, but every single idea that I came up with sounded silly and lightweight. So I decided to look at the Starry Night painting and let that tell me how to write the song.
"As I was looking at it, the words and music just came into my head. It was as if the painting was writing the song.
"That's the way that I write songs. I come up with the melody and lyrics together, usually. Once I get a little piece of action going, I can decide where I want to go with it."
Even so, the song's fingerpicked guitar performance stands up as a piece of music in its own right.
"I've always studied many different acoustic guitar styles, from Doc Watson right through to the great flamenco artists," McLean explains. "It all comes through in my playing. The tone that you get from your guitar is always the most important thing."
Night After Night
Contrary to reports that McLean will only do one take of a song, "Vincent" was the product of many hours in the studio with his Martin 00-21. The track also features accordion, marimba and strings.
"'Vincent' is basically me and the guitar, recorded as a live version," McLean says. "But I think we did about 30 takes before we really felt we'd got the definitive one.
"That means that what you get is exactly how the guitar wraps itself around my voice as I'm playing through the song. It creates a single entity, and that's what I do.
"There are subtleties in the performance, in terms of tempo, while it remains constant. The feel sometimes pushes or pulls against the pulse. I like to sing around the beat, ahead, behind or even right on it, which I think all adds to the emotional intensity of the performance."
Hit Show
Released in February 1972, some four months after "American Pie," "Vincent" rode to number 12 on the Billboard Hot 100 and was a chart-topping hit on the U.K. Singles chart.
Fifty years on, its success has been a mixed blessing for the guitarist, who had never expected the tune to have such staying power.
On the one hand, he says, "nothing had ever lasted that long at that stage, you know? The Beatles, they weren't that far back in my past in 1971."
On the other hand, McLean gripes, "my entire career has been focused on two songs, specifically. Nobody has ever taken the time to examine my singing, the scope of the works I've created overall, my recording or my guitar playing.
"It's always those two songs. Nobody ever discusses my art. I'm an artist and I do many, many different things, but people have never taken the time or had the respect for me to find out anything about the broader body of my work.
"If you just look at 'Vincent,' you can study my singing, playing and how they interweave, and that is a whole aspect that never really gets discussed.
"The reason that it was successful was because of the way that I did those things. People forget. They think it's a beautiful song with beautiful words, but they would never have heard it if I hadn't recorded it with my guitar and my voice. That's what did it.
"It's the same for 'American Pie' as well. I felt like I had to fight with everybody to get those songs released as I envisioned them."
Browse the Don McLean catalog here.
All the latest guitar news, interviews, lessons, reviews, deals and more, direct to your inbox!
Mark is a freelance writer with particular expertise in the fields of '70s glam, punk, rockabilly and classic '50s rock and roll. He sings and plays guitar in his own musical project, Star Studded Sham, which has been described as sounding like the hits of T. Rex and Slade as played by Johnny Thunders. He had several indie hits with his band, Private Sector and has worked with a host of UK punk luminaries. Mark also presents themed radio shows for Generating Steam Heat. He has just completed his first novel, The Bulletproof Truth, and is currently working on the sequel.