Vinyl Treasures: Phil Baugh's 'Country Guitar'
A player who blazed a trail for the today's country shredder, Baugh is an under-celebrated virtuoso who is ripe for rediscovery.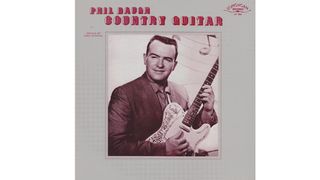 (Image credit: Longhord Records)
Back in the pre-internet early '90s, when I was an obsessed guitar archaeologist digging for great country guitar, local guitar guru Doc West suggested I ask Joe Goldmark (who he knew as the owner of the San Francisco pizza joint Escape from New York Pizza) for a compilation cassette of country guitar.
Although I had never met Joe, I left him a message. A week later, his curated country guitar cassette awaited me at his pizza shop. That tape absolutely changed my life. It was an encyclopedia of knowledge that gave me insight into country guitar history during a pre–YouTube era in which locating out-of-print records demanded dutiful searching.
As luck would have it, a couple years later Joe was playing in the 10 Gallon Cats, where I had a front-row seat to his artistry. Joe and I became musical cohorts and longtime friends. The Goldmark cassette included a Top-40 track called "Country Guitar," featuring guitarist Phil Baugh.
Mr. Baugh plays the styles of well-known guitarists – Hank Garland, Billy Byrd, Chet Atkins, Duane Eddy, Merle Travis, and more – with a stunning display of virtuosity, technique, and 20-20 insight into what made these guitarists sound unmistakably unique.
I can't recommend "Country Guitar" enough. It's humbling, fantastic, fun, and awe inspiring, and I can only think, They don't make 'em like that anymore! One way to hear it is on Country Guitar, a compilation of Phil's tracks released by Longhorn Records in 1965. (It's also available on the affordable CD Live Wire, from the Sundazed label.)
After "Country Guitar" comes "Dry Camel" which kind of reminds me of Jimmy Bryant's "Frettin' Fingers" and Roy Clark's "Tico Tico." It's a ripping display of fast picking over a minor key. The top of the song demands attention, with behind-the-nut strums that sound like an autoharp. Mr. Baugh plays all of the guitar.
"No Deposit, No Return" features vocalist Vern Stovall, who does a fine job as the album's voice. Vern's approach reminds me of Roger Miller's vocal style. He's relaxed and musical, and I simply like his voice.
On this track, Phil plays great comping, particularly on the V of V (D7), that reminds me of Redd Volkaert. Like Redd, Phil seems to play the perfect fill at the perfect time. There's a solo break on this track that I'm leery of identifying as a standard guitar. If that's just a volume pedal, I might have to eat my hat.
My understanding is Phil had a pedal/tuning set-up for standard guitar, but I'm unclear if this LP predates his innovations. Phil eventually settled on a Peavey T-60 (or perhaps a modified Les Paul) with the MSA Pedal Pitch, which we can hear on Country Guitar II. The guitar jury of peers is out on this one.
The hot instrumental "The Finger" is possessed by friendly spirits and is a virtuoso twangfest. This track has a guitar break that is so behind the beat, I hold my breath every time I hear it. "Live Wire" is the record's sleeper, where Phil plays chords that are reminiscent of Buddy Emmons' jazz chording before ripping into 64th-note breaks that leave me in awe.
"Lonesome Joe from Kokomo" has a stunning solo that ends in a weird and lovely tritone substitution phrase that's worth the price of admission. "Take One" might be my second-favorite track within this wealth of guitar riches.
Phil's technical ability is almost astonishing. It's reminiscent of Hank Garland's "Baby Guitar" in terms of the fast picking, yet Mr. Baugh ups the ante with innovative chord voicings that sound like Buddy Emmons on pedal steel.
Phil often played with Emmons, and the influence is obvious and superbly executed. I wish I had more insider info on Phil Baugh's standard guitar-pedal innovations. If a kind reader has more information, please write to Guitar Player. Either way, Country Guitar is essential listening and fun for the whole family.
I hope most of you will love it. Now and then I get an email thanking me for my little column and for exposing curious readers to music discoveries via "Vinyl Treasures."
These gracious emails always make my day. I usually write back, "I'm just sharing what people were kind enough to share with me." Every time I write that, I think of a cassette that was left for me by a stranger named Joe Goldmark. Thank you, Joe, for everything.
Jim Campilongo and Luca Benedetti's new release, Two Guitars, is out now via City Hall Records on CD and vinyl.
All the latest guitar news, interviews, lessons, reviews, deals and more, direct to your inbox!
Jim Campilongo has 14 critically acclaimed instrumental records available on vinyl, CD and digital download here.