Trace the Roots of Rock and Roll with a Spin of Roy Brown's 'Laughing But Crying'
This compilation of material by the original singer of "Good Rocking Tonight" showcases a number of fleet-fingered guitarists, such as Bill Jones, Bill Jennings, and Jimmy Davis.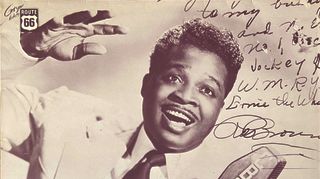 (Image credit: Route 66 Records)
Roy Brown's album Laughing But Crying was released on the Route 66 label in 1977 and features some of his greatest sides from 1947 to 1959.
There are a group of select vocalists who transcend melody and communicate their message directly, like it was sent through a telephone line. Billie Holiday, John & Paul, Curtis Mayfield, Merle Haggard, Bon Scott, and Julie London all have this effect on me. So does Roy Brown.
Brown was born in 1925 (some sources say 1920) and performed a unique style of jump blues that combined swing, jazz, and gospel. He was also a songwriter and composed "Good Rocking Tonight," the much-covered 1947 jump-blues number that anticipated rock and roll. Some call him a shouter, but I would insist this is grossly inaccurate. He could belt out a tune that could melt a microphone, but his vocal power shouldn't be trivialized as "shouting."
Surely, Brown was influenced by spirituals, but to my ears, he is a blues opera singer. I love how he would have a target note and hit a perfect intervallic sweet spot. This is similar to how an acoustic guitar has certain notes that vibrate and resonate the wood, and, in a similar way, Roy Brown hit notes that resonate my heart.
He also had a dramatic flair that always made his stories totally believable. One could feel that he lived everything he sang about and, like a good friend, was telling us all about it.
During his 1940s and '50s heyday, he was aware of the popularity of guitarist/singers like B.B. King and others, so Brown – always commercially savvy – gave the guitarists in his group plenty of room to play. This generosity was aptly used by his fine bullpen of players, which included Bill Jones, Bill Jennings, Jimmy Davis, Edgar Blanchard, and others, some of whom are credited as "unknown" on this release.
Every track on this fine LP swings as hard as anything I've ever heard, but to my ears the stand-out cuts are timeless gems. Brown gives an Oscar-worthy Best Actor vocal performance. On every chorus, he seamlessly segues from a maniacal laugh to a sorrowful sob that's astonishing to hear. He captures the internal struggle of flip-flopping during heartsickness.
Guitarist Jimmy Davis makes full use of the guitar chair on the title cut as he deftly dances around Brown's voice with blues artistry and a dash of lovely raunchiness. I wasn't aware of Davis until this LP, but his playing is spectacular.
On "Letter From Home," Mr. Davis almost steals the show playing 64th-note double-stops and animated slides, but of course, it's utterly impossible to upstage Roy Brown. My other favorite track is "Butcher Pete (Part One)." Kind readers, you have to check this one out.
"Butcher Pete" is about an unmanageable, totally unhinged, and sex-obsessed guy named Pete who wreaks havoc wherever he goes. The thinly disguised innuendos, the group shout-out, and Brown's vocal performance make this track as hilarious and entertaining as it is swinging.
Leroy Rankins plays a baritone sax solo that sears through the changes, and his apartment-shaking low note (on the downbeat of bar five) is glorious. At the song's end, Brown proclaims, "Hey! Turn this record over! You ain't heard nuthin' yet!" as he challenges us to listen to part two and hear more about ol' Butcher Pete's antics. Me? I'm all in.
Unfortunately, Roy Brown's career stalled in the 1960s. With his back against the wall, he sold the rights to his cash cow, "Good Rocking Tonight," and eventually he was selling encyclopedias door to door.
Per Wikipedia, Brown's tax problems led to him getting jailed for tax evasion by the IRS. Yep, just like Al Capone. I don't know the specifics of this case, but this doesn't seem right. When I hear Brown, who is an absolute life force, I can't imagine a fate as unfitting as this.
That said, his career rebounded in the 1970s. He played the 1970 Monterey Jazz Festival, and both of his Route 66 releases rekindled interest in his career, leading him to do some touring in Europe before he died of a heart attack in 1981.
Roy Brown, you gave us a lot. Thank you for everything.
All the latest guitar news, interviews, lessons, reviews, deals and more, direct to your inbox!
Jim Campilongo has 14 critically acclaimed instrumental records available on vinyl, CD and digital download here.