Steven Wilson on What He Learned From Remixing Def Leppard and Prog's Most-Treasured Recordings
The Porcupine Tree mastermind has become one of the hottest remixers in the record industry, with credits including Yes, King Crimson, and a certain stadium-rocking band from Sheffield.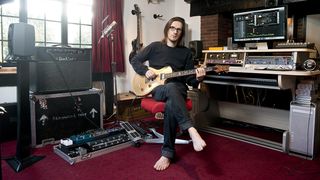 (Image credit: Future)
Though some might consider it an enviable job, Steven Wilson says remixing rock masterpieces is "the equivalent of polishing the Sistine Chapel – that's what I feel I'm doing sometimes with these classic records."
To date, he has applied his sonic elbow grease to records by King Crimson, Roxy Music, Jethro Tull, Tears for Fears, XTC and even this month's cover star, the Yes album Close to the Edge.
Here, he reveals what happens when you're given the chance to dig into the master tapes of your favorite album for weeks. It turns out the job might not be so enviable.
You've become the go-to guy for a lot of remixes of classic rock albums. Given that it's such a huge undertaking, could you ever do it for an album that you didn't like?
"I've done it a couple of times for albums where, I wouldn't say that I disliked them, but I certainly wasn't intimately familiar with them. I've just remixed the new Def Leppard album [Diamond Star Halos], and I wasn't a particular fan of the band beforehand – I was never really a fan of that kind of music – but coming out of the other end, I had incredible admiration for them.
"It's a really great album. They do that stadium-rock thing phenomenally well. Every song sounds like a radio hit. What was fun about doing the Leppard album was deconstructing and reconstructing it and hearing how they do what they do. I think I'm always going to be curious about music that I'm not that familiar with, although I think I'm probably never going to like the shredding thing. [laughs]"
When you've completed a project, when you listen back to the album years later, do you go for the original or your remix?
"The sad thing is that, by the time I've finished working on it, I never want to hear it again. [laughs] I've been doing it for 10 years now and I still haven't reached the stage where I want to go back and listen to anything that I've remixed.
"A lot of them were previously my favorite albums, so that's a real downside to what I've done. I'm certainly not trying to change the essence of an album or people's memories when I do a remix; it's more about restoration. Obviously, that doesn't apply when it's a new record, such as the Def Leppard album.
"The interesting thing about remixing is that the fans who've been listening to these albums for decades know them much better than the artists who recorded them. Often, the artists haven't really listened to one of their old albums for many years. It's the same for me – I rarely listen to anything I've recorded in the past."
All the latest guitar news, interviews, lessons, reviews, deals and more, direct to your inbox!