Spoon's Britt Daniel Reveals How ZZ Top and Their Native Austin, Texas Inspired the Group's Latest Album, 'Lucifer on the Sofa'
The Fender signature artist talks technique, songwriting and gear.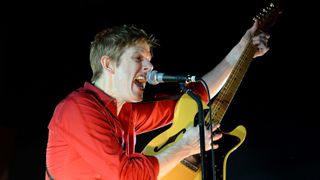 (Image credit: Ethan Miller/Getty Images)
After recording Spoon's previous few albums on the East and West coasts, guitarist, songwriter and frontman Britt Daniel decided it was time to head home to Austin, Texas, where he started the band with drummer Jim Eno three decades ago.
The results were immediate.
"The Hardest Cut," the first song written after the band returned to Texas, is the hardest-rocking tune in the Spoon catalog. Built on a boogie rhythm inspired by ZZ Top and a deceptively simple riff, and featuring a blistering solo from co-guitarist Gerardo Larios, "The Hardest Cut" set the tone for Lucifer on the Sofa (Matador).
Recorded at Eno's studio, the sessions were marked by spontaneity, as heard throughout the album. The final takes include pre-song noodling, and that's Daniel calling out section-change instructions to his bandmates in the middle of "Held," the muscular Smog cover that opens the album.
"We tried to track live whenever we could," Daniel says. "That was the sound we wanted. It's a real band playing. I don't know if that's en vogue, but that's what we wanted to do."
Daniel shares guitar duties with Larios and multi-instrumentalist Alex Fischel, who rip the dueling guitar solos on "Satellite," but Daniel's right hand is the secret to the Spoon sound.
Somehow both tightly wound and loose at once, Daniel sculpts the album's hard-rocking, post-punk riffs and soulful segues with precision, always in lockstep with Eno.
Lucifer on the Sofa is a raw rock and roll record made by guys who grew up worshipping artists like Prince and PJ Harvey.
"PJ Harvey was the sound," he admits. "When we were starting out, that was it. She had just put out Rid of Me and that was the sound I was going for, for sure."
Daniel joined us to talk through the influences and gear – including his signature Fender Telecaster Thinline – he used to shape Lucifer on the Sofa.
Spoon had been a West Coast band for a decade. How did moving back to Austin influence Lucifer on the Sofa?
It was a reaction to how we made the last few records. I made a lot of [2010's] Transference alone at home in Portland because I finally had a studio of my own in my house.
And I learned that I could do that, but it wasn't as much fun as recording with other people. We wanted to make a record in Austin because we could do it at our own pace.
But more than that, it's a town where there's a lot going on. You can go out and see Dale Watson, come back home and write a song that takes some of that energy, or go see bands at the Hotel Vegas and use that kind of energy.
Your specialty is memorable, single-note riffs instead of chords. How did your style develop?
For me, it's about establishing a rhythm and a feel with my right hand and knowing there's usually going to be someone who can do something more technical as a lead. But for me, it's the rhythm. That's just what I'm good at. A good chunk of writing a song is knowing what that rhythm is going to be – that feel.
You've stayed in that ballpark, but Spoon's sound has mushroomed around it.
It's a rhythmic style. It's not super technical. The way I started playing was I got a Beatles songbook, because I knew most Beatles songs. I would just sit there with that songbook and learn chord after chord.
I would learn a lot of Led Zeppelin songs, too, but I was not interested in the solos as much as what he was playing on those acoustic guitar parts or the main riffs.
I learned the entire "Babe, I'm Gonna Leave You," that picking style, just from getting a record and backing the needle up, over and over again, as I listened for what was going on with each string he was playing. That takes a long time, but I had nothing but time when I was 16.
"The Hardest Cut" was the first tune written when the band reconvened in Austin. What do you think was inspiring you then?
We had just gotten off the road. I came in to Austin, and then Alex came in behind me, drove in from California. But I saw ZZ Top for the first time in 2019. I'd had some records when I was a kid, but I'd never done a deep dive. And I went deep after I saw them.
Then I saw their documentary [2019's ZZ Top: That Little Ol' Band from Texas], and that was just another thing that made me invest a lot of time in learning a lot more about their catalog.
The creamy overdrive tone after the chorus really pops out. What did you use to get that?
Yeah, the gnarly part. I don't even remember. I think it just came to me, and it's funny that part gets singled out a lot when I'm talking to people, not only reviewers but also fans or friends. For me, it was always the part where the drums dropped out. That was all it was. But, yeah, I guess it does something kind of cool.
Did you go in any directions with gear that you normally wouldn't?
We think about it a lot, especially when we're doing overdubs. If we're tracking live, we're usually just going to track with whatever we happen to be playing as we're setting up.
But I used my own Fender Telecaster Thinline a lot on this record, and, funny enough, I used a tiny Vox Pathfinder as the main guitar amp.
Every now and then I'd use something bigger, but there was something about the sound of that amp. It somehow replicates that AC30 British Invasion tone with just this one little speaker.
Fender debuted your signature Thinline Tele in 2019. What's different about your model?
I had been playing Thinlines for a long time, so when they asked me to design one, I came up with a combo of the best parts of the few that I already had, in terms of not only its looks but also its sound.
I went through tons of pickups until I found something that had this sort of snarl and bite. The thing I really like about Thinlines is you get that sound even more than on a regular Telecaster.
You get even more of that sort of scraping sound of the pick hitting the strings. And for a guitar player like me, who's all about the right hand, that's a big bonus. It's just another degree of being expressive with my right hand.
Grab a copy of Lucifer on the Sofa here.
All the latest guitar news, interviews, lessons, reviews, deals and more, direct to your inbox!
Jim Beaugez has written about music for Rolling Stone, Smithsonian, Guitar World, Guitar Player and many other publications. He created My Life in Five Riffs, a multimedia documentary series for Guitar Player that traces contemporary artists back to their sources of inspiration, and previously spent a decade in the musical instruments industry.