Spectacular Pedal Steel and Virtuosic Vocals: Here's Why Johnny Paycheck's 'At Carnegie Hall' Is a '60s Country Classic
Along with recordings by the likes of Merle Travis, Willie Nelson and Ray Price, Johnny Paycheck albums remain sonic templates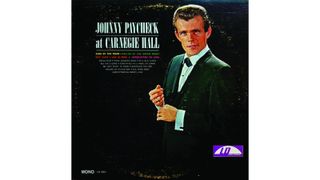 (Image credit: Little Darlin')
Johnny Paycheck's At Carnegie Hall album was released in 1966 on the Little Darlin' label.
Of all the records in my library, this one took the longest to find. I spent 10 years navigating the record store jungle in our pre-internet world before I found a copy (thanks to my longtime pal Brian Dunleavy) to replace the beat-up Realistic cassette dub that I'd nearly played to death.
First off, let's get something straight: At Carnegie Hall was not recorded at Carnegie Hall. It's not even a live record. The liner notes offer a vague explanation for the title, detailing how much pride Johnny felt performing these songs at the legendary New York City venue.
That, in turn, inspired the quality of the material on At Carnegie Hall.
Honestly? I'm not sure I get the connection, but regardless, Johnny and company created a fine country record.
This album and Paycheck's other LPs for the Little Darlin' label are excellent, captivating and feature great performances and playing.
They deliver the essential ingredients I want from a country record: simple chord changes, and great melodies with easy-to-understand lyrics that tell a relatable story.
Importantly, this recipe is complemented by a pedal-steel guitar that's mixed as loud as the vocals.
Producer Aubrey Mayhew, who clearly knew a good thing when he heard it, put Lloyd Green's spectacular playing front and center.
Like a good movie soundtrack, the pedal steel can convey the visceral feeling and drama of what the lyrics are saying.
When I've been lucky enough to be asked to co-produce a country record with Luca Benedetti, we always use the '60s-era pedal-steel-adorned recordings of Merle Travis, Willie Nelson and Ray Price – as well as Little Darlin' Johnny Paycheck records – as a sonic template.
Though Johnny is best known for his 1977 hit single, "Take This Job and Shove It," it seems I am partial to country artists before they grow facial hair.
Clean-shaven Willie, Merle and Waylon Jennings all reinforce this observation of a crooning virgin voice, and Johnny Paycheck is no exception.
His output on the Little Darlin' label is phenomenal and features some of the most heartfelt, virtuosic vocal styles I've ever embraced.
Yet, in Paycheck's world, there is always a looming sense of danger working in alliance with R-rated lyrical drama.
"Ballad of Frisco Bay" is presented as the last words of a man making his watery escape from Alcatraz prison, where he was sent after taking the blame for a murder committed by his wife.
"He's in a Hurry" is about feeling regret while hanging out with your ex-wife's faithful husband, who is eager to head home to be with her. (Obviously no fun.)
On "Not What I Had in Mind," Johnny forlornly sings, "Now she's gone, she hates the very sight of me."
Even a tune like "My Last Night in Town" has a sinister edge and is filled with volatility, despite its familiar lyrical scenario.
Johnny's performances have a twisted narrative that's reminiscent of a Coen brothers film gone awry, and his emotional delivery fills one's imagination with endless dark outcomes.
I love '60s country music and want everyone to love it as much as I do, but it's understandably difficult to sift through decades of dreck.
Even the good stuff in the '80s and '90s doesn't call my name like '60s-era Buck Owens, Merle Haggard and Johnny Paycheck.
Comparing the country music of those decades is like trying to find the Beatles' Sergeant Pepper's in John Lennon and Yoko Ono's Double Fantasy or Paul McCartney and Wings' Band on the Run. It just ain't the same, and because of this, sometimes country music is misunderstood and even avoided.
For the country music neophyte, I suggest listening to Buck Owens' single "My Heart Skips a Beat"/"Together Again" or Merle Haggard's "I'm a Lonesome Fugitive" before jumping into the deep end of the pool with At Carnegie Hall.
That said, Paycheck's Little Darlin' era contains some of my favorite country music ever.
These records are still affordable through eBay and Discogs and available on the CD The Real Mr. Heartache: The Little Darlin' Years.
Best of all, you don't have to search for 10 years to find it.
All the latest guitar news, interviews, lessons, reviews, deals and more, direct to your inbox!
Jim Campilongo has 14 critically acclaimed instrumental records available on vinyl, CD and digital download here.