"Somehow, Something Went Haywire, but in the Right Direction": Billy Gibbons Recalls How ZZ Top's Happy Accident, "Cheap Sunglasses," Came to Life
"So much of the stuff that you, me and the rest of the world grew up listening to, a good amount of it, if not more than half, was all done by accident," says the ZZ Top frontman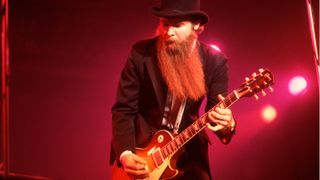 (Image credit: Paul Natkin/Getty Images)
Billy Gibbons can easily remember the first song he ever wrote and recorded that made him say to himself, "I've got something here."
"It goes back to the Moving Sidewalks," the ZZ Top singer and guitarist says, referring to the psychedelic rock act he founded in Texas in the mid 1960s. "Our first single, '99th Floor,' was such a rewarding experience.
"Back in the '60s, before you went into the studio to tackle the challenge of recording, you did a demo, which was a demonstration of the product. So we had a nice little demo for that song, and after going back into the woodshed and chopping wood until we had it really together, I felt quite confident about it. And then we landed on a pretty special moment when we went in the studio and laid it down."
Between then and now, of course, Gibbons has experienced plenty more special moments in his musical life. And most of those have come courtesy of the group he formed after the Moving Sidewalks – a little ol' band from Texas named ZZ Top.
Here, Gibbons details how one of the group's signature songs, "Cheap Sunglasses," came about, though, as we discover, it happened quite by accident.
Released as single in 1979, the full-length version featured on ZZ Top's Platinum-selling album, Degüello.
You have such a funky, almost jazzy guitar tone on "Cheap Sunglasses." How did that come about?
A good friend of ours from Texas, Orville Guinn, was a regional distributor for a number of different musical products, one being the Teisco line from Japan, and he gave me a white Stratocaster copy.
He said, "Hey, man, Teisco's entered a lawsuit. They've been stomping on Fender's copyright, and they got caught. I need to get away from these things." He said, "Here, try this Strat out. It's not bad." And I said, "What is this thing?"
But the guitar wound up in the studio, and I think one of the reasons it was such an easy giveaway for my buddy was it had the wrong headstock: It had a Telecaster headstock on a Stratocaster body.
And you know, not too many people wanted Japanese products at the time. And they certainly didn't want a Japanese product with the wrong head or wrong neck on it. [laughs]
How did you develop the main riff, with the sliding triad figure?
What happened there was, we were in the studio and I gave the Strat to our guitar tech and – I don't know – he got distracted or something and left the high E string tuned down to D. And neither one of us realized it until I picked it up and started playing.
But I liked the voicing. And that's due to that unexpected detuning. You barre the first three strings and you slide up to the third fret, and you're in.
The solo section is pretty unusual too, expanding on the song's jazzy vibe.
Yeah. It goes from a G to an Fm7 against G. Within rock music it was peculiar at the time, but it rang true. It had a rather appealing draw, so we chased it right on down.
And the funny thing about that solo: To this day we're not sure what happened, but something got fried in the process. We went back and checked all the amp's tubes; they seemed to be working. We looked at the diaphragm of the microphone; it seemed to be undamaged. But the guitar has this kind of honky midrange thing going on. It's quite fuzzy. Somehow, something went haywire, but in the right direction.
One of those beautiful mistakes.
Yeah. So much of the stuff that you, me and the rest of the world grew up listening to, a good amount of it, if not more than half, was all done by accident.
All the latest guitar news, interviews, lessons, reviews, deals and more, direct to your inbox!
Rich is the co-author of the best-selling Nöthin' But a Good Time: The Uncensored History of the '80s Hard Rock Explosion. He is also a recording and performing musician, and a former editor of Guitar World magazine and executive editor of Guitar Aficionado magazine. He has authored several additional books, among them Kurt Cobain: Montage of Heck, the companion to the documentary of the same name.