Sister Rosetta Tharpe's Five Acts of Legend
A look back at the career of a perennially under-appreciated rock guitar pioneer.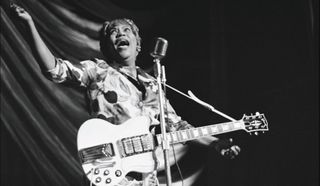 (Image credit: Tony Evans/Getty Images)
As a singer and guitarist, Sister Rosetta Tharpe did more than anyone to forge a connection between gospel and popular music. With her impassioned voice and twanging double-stop licks, she imbued her religious tunes with elements of jazz, blues, and a joyful hard-driving rhythm.
In doing so, she inspired artists like Elvis Presley and Chuck Berry, and helped give birth to rock and roll, soul, and electric blues.
Born on March 20, 1915, in Cotton Plant, Arkansas, Rosetta began playing guitar at the age of four. She traveled with her mother, an evangelist in the Church of God in Christ (COGIC), and they eventually settled in Chicago, where Rosetta was exposed to blues and jazz. She began performing at the Roberts Temple COGIC, where she became the star attraction at age six.
After a failed marriage to a preacher named Tommy Tharpe (some accounts say Thorpe). Rosetta moved to New York City and landed a gig at the Cotton Club, where she sang risqué songs, displeasing her many churchgoing fans.
In 1938, she signed with Decca Records, which saw novelty in a gospel singer who sang racy tunes. Her first hit was "Rock Me," a hymn she sang as a straight love song. Tharpe followed it up with the raunchy hit "I Want a Tall Skinny Papa," scandalizing the church further. The controversy convinced her to focus on gospel songs, which she delivered in her own upbeat way.
By age 25, Tharpe was a pop star, having established herself as a stylistically distinctive singer and guitarist in a male-dominated industry. She played several guitars over the years, including a 1929 Gibson L-5, 1931 National Triolian, Gretsch G117 Double Anniversary, and a Gibson Les Paul goldtop with P90s. In the '60s, she adopted a white 1961 Gibson SG/Les Paul Custom.
In 1964, Tharpe joined Muddy Waters and other blues artists on the American Folk Blues Festival that toured Europe, where she undoubtedly influenced future electric blues guitarists. A film clip exists of her performing a thrilling rendition of "Didn't It Rain" on a train station platform in Manchester, England.
Tharpe's career was curtailed by a stroke in 1970, and one of her legs had to be amputated due to diabetes. She succumbed to another stroke on October 9, 1973, in Philadelphia. Though Sister Rosetta Tharpe's contributions to popular music went unrecognized in her lifetime, she is rightly celebrated today as the Godmother of Rock and Roll.
All the latest guitar news, interviews, lessons, reviews, deals and more, direct to your inbox!
Guitar Player is the world's most comprehensive, trusted and insightful guitar publication for passionate guitarists and active musicians of all ages. Guitar Player magazine is published 13 times a year in print and digital formats. The magazine was established in 1967 and is the world's oldest guitar magazine.
When "Guitar Player Staff" is credited as the author, it's usually because more than one author on the team has created the story.