Sadler Vaden: My Life in Five Riffs
Sadler Vaden reveals the sources of his sweetly melodic, classic-rock-influenced riffage.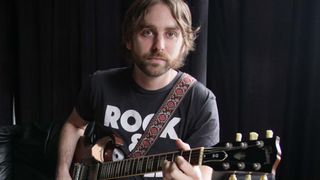 (Image credit: Future / J.B. Lawrence)
Sadler Vaden's first big break came when he landed a sideman gig with southern rockers Drivin N Cryin.
Since 2013, he's been a guitar foil to Jason Isbell in the 400 Unit. Vaden's love of British Invasion rock and roll, Big Star, Tom Petty and Oasis is evident on his new solo album, Anybody Out There (Thirty Tigers). Here are the top five riffs that influenced him.
"And Your Bird Can Sing" – The Beatles
"I fell in love with the songs on Revolver. You could tell the Beatles were experimenting and getting better as musicians. This was one of the songs that really caught my attention.
"It took a long time for me to learn it, but when I did, I felt like I had reached a new place with my guitar playing, using all my fingers and working on my positioning - switching from double-stops and going all the way down the neck. After I learned it, I started to use similar voicings in other tunes I wrote."
"You Shook Me All Night Long" – AC/DC
"Like most young guitarists, I was a big fan of AC/DC. Their riffs are just visceral and make you feel good when you hear them.
"This guitar solo has a lot of things for a guitar player to know. It's mixing major and minor scales, and it makes good use of the fretboard.
"I also like the element of bending a note before you pick it, which is a really great technique to have. It's also just a very musical solo."
"Substitute" – The Who
"The Who are one of my all-time favorite rock bands, and Pete Townshend is one of my favorite songwriters and guitarists. I like that he makes lead guitar lines out of rhythm guitar parts with big chords.
"I love this riff so much because it teaches you how to play chords that aren't cowboy chords. And in typical Townshend fashion, it involves a ringing string - that's his orchestral mind at work. When I learned this song as a young guitarist, it opened my mind up to the possibility that you can have all kinds of different voicings."
"Pink Houses" – John Mellencamp
"The first day I ever picked up a guitar, I had just been to a Farm Aid concert in Columbia, South Carolina. When we got back home, my dad pulled his guitar out of the closet so he could try to figure out this song.
"I like this riff a lot, because you're sliding some single-note phrases and incorporating chords into the line as well. It's just a great way to start to develop your own riffs in songs.
"In that respect, this song was a good lesson. Instead of just playing chords and a solo, it's a combination of the two."
"Hey, Hey, My My (Into the Black)" – Neil Young
"It was a big step for me to learn this song, because it got me out of playing just G, C and D chords and using things like minor chords and a full F chord. There's movement in the riff that, here again, incorporates single notes with chords, which I think is a big thing."
All the latest guitar news, interviews, lessons, reviews, deals and more, direct to your inbox!
Jim Beaugez has written about music for Rolling Stone, Smithsonian, Guitar World, Guitar Player and many other publications. He created My Life in Five Riffs, a multimedia documentary series for Guitar Player that traces contemporary artists back to their sources of inspiration, and previously spent a decade in the musical instruments industry.